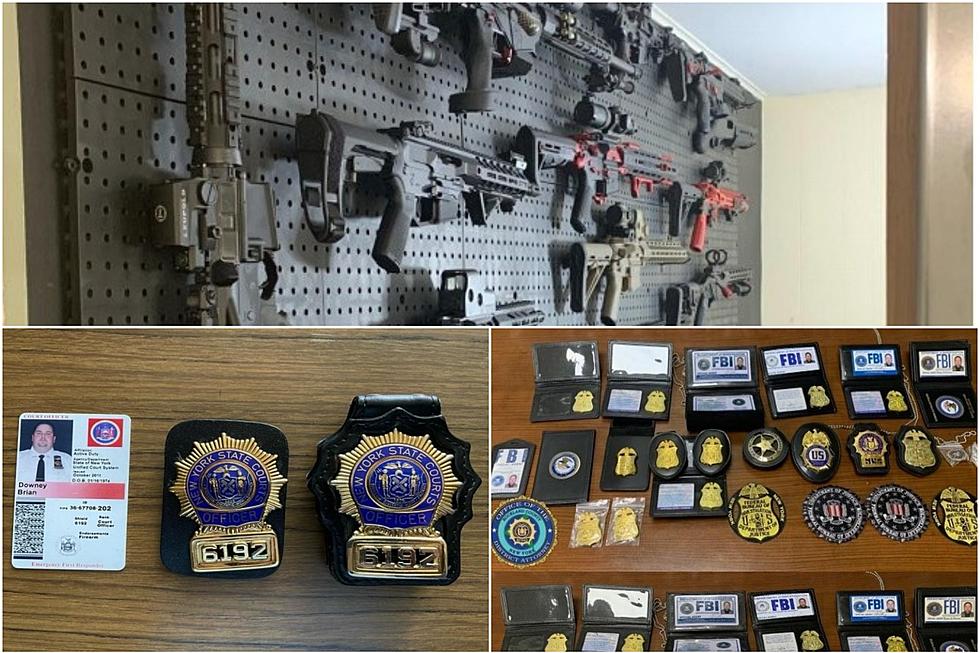 FBI: Top New York Official Found With Guns, Fake FBI Badges In Hudson Valley
RCDA
A deputy mayor from the Hudson Valley is accused of possessing 16 assault weapons as well as many fake FBI and police badges confessed to a number of crimes.
On Tuesday, Rockland County District Attorney Thomas E. Walsh II announced that a former deputy mayor pleaded guilty to multiple felonies for illegal weapons possession.
Feds: Hudson Valley Deputy Mayor Found With 16 Assault Weapons, Fake Badges
A deputy mayor from the Hudson Valley is accused of possessing 16 assault weapons and many fake FBI and police badges.
Former Airmont Deputy Mayor Pleads Guilty to Multiple Felonies for Illegal Weapons Possession
Brian Downey pleaded guilty to six felony counts of criminal possession of a weapon in the third degree, stemming from the discovery of weapons during the execution of a search warrant by the FBI at his home in Airmont, NY on September 2, 2021.
Downey the former Airmont Deputy Mayor confessed to possessing two illegal assault weapons; to wit: a Colt Carbine semi-automatic rifle and an Aero Precision semi-automatic rifle; possessing two illegal silencers; to wit: a Surefire LLC, and an Advanced Aramet Coro M4-2000; and for possessing two illegal large capacity feeding devices; to
wit: two Magpul magazines that have the capacity to hold more than ten rounds of ammunition.
For all the news that the Hudson Valley is sharing make sure to follow Hudson Valley Post on Facebook, download the Hudson Valley Post Mobile App and sign up for the Hudson Valley Post Newsletter.
"Investigators from my office and many other law enforcement agencies were able to see this investigation through to a guilty plea. I commend them for dedication and hard work, striving to keep Rockland a safe community. Many thanks to the Department of Homeland Security Investigations, Bureau of Alcohol, Tobacco and Firearms and Explosives, the United States Postal Inspection Service, the Town of Ramapo Police Department, and the Rockland County Sheriff's Department Bureau of Criminal Investigation," District Attorney Tom Walsh said.
Downey faces two years in prison when sentenced.
Why Are People Stacking Their Trash Cans in New York
The reason people are stacking cans in several New York neighborhoods to create Happy Trash.
15 Iconic Retail Stores That Don't Exist Anymore (But We Totally Miss Shopping At)
KEEP READING: See the richest person in every state
Did You Know? Over 100 Fun Facts About the Hudson Valley
Did you know that Lucille Ball made her stage debut in the Hudson Valley? How about Philadelphia Cream Cheese wasn't invented in Philadelphia, but in Orange County? Or that a mansion in Dutchess County inspired the expression "keeping up with the Joneses?" Find out about those and over 100 other fun facts about the Hudson Valley.