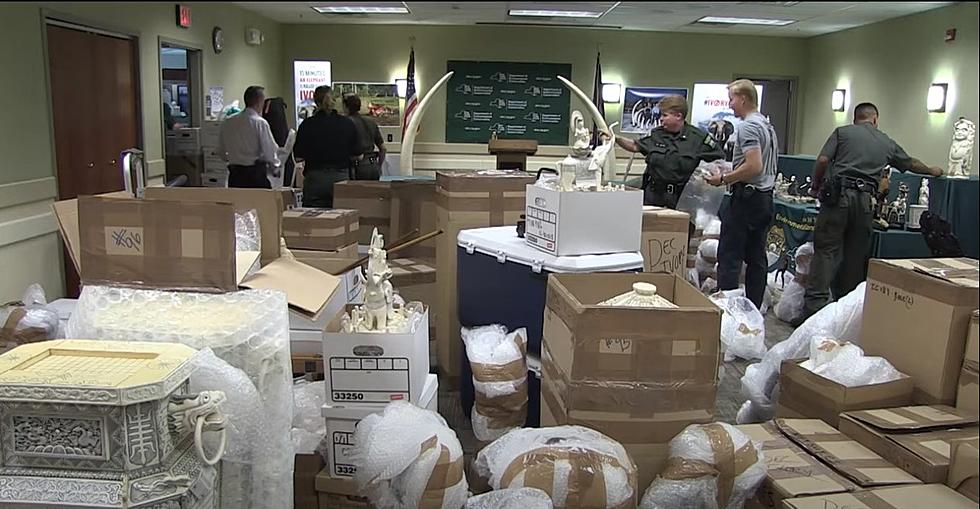 $12 Million Worth Of Illegal Elephant Ivory Found In New York
DEC
Nearly 20 corporations and 25 people were charged after $12 million worth of illegal elephant ivory was seized in New York State.
The New York State DEC announced that elephant ivory seized during a massive DEC-led crackdown on the illegal ivory trade is now on display at the New York State Museum.
"Operation White Gold" Leads To Many Arrests
The DEC conducted an undercover operation in New York City from 2015 to 2018. "Operation White Gold," focused on high-end antique dealers and wholesale distributors throughout the five boroughs.
"The senseless and horrific poaching of these awe-inspiring animals to create trinkets and trophies is grotesque," DEC Commissioner Seggos said. "New York City remains the nation's largest port of entry for illegal wildlife goods and DEC's Division of Law Enforcement is working diligently to stop the businesses fueling the trade."
The undercover sting resulted in the biggest crackdown on illegal ivory trade in New York State history. 18 corporations and 25 people were all charged with felony-level crimes, officials say
For all the news that the Hudson Valley is sharing make sure to follow Hudson Valley Post on Facebook, download the Hudson Valley Post Mobile App and sign up for the Hudson Valley Post Newsletter.
"The seized ivory weighed in at nearly two tons and had a combined market value of more than $12 million," the DEC states.
During the sting, officers found thousands of pieces of illegal elephant ivory, ranging from jewelry and small statues to five and seven-foot raw tusks, that make up a multi-billion-dollar-per-year industry, officials say.
DEC Announces New Display of Elephant Ivory Seized from Illegal Trade at New York State Museum
Some of the seized illegal ivory is now on display at the New York State Museum.
"The display of confiscated elephant ivory and other items at the New York State Museum serves as a powerful reminder of the devastation caused by these insidious activities, and why more education, awareness, and collaboration are needed to combat them and effect long-term change," State Education Department Commissioner Betty A. Rosa said. "We must all take responsibility for helping to protect our endangered wildlife by joining the global movement in support of safeguarding precious wildlife and preventing the illegal trade and sale of ivory in our state."
The New York State Museum is open to the public Tuesday through Sunday from 9:30 a.m. to 5 p.m.
5 Famous Animals Buried in New York State
Massive World-Class Dinosaur Theme Park Planned For Hudson Valley
Another Hudson Valley hometown is in the running to be the site of a massive world-class dinosaur theme park.
Where The Hudson Valley Is Gaining, Losing Residents
Most of the Hudson Valley is gaining new residents. How many residents has your county gained or lost?
Nearly 40 Children Have Recently Gone Missing From New York State