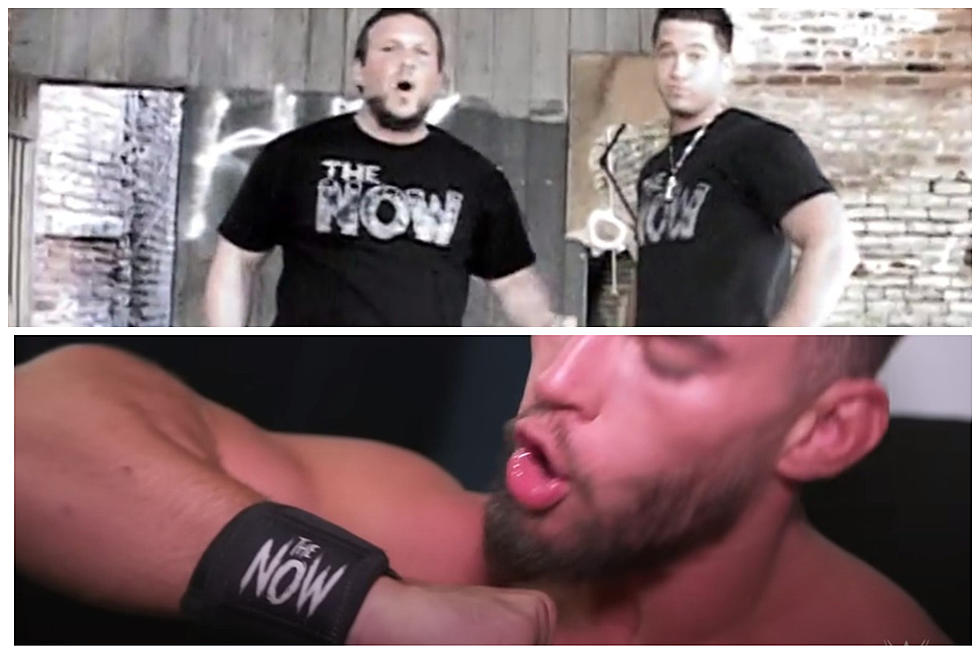 WWE Superstar Accused Of Stealing From Hudson Valley Residents
WWE/The Now/Youtube
Hudson Valley high school graduates were shocked to see their intellectual property used without their permission on TV.
For at least 15 years, Hudson Valley residents Rob Begely and Dale Chapman have wrestled under the names as Vik Dalishus and Hale Collins.
Hudson Valley Residents Shine As "The Now"
The two have mainly worked as a tag team on the independent wrestling circuit as "The Now."
WPDH's Tigman was once featured in an angle featuring the Arlington High School graduates. The two are still actively wrestling as "The Now." They can currently be seen on NWA television.
WWE Superstar Using Intellectual Property From New York Wrestlers
Recently while watching WWE television they were shocked to see a current WWE superstar is using "The Now."
"My initial reaction was shock, because of the fact that we have had it copyrighted since 2006, and there's many people in WWE who know Hale and I, know our names, and know we own it," Begely told Hudson Valley Post.
For all the news that the Hudson Valley is sharing make sure to follow Hudson Valley Post on Facebook, download the Hudson Valley Post Mobile App and sign up for the Hudson Valley Post Newsletter.
Austin Theory is now (pun intended) calling himself "The Now." As you can see in the above photo and video, below.
The Arlington High School graduates tell Hudson Valley Post they have had "The Now" trademarked since 2006 and are "now" trying to get WWE to stop using their intellectual property.
"After shock goes away, we decided to reach out. We consulted with some friends who knew about the situation professionally and we were guided to an awesome lawyer named Mike Dockins, 'the gimmick attorney' who specializes in trademarks," Begley said.
The Hudson Valley residents also confirmed to us they have sent WWE two cease and desist letters, one was acknowledged by the WWE.
"We have sent two cease and desist letters to WWE, they acknowledged one, and said they would look into it. Looking into it doesn't stop it from being on TV," Begley said.
Hudson Valley Residents May Sue WWE
A lawsuit is the likely next step.
"Our next step is a lawsuit for trademark infringement and creating confusion in the marketplace," Begley added.
The WWE has yet to respond to our request for comment.
Here's How To Take The Most Delicious New York 'Diners, Drive-Ins And Dives' Trip
Get your appetite, forks, napkins, and wallets ready. Here's the ultimate Diners, Drive-Ins and Dives New York State road trip.
There are a few sites devoted to listing every place featured on the Food Network show, often organizing them by state or cuisine. According to
Delish
,
FlavortownUSA.com
is one of the best. Here's their New York State spots:
10 Exotic Animals You Can Legally Have as Pets In New York
Looking for an exotic pet in New York State? Here are 8 animals you can legally have.
Nearly 50 Children Have Recently Gone Missing From New York State
Close to 50 children from New York State and the Hudson Valley have recently gone missing. You can help a New York family get reunited with a missing loved one.
Did You Know? Over 100 Fun Facts About the Hudson Valley
Did you know that Lucille Ball made her stage debut in the Hudson Valley? How about Philadelphia Cream Cheese wasn't invented in Philadelphia, but in Orange County? Or that a mansion in Dutchess County inspired the expression "keeping up with the Joneses?" Find out about those and over 100 other fun facts about the Hudson Valley.
KEEP READING: See the richest person in every state