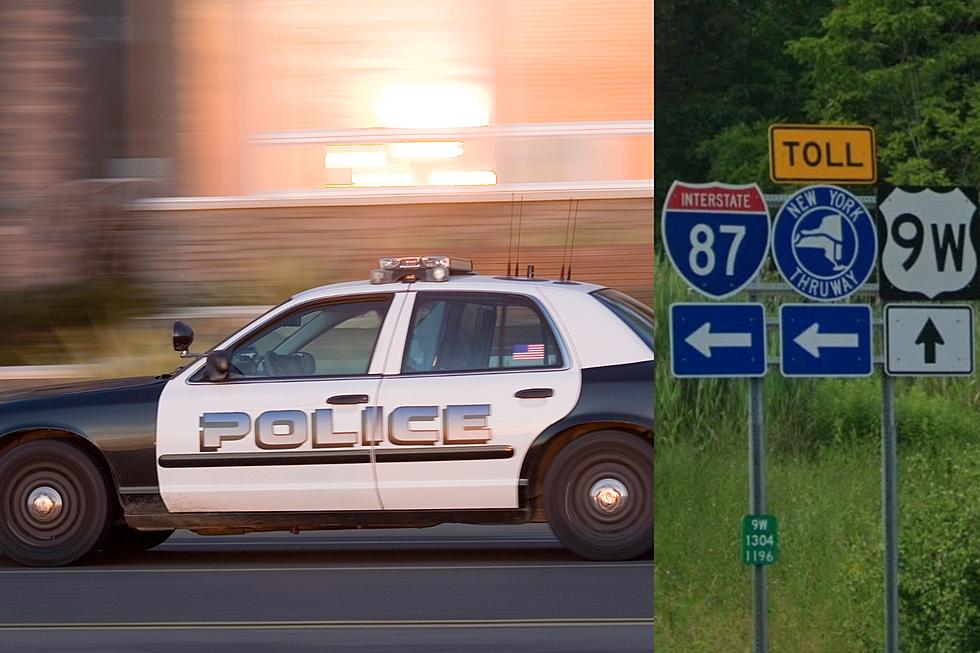 Wild Thruway Chase With Hudson Valley Driver Ends in Crashes
Canva/Google
A dangerous high-speed chase up the New York State Thruway ended with wrecked police cars and a damaged gas pump.
On Thursday morning, police attempted to pull over the driver of a 2008 Chevy Cobalt on I-87. The routine traffic violation stop set off a chain of events that landed the driver in some serious hot water.
According to New York State Police, troopers signaled the driver to pull over at 11:15pm, but the vehicle operator refused to comply. Troopers engaged in a pursuit that continued northbound on the New York State Thruway.
In an attempt to stop the vehicle safely, awaiting officers deployed tire deflation devices just after Exit 20 for Saugerties and Woodstock. The spike strips successfully caused two flat tires on the suspect's car, but it didn't stop the driver from continuing to evade the police.
The car continued to drive up the Thruway with two good tires until it reached exit 21B for Coxsackie. The driver took the exit onto Route 9W only to be greeted by more state troopers and a Green County Sheriff's Department vehicle. The police cars joined the pursuit and followed the suspect into a Sunoco parking lot where authorities say he struck a gas pump with his car. Still determined to evade police, the driver "intentionally struck" a State Police car and the Greene County Sheriff's vehicle. State Police then say another state trooper rammed their patrol car into the suspect's vehicle, striking it with their bumper and disabling the vehicle.
The driver was identified as Angelo R. Paradiso Jr., a 29-year-old man from Palenville. There was also a passenger in the vehicle whose identity was not released by police. Paradiso was determined by police to be under the influence but refused to give a breath sample after being taken into custody. Troopers charged him with a Class D Felony for Reckless Endangerment in the first degree. He was also charged with Unlawful Fleeing a Police Officer in a Motor Vehicle, Criminal Mischief, Driving While Intoxicated, and two counts of Reckless Endangerment of Property.
The passenger was released and not charged with any crime because they were not involved in the pursuit. Paradiso was released and instructed to appear at the Town of Coxsackie Court on April 3 and the Town of New Baltimore Court on April 11.
16 Of New York State's Most Wanted Criminals- March 2023
Below are individuals wanted by the New York State Department of Corrections and Community Supervision's (DOCCS) Office of Special Investigations who have been designated as its
Most Wanted Fugitives
. They should be considered armed and dangerous. This list is current as of 3/01/2023:
NEVER attempt to apprehend a fugitive yourself. If you have information on the location of any of these fugitives, you can contact OSI 24 hours a day / 7 days a week to report it. All leads and tips are treated as confidential information.
If an immediate response is necessary, such as you see the wanted person at a location, please call "911" and report it to the police.
Over 100 'Fun Facts' About The Hudson Valley
Did you know that Lucille Ball made her stage debut in the Hudson Valley? How about Philadelphia Cream Cheese wasn't invented in Philadelphia, but in Orange County? Or that a mansion in Dutchess County inspired the expression "keeping up with the Joneses?" Find out about those and over 100 other fun facts about the Hudson Valley.