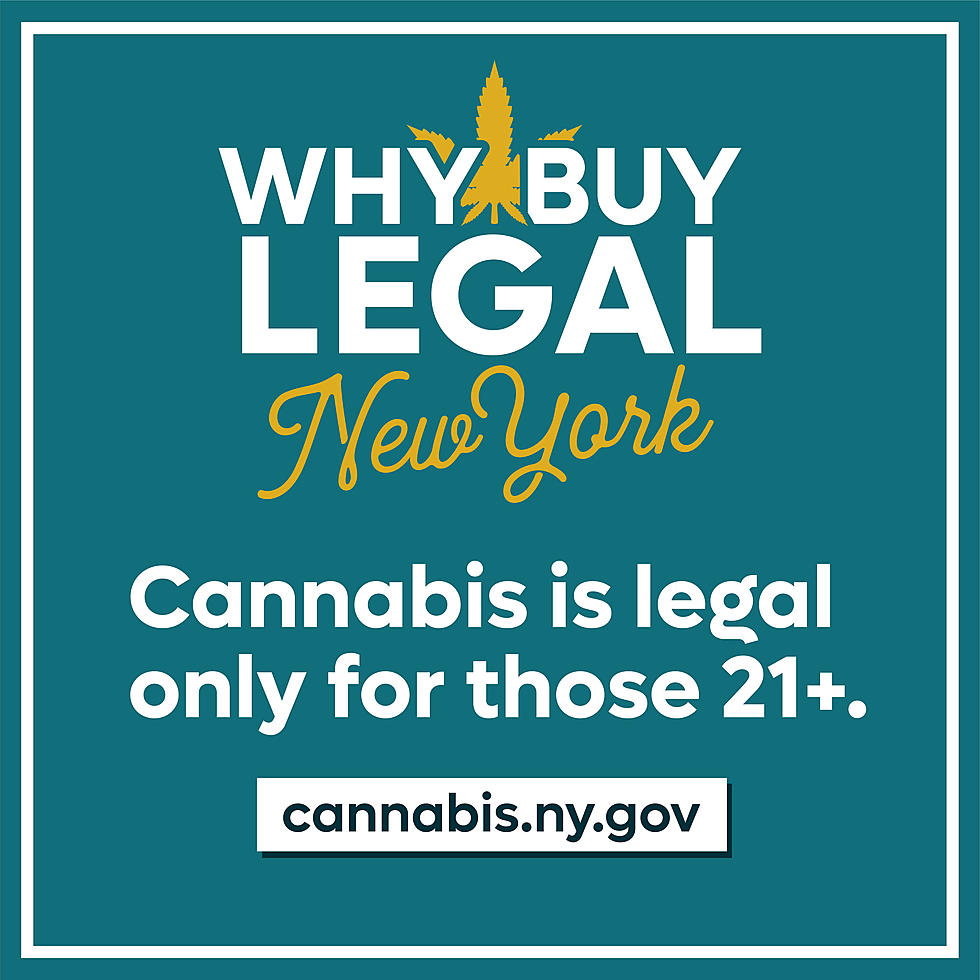 Why You Should Only Buy Legal Weed In New York State
NY Gov
New York State is talking about the dangers of buying illegal weed in New York State and "Why Buy Legal."
Just in time for National Weed Day, 4-20, New York Gov. Kathy Hochul announced a new ad campaign to promote legal sales of adult-use recreational marijuana in New York.
New "Why Buy Legal New York" Marijuana Education Campaign Started In New York State
Governor Kathy Hochul has just launched a new public education campaign in New York State to promote safe, legal purchases of cannabis products from licensed dispensaries.
"To bolster the public health and safety of all New Yorkers, we are providing them with information they need to make informed decisions and enjoy cannabis responsibly," Hochul said. "As we continue to build a healthier and more equitable cannabis market, I am proud to launch this important public education campaign to promote safer, legal purchases of cannabis from licensed dispensaries throughout our state."
For all the news that the Hudson Valley is sharing make sure to follow Hudson Valley Post on Facebook, download the Hudson Valley Post Mobile App and sign up for the Hudson Valley Post Newsletter.
Upstate New York Woman, Man Featured In "Why Buy Legal" New York Campaign
The new campaign features a few licensed cannabis operators including Jasmine and King from Copake, Columbia County, New York
Read More: FBI: New York Woman Planned 'Massacre' At Popular Hudson Valley Restaurant
Columbia New York Farmers Featured In New York State Ads
"Jasmine and King are licensed cultivators focused on the community-centered and wellness properties of cannabis. Now, with 10+ years of family farming experience they are harvesting cannabis products for communities across the State," Hochul's office states about the Columbia County farmers.
Where To Celebrate 4/20 in Upstate New York
I think it's high time we celebrate 4/20 in Upstate NY. Here are some events happening in the area on 4/20 that'll make you say "Yes we cannabis!".
Nearly 40 Children Have Recently Gone Missing From New York State
25 Must Try Hudson Valley Dining Experiences
We compiled a list of 25 great dining experiences that you should try in the Hudson Valley!
Did You Know? Over 100 Fun Facts About the Hudson Valley
Did you know that Lucille Ball made her stage debut in the Hudson Valley? How about Philadelphia Cream Cheese wasn't invented in Philadelphia, but in Orange County? Or that a mansion in Dutchess County inspired the expression "keeping up with the Joneses?" Find out about those and over 100 other fun facts about the Hudson Valley.