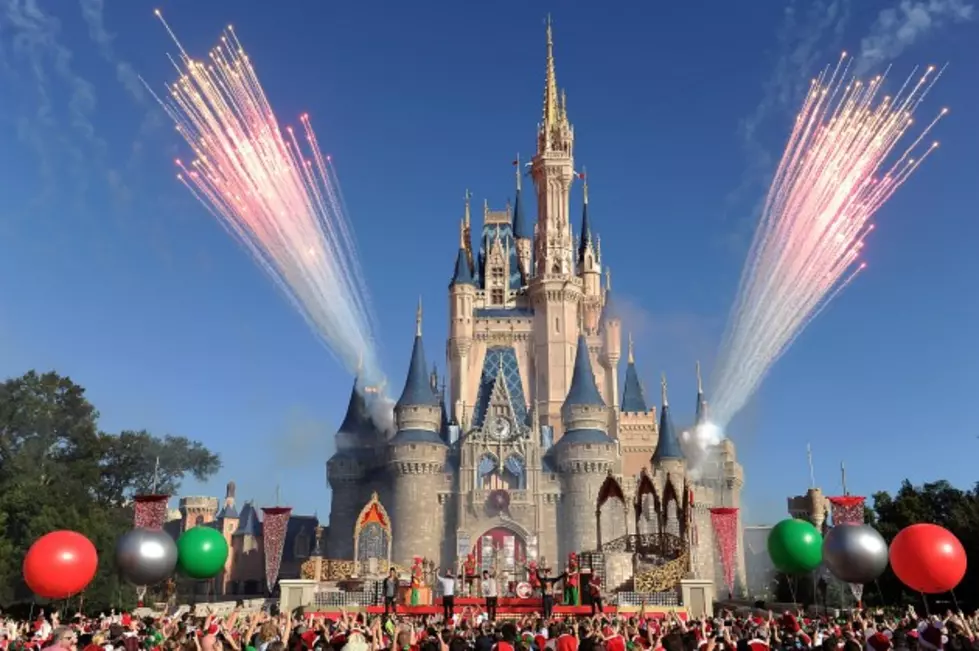 Top 5 Secret Disney World Tips
Mark Ashman/Disney Parks via Getty Images
A Disney World Vacation can be the greatest vacation of your life... or your worst nightmare.  This New Year's Eve record crowds shut down the Magic Kingdom by 10am, with wait times for rides reaching 5 hours in some parks.  That's right... FIVE HOURS to wait in line for a 4 minute ride.  That doesn't sound very "magical" to me.  Luckily, if you take the time to just do a little research you can have an amazing time and leave with your sanity.
I must confess, I'm not really a "Disney person" and neither is my wife.  But my brother works in Orlando on Disney property so we've been visiting him and going to the parks every year for over a decade.  In that time we've become experts on how to get around, what shortcuts to take and what mistakes to avoid.  I could probably write an entire book on surviving Disney World, but for now I'll give you my top 5 fool-proof Disney World tips that will help anyone planning a trip, whether you're a young couple or a huge family.
Tip 1: You Have to Plan a Little
Some people love planning vacations, others like to grab a plane ticket and take things as they come.  Unfortunately, Disney World does require a little bit of planning ahead... but if you do the work before you go, you can be spontaneous once you arrive.
First of all, make sure you know what times of year are the most crowded.  Thanksgiving through New Year's Day is the busiest.  Avoid the holidays if at all possible.  In fact, any time during the year when kids are out of school is going to land you in Disney gridlock.  If you think the kids can handle it, spring them from school for a week and go mid January through early February.  That's when we go every year.  It's a great escape from the cold, and the park is virtually empty.  The only negatives are that the weather can be hit or miss, although I can't remember a visit that I didn't go swimming at least a couple of days and wear shorts throughout most of the week.  Also, slow times will mean that a few rides will probably be closed for repair... but it's never more than a few, and not having to wait in a 2 hour line for the rest of the rides is a more than fair trade off.
Secondly, make your dining reservations 180 days in advance.  Yup... it sounds nuts, but the best restaurants in Disney World get booked up fast, so go online and research where you think you might want to eat and book ahead.  There are some world-class restaurants on property that are almost more of an attraction than the park itself.  Enjoy an authentic German Biergarten buffet at Epcot, Pair a luxury meal with a perfect view of the evening fireworks at The California Grill, or bring the kids to one of the many character meals where you can dine with Mickey and the gang. We usually make a bunch of reservations then cancel the ones we know we won't have time to do the week before we leave.  Just remember, there may be a small fee if you cancel too late (unless you say your kid has a 'fever' then the nice reservation lady will waive the fee - but I would never do that).
2: Always Go To The Left
Now that you have your plan in place it's time to enjoy.  Whether you have an anal retentive list of rides you must see or you just want to take a lazy walk around the park; remember to always go left.  For some reason, whenever there is a choice of directions the masses will choose right.  When you enter the park, the left ticket booths will always have the shortest line.  Once you get inside, go to the left.  You'll be visiting rides and attractions  in a different order than most everyone else, which means shorter lines.  And, if you come to a ride with two entrance lines... pick the left one.  It will always save you time.
3: Parking Lots Are For Suckers
If you're staying at a Disney hotel there's fast, clean, complementary transportation from your doorstep to anywhere you want to go.  Just take a shuttle from the airport and let Disney take the wheel during your vacation.  Some non-Disney hotels also supply transportation, but they can be spotty and not as reliable as an official Disney hotel.  We usually get a rental for the week and have figured out probably the best tip for anyone that is driving at Disney: Resort Valet Service!
Parking in one of the massive theme park lots costs $15 for the day. You'll have to wait for a tram car to shuttle you, the kids and the strollers to the entrance, then remember where you parked in a seemingly endless sea of minivans (was it lot Goofy or lot Donald?).  Then look forward to the long trek back to your car at the end of the day.
A lesser known parking option is the resort valet service.  For the same $15 as parking in that massive concrete lot you can pull up to a beautiful resort, greeted by a smiling Disney employee who will help unpack the kids and the strollers, as you leisurely make your way to your destination. You may even want to grab a snack or cocktail at the resort before you go.  For the Magic Kingdom, just go to the Polynesian Resort.  It's only a quick monorail ride to the park from there.  For Epcot or Hollywood Studios head over to the Boardwalk Resort and then take a nice stroll on the boardwalk or a very pleasant boat ride to each park.  Animal Kingdom?  Well, you'll have to park in the lot for that one, but if you followed tip 1 it shouldn't be too full, as this is one of the least visited parks in Disney.
Tip 4: Beers Around The World
Before we reproduced, my wife and I would spend the bulk of our yearly Disney visit in Epcot Center, drinking around the world.  If you're not familiar with this unofficial Disney experience, each "country" in Epcot Center serves it's own authentic food and beverage.  You can grab a Frozen Kirin Bier in Japan, a perfectly poured pint of Guinness in the UK, and some great authentic Oktoberfests in Germany.  Drinking at all 11 countries in one day is something that can leave you with not only a huge hangover, but at over $8 a beer, a huge dent in your wallet. My tip: go as far inside the pavilion you can to buy your beer.  In Germany, for example, there is a cart out front with beers for $8.75.  The same beer is only $8.00 at the Sommerfest food window near the back of the pavilion.  The savings will add up throughout the day, and the extra time it takes to explore each pavilion will help moderate that alcohol intake... remember, it's a marathon not a sprint!  For drinking beers around the rest of the park check out Beers and Ears.  They have a listing of every beer available at every location in Disney World.  I strongly suggest downloading their app for helping make the decision where to go when you're at the parks. "Honey, I think we should go to Hollywood and Vine for lunch, I hear they have great pasta (and bottles of Fat Tire)".
Tip 5: You Will Not Do Everything You Want To Do
Disney World is massive. It's mathematically impossible to see every attraction, ride every ride or eat in every restaurant.  After over 10 years of visiting I have barely scratched the surface, and still find things I didn't know even existed (There is apparently a place that makes amazing waffle sandwiches that I'm seeking out this year).  So my main advice is to give up trying to do everything.  Pick one or two "musts" each day and let everything else just happen.  Some of the most fun we've had has just been sitting on a bench with a beer people watching.  My son spent a half hour playing with a fire hydrant last year (that wasn't on the official map). I like to think of Disney as just a really nice place to go for a walk.  The scenery is great, everything is clean and -bonus- there's a bunch of rides and things to do if you want.
These are just my top 5, but I'm sure our listeners have even more tips to share.  Feel free to share your favorites.  It'll certainly be appreciated by me and anyone else planning that magical vacation.