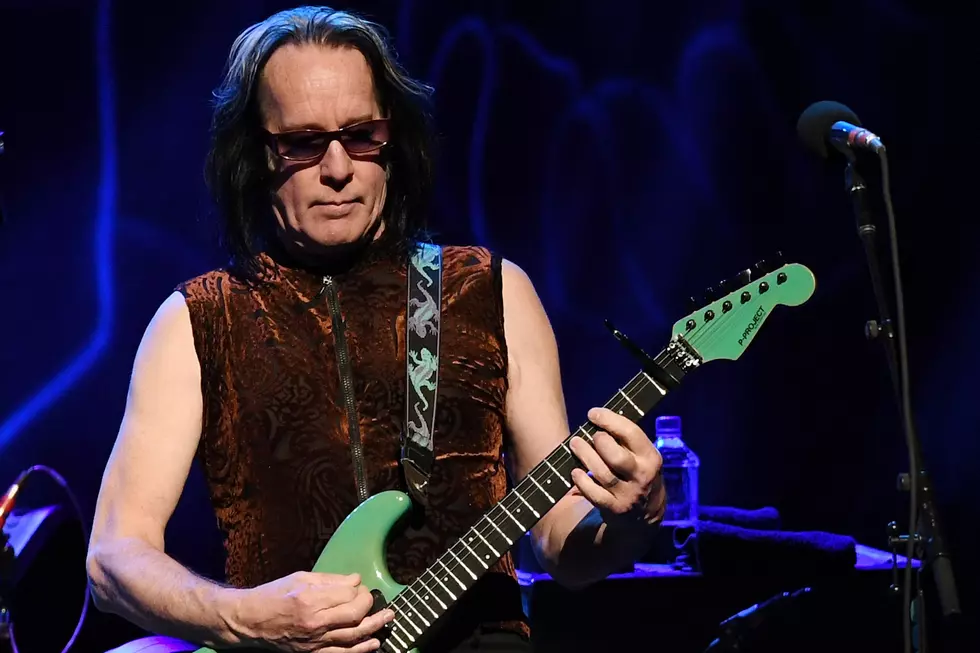 Todd Rundgren's Utopia Return for Spring North American Tour
Ethan Miller, Getty Images
Todd Rundgren will get back together with mid-'70s members of Utopia for a North American tour lasting from April through June.
He's joined by bassist Kasim Sulton, drummer Willie Wilcox and keyboardist Ralph Shuckett. A complete list of these newly announced dates, cities and venues is below. Various VIP packages are available at the official Utopia site.
Rundgren began off-and-on reunions with various members of Utopia in 2011. Schuckett (who was originally in Utopia from 1974-75) and Sulton have made regular appearances. Sulton is in his fourth stint with Utopia, having previously joined Rundgren in 1976-82, 1982-86 and 1992. Wilcox was with Utopia from 1975-86 and then took part in the 1992 reunion.
Todd Rundgren's Utopia 2018 Tour
4/18 - Jim Thorpe, PA, Penn's Peak
4/20 - Englewood, NJ, Bergen Performing Arts Center
4/22 - Houston, TX, House of Blues
4/23 - Dallas, TX, Majestic Theater
4/25 - Broward, FL, Broward Center for the Performing Arts
4/27 - St. Petersburg, FL, Mahaffey Theater
4/28 - Atlanta, GA, Tabernacle
4/29 - Durham, NC, Carolina Theater
5/1 - Huntington, NY, Paramount Theater
5/2 - Washington, DC, Warner Theater
5/3 - New York, NY, Town Hall
5/5 - Philadelphia, PA, Tower Theater
5/6 - Boston, MA, Orpheum Theater
5/7 - Ridgefield, CT, Ridgefield Theater
5/9 - St. Louis, MO, Peabody Opera House
5/10 - Cincinnati, OH, Taft Theater
5/12 - Milwaukee, WI, Pabst Theater
5/13 - Minneapolis, MN, State Theater
5/15 - Grand Rapids, MI, 20 Monroe Live
5/15 - Toronto, ON, Massey Hall
5/17 - Detroit, MI, the Fillmore
5/19 - Cleveland, OH, Hard Rock Live
5/22 - Chicago, IL, Chicago Theater
5/24 - Denver, CO, Paramount Theater
5/26 - Las Vegas, NV, The Joint at Hard Rock
5/27 - Phoenix, AZ, Comerica Theater
5/29 - Los Angeles, CA, the Wiltern
5/30 - San Francisco, CA, the Masonic
6/1 - Seattle, WA, Moore Theater
6/2 - Portland, OR, Revolution Theater
6/4 - Sacramento, CA, Crest Theatre
6/5 - Riverside, CA, Fox Performing Arts Center