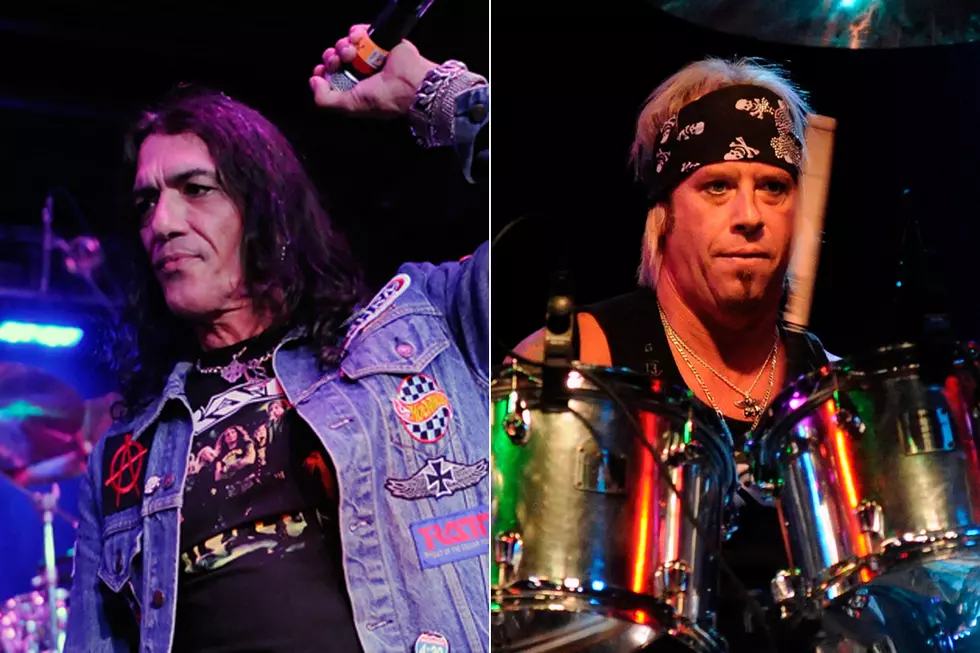 Stephen Pearcy on Bobby Blotzer: 'This Guy Never Wrote a Note' in Ratt
Ethan Miller, Getty Images (2)
The legal battle over the Ratt name between Stephen Pearcy, Juan Croucier and Warren DeMartini against Bobby Blotzer appears to finally be coming to an end. The two camps have been critical of the other's right to tour under the Ratt name and singer Pearcy recently criticized Blotzer's decision to carry on with his incarnation of the group.
As a guest on the Eddie, Chris and Jason Show (audio below, transcription via Blabbermouth), Pearcy explained how Blotzer believed he had the right to tour under the Ratt moniker, but said "the dust has settled" regarding the legal side of the issue, adding "It's just finalities now, legally. It was not a good thing."
"The thing is, with the band, this guy never wrote a note and he just decided, 'Well, I'm king of the jungle and I'm gonna rewrite history,' and we said, 'No, you're not,'" continued the singer. "And the fact that he was suing us made it even worse. It's, like, okay. How many fights do you wanna get into? One big gangfight, or you wanna take each one of us on by yourself?' And he decided to do it by himself, which is even worse. So we're happy with the outcome and we are the only version that is out there and will continue to be out there."
Pearcy went on to mention he wrote a significant amount of Ratt's material or at least "had something to do with it, so it had more to do with our integrity." Calling Blotzer's group "a cover band," the singer added, "It's, like, we work all these years and people still wanna see us. We don't go and play out there all the time anyway — we take a year or two off, or maybe six years between records — but that gives nobody else permission to just decide one day, 'Well, guess what? I'm going to do everything. And I had nothing to do with nothing but play drums.' So it was kind of insulting and damaging to the integrity of the group and our legacy."
Stephen Pearcy on the Eddie, Jason and Chris Show
You Think You Know Hair Metal?