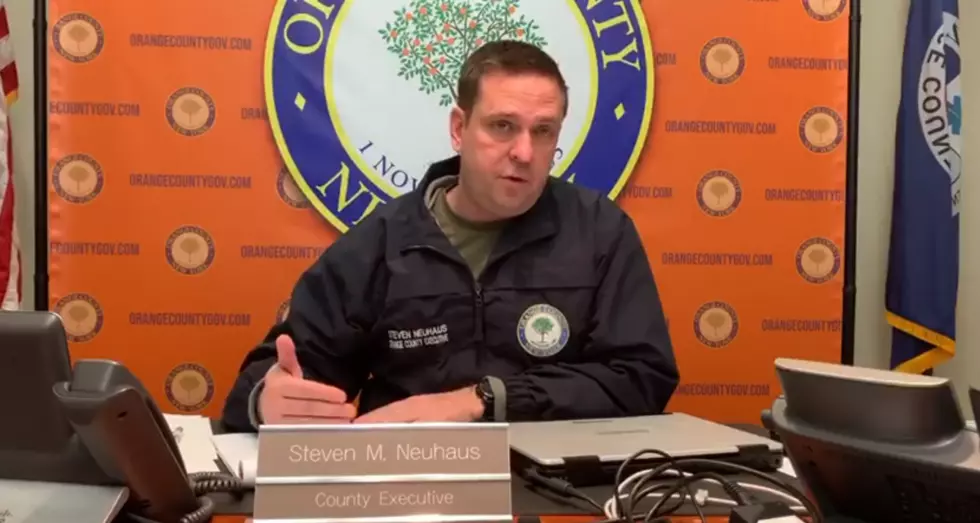 Orange County Releases Map of COVID-19 Cases
Steve Neuhaus/Orange County Government/Facebook
Orange County followed neighboring Ulster County's lead in producing a map of where positive cases of coronavirus have been documented in the region. On Thursday evening, Ulster announced an interactive map of where COVID-19 cases originated in the county. On Friday evening, Orange County followed suit with a map of originating cases by town in its county with the hope of better informing the public.
"Many residents of Orange County have expressed that a town by town breakdown of cases of COVID-19, similar to what our neighboring counties have provided, would be appreciated," the county said in its Facebook posting. "We want to urge all residents that this virus is widespread throughout the County. We encourage everyone to continue to stay home, practice social distancing if you must be out, and only leave home if absolutely necessary."
The cases by town as of Friday, March 27 are as follows:
Blooming Grove - 19
Chester - 27
Cornwall - Fewer than 10
Crawford - Fewer than 10
Deerpark - Fewer than 10
Goshen - 44
Greenville - Fewer than 10
Hamptonburgh - 13
Highlands - Fewer than 10
Middletown - 64
Minisink - Fewer than 10
Monroe - 59
Montgomery - 41
Mount Hope - Fewer than 10
New Windsor - 71
City of Newburgh - 62
Town of Newburgh - 52
Palm Tree - 234
Port Jervis - Fewer than 10
Tuxedo - Fewer than 10
Wallkill - 59
Warwick - 60
Wawayanda - Fewer than 10
Woodbury - 27
The map does not specify the number of cases where there are fewer than 10 confirmed cases.
How to Sew a Face Mask
11 Franklin Delano Roosevelt Quotes That Will Give You Hope