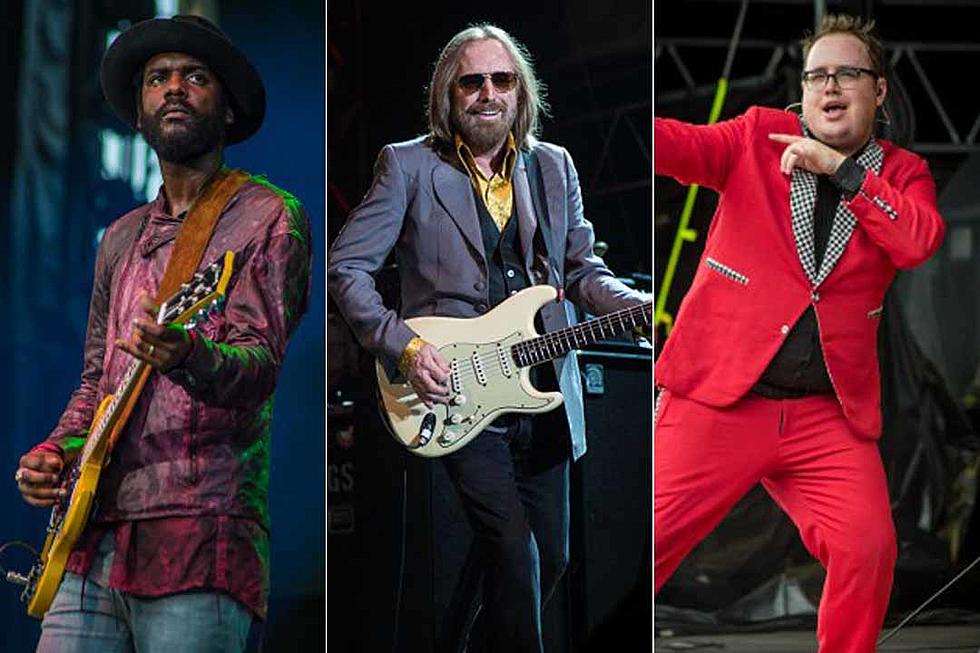 The 10 Best Things We Saw at Mountain Jam: Day Two
Joshua Timmermans (3)
After mild temperatures and a bit of rain on the first day of Mountain Jam, as day two kicked into gear, things really warmed up and with the hotter temperatures came an increase in the amount of shirtless sweaty dudes and at least one inflatable alligator (which probably had nothing to do with the heat). But the number of fans at the festival also grew substantially as fans began to queue up in anticipation of Tom Petty and the Heartbreakers' headlining performance on Saturday night. Here are 10 things that we really enjoyed on the second day of Mountain Jam.
Rock & Roll Chess, It's Your Move
As we made our way through security on Saturday morning, we saw a guy who looked a lot like Gandalf from Lord of the Rings -- and fans behind us shared details of their choice encounter with him that went down the previous day. He's been walking the festival grounds with a chess board in hand and a selection of hand-drawn rock posters -- including Grateful Dead and Eagles. The rules of the game -- you sit down to play chess with him and if you win, you get your choice of a free poster. If he wins, you pay $12 for the poster. They lost and had to pay up, but were happy, because, as they pointed out, either way, they walked away with a poster
Pizza Balls, 'Nuff Said
For a number of years, Vince Scavo has been in charge of The Little Sicilian, a food truck based in the Philadelphia area. His family is from Sicily and two years ago during a return visit, he hit upon a rice and mozzarella jackpot. "I saw a place doing all of these interesting riceballs," he tells us. "So I kind of took that idea back here." Their offerings include the prosciutto -- stuffed with imported ham and mozzarella, the buffalo -- featuring shredded chicken and medium heat buffalo sauce and the Pizza riceball, which Scavo says is currently their number-one seller and an idea that developed organically. "I noticed that whenever we did events, pizza was always doing really well and our rice balls were doing well, so I kind of [put] the two together. It's a riceball with pizza sauce and melted mozzarella cheese on the inside. It's really, really popular right now. We have a food truck now and a tent setup and we're working on getting another truck."
River Whyless
The Ashville, N.C.-based River Whyless might not have occupied a lot of real estate on the Mountain Stage, but they had a great, blissed-out folky feel that filled the mountain air with interesting sounds early on in the second day of Mountain Jam. "This is very comforting scenery, vocalist/violinist Halli Anderson shared with the crowd. "I love the mountains here. It smells like home." Bassist Daniel Shearin took lead vocals on "Falling Son," a standout moment in their set, which they tagged with a cover of Creedence Clearwater Revival's "Fortunate Son," which found all three singers (including vocalist/guitarist Ryan O'Keefe) trading verses.
More Than Just a Bunch of Heathens
After some early rain, the skies cleared and the sun emerged as the members of the Band of Heathens stepped onto the stage. They opened with "Sugar Queen," a freewheeling track that segued directly into a smooth, driving version of "Carry Your Love," which showcased their tight harmonies, bolstered by organ swells. Vocalist Gordy Quist told fans that they had been touring in Europe over the past month, where people asked, "What the hell is going on there?" And as Quist relates, "We didn't really have a good answer." He went on to note that "things are pretty divisive and we feel pretty fortunate to be able to travel around and play music as our jobs and bring people together, no matter what you believe." Their Mountain Jam set proved that they've got a lot of good to share.
There Are Several Ways to Catch Some Air
The ski lift on-site at Hunter Mountain, cleverly rebranded as the "Scenic Skyride" gave fans a chance to ride out over the crowd and up the mountain, something which Strumbellas vocalist Simon Ward had some fun with, saying, "I don't want to tell the people this, but there ain't no snow there, so I'm not sure what you're doing!" Meanwhile, if zip-lining is your thing, the New York Zipline Canopy Tour will be of interest. It's reportedly the highest, fastest and longest zip-line canopy tour in North America and the second largest in the world.
Your Bobby Is a Wonderland
We've been seeing all sorts of great t-shirts this weekend at Mountain Jam and high on the list was this John Mayer/ Dead & Company-related tee. The graphics on the shirt don't necessarily employ the best Photoshop skills you've ever seen -- and that's part of what makes it so awesome. Naturally, other versions of the concept have begun to pop up.
Marty Stuart Brings Surf Music to Mountain Jam
Country legend Marty Stuart is a walking human volume of country music history and always delivers an intriguing performance that has something for everybody. He made a smart move at Mountain Jam, opening with "I Know You Rider" (something he's been doing regularly on his current tour and something which made the ears of Grateful Dead fans perk up a bit). He also shared a hefty amount of music from Way Out West, his current album, which was produced by Tom Petty and the Heartbreakers guitarist Mike Campbell. Humorously, he branded Hunter Mountain as the "surf music capital of the world" and used "Mojave," from the latest album, as his soundtrack to demonstrate. Backed by his longtime band, the Fabulous Superlatives, Stuart's set was a showcase which offered each member of his band the chance to step up to the microphone and highlight the depth of their individual talents. Hopes that Campbell might show up to guest on a tune or two didn't pan out, but as you'll read later, the two did eventually share the stage together at Mountain Jam.
Cool Art From the Garage
Designer Lou Medrano has been curating a cool collection of concert and pop culture-inspired screen printed posters for the past six years via his Garageland website and in person at a variety of festivals nationwide. He started off designing band merch stuff -- a byproduct of his daily work traveling with and tour managing a variety of bands, mainly in the punk rock world. "I've always liked the whole gig poster thing," he says. "So I just kind of learned how to screen print about six years ago and just went from there." Medrano points to Frank Kozik and Pete Cardoso as important influences in his early years when he was collecting their art. One of his most popular collaborations over the past couple of years has been the series of David Bowie-themed posters designed by Butcher Billy, including one choice print which recasts Bowie as Willie Wonka-esque Bowie. "He had done [those] and I really loved them," he says. "So I offered to screen print them and start selling them through my website and he was totally into it."
Gary Clark Jr's Train Kept a-Rollin'
It only took Gary Clark Jr. a few songs before he launched into "When My Train Pulls In," from his 2012 major label debut, Blak and Blu, working up a sweat as the tune rolled past the 10-minute mark. Playing in front of the substantial Mountain Jam crowd, Clark was clearly moved by the reception, humbly saying at one point, "I don't know what to say." While the blues guitarist's studio albums can sometimes still feel like an evolutionary work in progress, his abilities on stage are clearly in a pretty good place. His set was one of the most highly anticipated moments of the weekend -- and one which did not disappoint. He proved that he's one to continue to watch and pay close attention, because you won't want to miss a note.
Tom Petty Brings the Mountain Jams
Tom Petty and the Heartbreakers' headlining Mountain Jam performance spread 19 songs from his hefty body of recorded work across two hours. He told the crowd early on in the night that they were treating the current anniversary like a big vinyl record, picking up the needle and putting it down in different places. As we hinted above, Petty brought out Stuart, calling him "one of country music's great guitar players" for "Crawling Back to You," on which Stuart and Campbell shared guitar duties. If Petty and the Heartbreakers are truly (and understandably) approaching the end of their touring years, there are hints that their musical legacy will continue to grow.