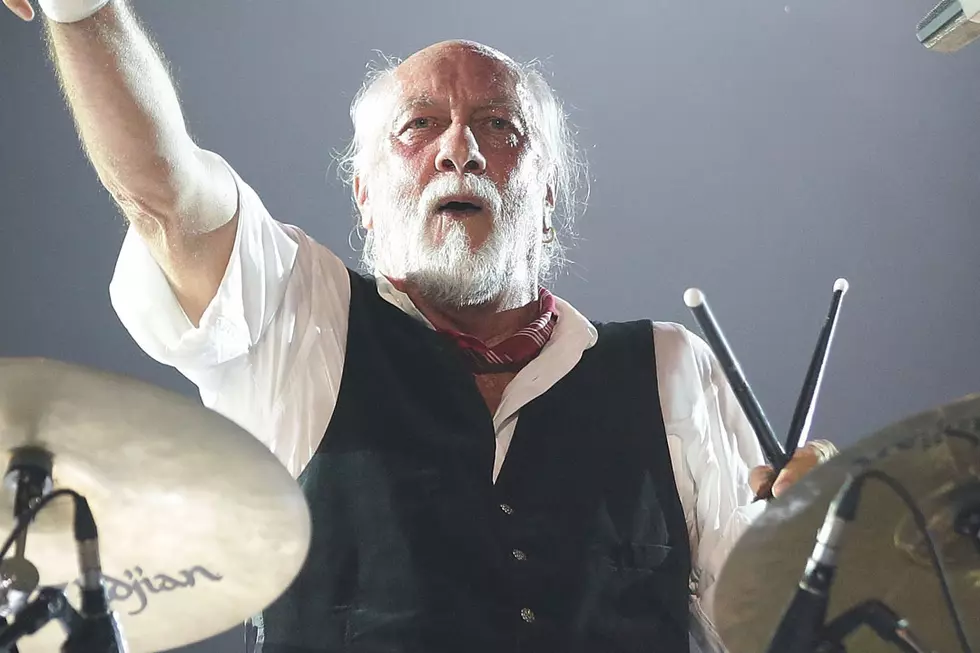 Mick Fleetwood Remembers Fleetwood Mac's Early Days in New Book
Mark Metcalfe, Getty Images
Because of the chart success they would later achieve, Fleetwood Mac's beginnings as a blues band are often overlooked. But Mick Fleetwood hasn't forgotten, and his newest book. Love That Burns: A Chronicle of Fleetwood Mac, Volume One: 1967–1974, takes a look at those early years. In a new interview, he discussed the process of putting together the photo-intensive book, recalled what it was like to come to visit Chicago and play with some of his heroes and the reason why the band's original guitarist, Peter Green, recruited him, which he hadn't previously known.
Calling that era a "boutique part of Fleetwood Mac's history," the drummer told Salon that the process took two years, with a lot of time spent going through his stashes of old photographs and also trying to track down photographers who had others. "You often find — much like I've noticed on putting an album together, a musical album — sometimes you could have a song," he said, "which in this case would be a photograph, and go 'No, I don't know, it's a bit out of focus.' Or you go, 'Maybe the song isn't strong enough.' And for all intents and purposes to explain what I'm trying to explain, it becomes the ugly duckling and is discarded. However, those items sometimes create a balance. And then when you go back into the archive, or back into the early songs when you're trying to put an album together, you go, 'You know what, now that song, we didn't notice how strong it was.' You know, because when it's complemented in the middle of other songs, it's a great balancing counterpart to it."
A highlight of the book focuses on their 1969 trip to Chicago's legendary Chess Studios, where they jammed with Buddy Guy, Otis Spann and Willie Dixon, and wound up opening up for B.B. King. Working on that section gave Fleetwood a new perspective on that period. "[G]oing through those pictures and really digging into the memories of that — and talking with [producer] Mike Vernon, who took us there from our record company," he continued. "And I go, 'Oh my God. How amazing was that, that these funny little kids from England end up in Chicago?'"
Love That Burns includes contributions from John and Christine McVie, Jeremy Spencer and Peter Green, the latter of whom Fleetwood spoke with for roughly three hours. Green brought Fleetwood into the band he was forming after leaving John Mayall & the Bluesbreakers, which was soon named after its rhythm section. Fleetwood decided to use the opportunity to ask Green why he go the call.
"I thought that he would probably, maybe say, 'Well, I thought you were a really good drummer.' [Laughs.] And he didn't — he said, 'Well, you were so sad. You were so sad, and you had broken up with Jenny and you were brokenhearted, and I thought you needed to do something.' ... And I thought that was such a loving statement. It had nothing to do with playing. He did it as a friend to pull me out of being, you know, blue. And that tied in with this title [of the book], in no uncertain terms. And the irony of the title is, if you jump forward 30 years, the whole legacy of this strange band, is all interwoven with love, really, and dysfunctional versions of it as well."
Fleetwood Mac Albums Ranked Worst to Best