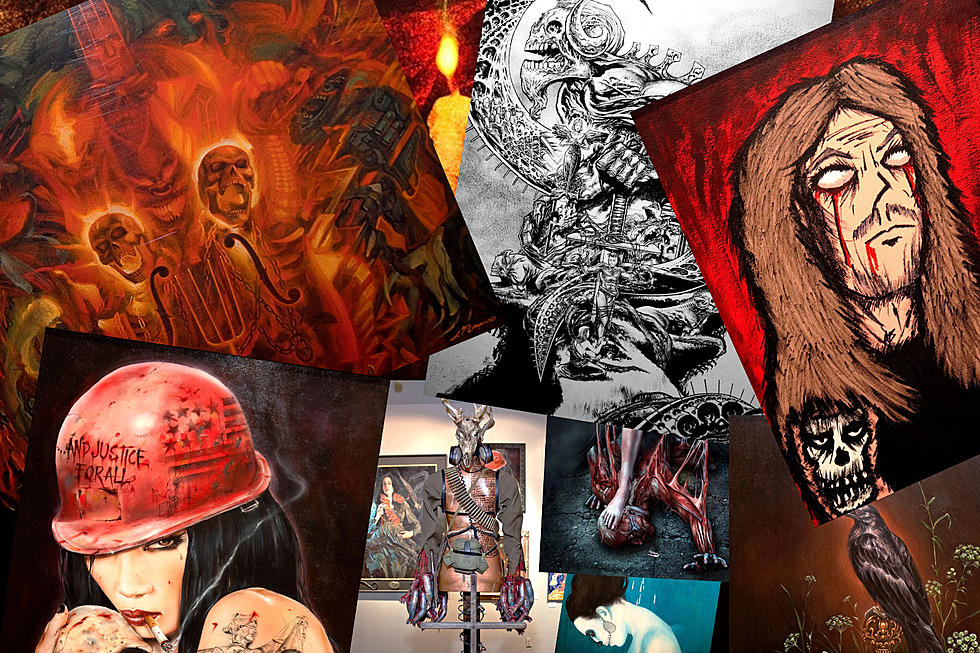 Metallica Share Artwork By Shawn Crahan, Gerard Way + More For New Black Box Exhibit
'Obey Your Master' Artists: Richard Villa III, Nate Van Dyke, Joe Petagno, Sylvia Ji, Travis Smith, Brian M. Viveros, Kim Saigh, Andy Biersack, Shawn Crahan
Metallica have unveiled yet another exhibit in their expansive virtual museum known as The Metallica Black Box. This time around, the band has brought out pieces from their 2012 "Obey Your Master" art show.
"Obey Your Master" explored the powerful and undeniable connection between art and music—specifically, the connection between art and Metallica. The show took place on Jan. 20, 2012, at artist Richard Villa III's Exhibit A Gallery in Los Angeles, and featured "artists from the worlds of fine art, fashion, film, music, and skate to interpret Metallica's songs in their own unique way."
"I've got so much respect for artists, whether it's writers or actors, painters, dancers; anybody daring enough to throw themselves into the unknown of any kind of artistic endeavors and undertake a creative process, I hugely respect," Lars Ulrich said when this new addition to The Metallica Black Box was announced. "But to be in a room full of 35 to 40 artists who are all showcasing work that was inspired by songs I wrote was pretty humbling."
Some of the incredible, one-of-a-kind pieces of art in the exhibit include Slipknot's Shawn Crahan's "Damage, Inc.," My Chemical Romance's Gerard Way's "One," Black Veil Brides' Andy Biersack's "Creeping Death," graphic designer Joe Petagno's "Don't Tread On Me" and artist Travis Smith's "The Outlaw Torn."
Villa III's own haunting work, "Master of Puppets," is displayed, as well.
You can see all of the different creations here; there are accompanying videos for many of the artists, too, that provide further insight into the different creations. For example, Smith explains about his "The Outlaw Torn" piece that "it was created using a number of different mediums including watercolor, house paint, wood, ash, thread, and photography ... the elements were then photographed or scanned and the piece was then composited and finished digitally."
This latest addition to The Metallica Black Box is part of the Art of Metallica series, which has featured other exhibits like In the Margins, Language of the Mad, Sound, Screen, Stage and Who We Are.
The exhibits are not the only things that Metallica continue to add to the Black Box; there is an online store featuring exclusive and rare items tied to the history of the band. When Obey Your Master was unveiled, the shop released one of the rarest pieces of Metallica memorabilia ever: a pair of black skinny jeans with a custom print of Pushead's "Sad But True" artwork.
What makes these jeans so rare? They were created as a sample but were never produced on a wide scale. As far as we can tell, these are the only jeans like this in existence and they can be yours for $8,500.
You can check out what else is for sale here and peruse all of the virtual exhibits at MetallicaBlackBox.com.
"Sad But True" Skinny Jeans For Sale — The Metallica Black Box
Here Are Some of Our Favorite Metallica T-Shirts
Metallica have not only created some of the best heavy metal in the last 40 years, they've also created some of the most iconic T-shirts. In the last four decades, they've worked with incredible artists like Pushead, Brian Ewing and others to bring their songs and albums to life. In the gallery below, we've picked out some of our favorite T-shirts that are currently available at Metallica's official online store. Which one is your favorite?
11 Amazing Metallica Concert Posters From 2022
Even before
Metallica
announced plans for their 12th studio album,
72 Seasons
, 2022 was shaping up to be one of the most memorable years in the band's career.
As Metallica have done for decades, each live experience in '22 wasn't just about the music, but also about the unforgettable show posters tied to each concert. While we prepare ourselves for Metallica's huge
M72 tour
in 2023 and 2024, let's take a moment to look back at some of our favorite Metallica concert posters from 2022.