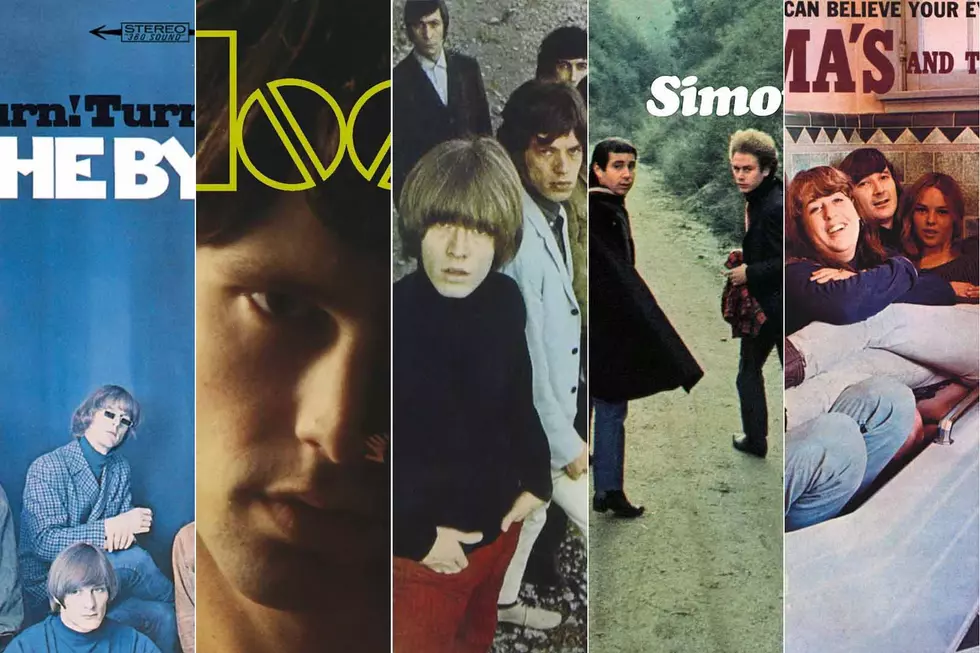 Guy Webster, Doors and Rolling Stones Photographer, Dies
Columbia / Elektra / ABKCO / Columbia / Dunhill
Guy Webster, a celebrated rock photographer whose work can be found on the covers of records by the Rolling Stones, the Doors, Simon & Garfunkel and others, has died. He was 79 and had been suffering from liver cancer and diabetes.
"My dad was loved by all," Sarah told Variety. "He was a peoples person and touched the lives of so many. He will be greatly missed and we are heart stricken that he left us so prematurely but rejoice in the thought that he had a fucking awesome life!"
The son of Hollywood songwriter Paul Francis Webster ("Love Is a Many Splendored Thing," "The Shadow of Your Smile"), Guy studied art in college and learned about photography while in the Army. He became friends with Lou Adler, who hired him as the house photographer at his new label, Dunhill Records. His first two assignments were the covers of Barry McGuire's Eve of Destruction and the Mamas and the Papas' debut, If You Can Believe Your Eyes and Ears, the latter of which required a bit of editing before it could be released.
"We were sitting around and … we were all really stoned," he told Harvey Kubernik, who provided the text for his 2014 collection Big Shots. "And in that apartment was that 1920s and 1930s bathroom with all the tile. I put them in the bathtub and I set up my tripod and my big two-and-a-quarter camera and shot that picture. And in that picture was the toilet. You can't put a toilet on the cover of anything and sell it at Sears or one of those chain stores. So Lou came up with a great idea to put a little sticker on the shrink-wrap that said, 'Including 'California Dreaming.'' That covered the toilet. It became one of the most controversial album covers of its day. Which pleased us to no end."
He continued to establish himself both in the rock world -- shooting covers for the Byrds (Turn! Turn! Turn!) Simon & Garfunkel (The Sounds of Silence), the Doors (The Doors) and the Rolling Stones (High Tides and Green Grass) -- and actors. His success allowed him to become a renown collector of Italian motorcycles. According to a story in the Los Angeles Times, he bought, sold or traded more than 400 bikes during his life, and his collection consisted of 150 at its peak.
But in 2015 he suffered a heart attack while touring behind Big Shots. During quadruple bypass surgery, he died on the table and had to be revived. But he also suffered a stroke during that time, which left him unable to ride. Over the next few years he sold off all but five of his motorcycles, which he loved too much to sell.
"I should be so depressed, because life is really hard for me now," he told the Times. "But I'm not. I've been a Buddhist all my life. It's part of the Buddhist thing, that you have to find beauty even in pain."
You can see some of his most famous album covers below, and check out his many photographs of musicians and celebrities at his website.
Rockers We Lost in 2018