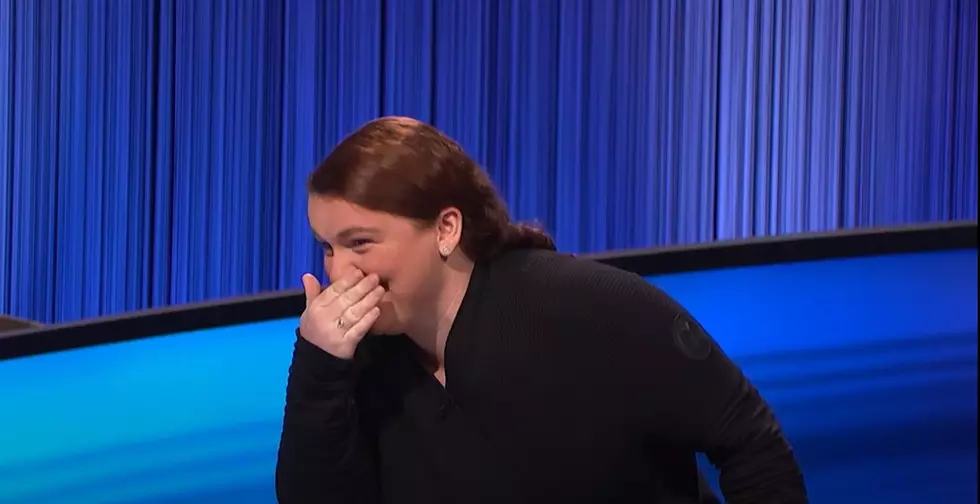 Controversy After New York State Woman's Upset Jeopardy! Win
Jeopardy!/Youtube
Fans rejoiced when a New York woman won on Jeopardy! but then came some controversy.
A woman from the Lower Hudson Valley became a Jeopardy! champion
Westchester County, New York Woman Wins On Jeopardy!
Katie Palumbo of Amawalk, New York finished first on Monday's episode of Jeopardy!
"Exciting news! SHS grad Katie Palumbo will be on Jeopardy on Monday night. Good luck, Katie- we'll be cheering for you! 👏🏼👏🏼👏🏼 #jeopardy #somerscentralschooldistrict," the Somers Central School District posted on Facebook.
Palumbo is a graduate of Somers High School and works as a museum interpreter, according to her Jeopardy! bio.
Somers High School Graduate Wins On Jeopardy!
Palumbo, a lifelong fan of the show, competed on the show in late 2022, but the episode aired this week.
Palumbo finished with $23,000 after Monday's game finished first and defeated the three-time defending champion, Yogesh Raut.
For all the news that the Hudson Valley is sharing make sure to follow Hudson Valley Post on Facebook, download the Hudson Valley Post Mobile App and sign up for the Hudson Valley Post Newsletter.
"She won! Katie Palumbo, SHS class of 2010, took the win on Jeopardy on Monday, January 16. Her one-day total winnings are $23,100. Katie continues her run Tuesday night," the Somers Central School District wrote on Facebook.
Palumbo said her winnings will pay off her college debt.
Many fans were happy to see Palumbo oust Raut (pictured below on the left) who wasn't liked by many fans of the show.
Likely because he claims he beat top contestant James Holzhauer at high school trivia and defeated now Jeopardy! host Ken Jennings at a trivia convention.
New York Woman's Jeopardy! Run Ends In Controversy
Sadly, Palumbo's run ended Tuesday night. But, not without controversy.
Fans are upset with the "poorly worded" final clue, according to The US Sun.
"Under the pressure of being on the show, if you've never heard of this before, one can be thrown off trying to figure out exactly what's being asked here," one viewer wrote regarding the poorly worded final question.
The final clue was:
MIMAL, sometimes said to be the silhouette of a chef or elf, stands for Minnesota, Iowa, Missouri, and these 2 states.
The correct response was:
What are Arkansas and Louisiana?
None of the three contestants got Final Jeopardy! correct.
"I'm from one of the five states and, though I am familiar with the chef meme, have never once heard the five states grouped or referred to this way," another upset fan about Final Jeopardy!, The US Sun reports.
Palumbo finished in second place on Tuesday. Vince Bacani a risk manager from Canada was Tuesday's winner.
All The Answers To Useless Trivia Questions That Are Driving You Nuts
26 Iconic New York Foods That Make Our Mouths Drool
There is no food comparable to New York food and we're here to prove it with 26 New York dishes that will make your eyes grow big and your mouth water.
Nearly 50 Children Have Recently Gone Missing From New York State
Close to 50 children from New York State and the Hudson Valley have recently gone missing. You can help a New York family get reunited with a missing loved one.
Resorts World Hudson Valley Opens Doors In Newburgh
The grand opening for Resorts World Hudson Valley, located in the Newburgh Mall on Rt. 300 in Newburgh, took place on Wednesday December 28th at 10:00am.
Did You Know? Over 100 Fun Facts About the Hudson Valley
Did you know that Lucille Ball made her stage debut in the Hudson Valley? How about Philadelphia Cream Cheese wasn't invented in Philadelphia, but in Orange County? Or that a mansion in Dutchess County inspired the expression "keeping up with the Joneses?" Find out about those and over 100 other fun facts about the Hudson Valley.
Gypsy Moth 'Accidentally' Released Causing 'Nightmares' in New York
After 10 to 15 years a gypsy moth that was once "accidentally" released has returned and is causing "nightmares" in New York.