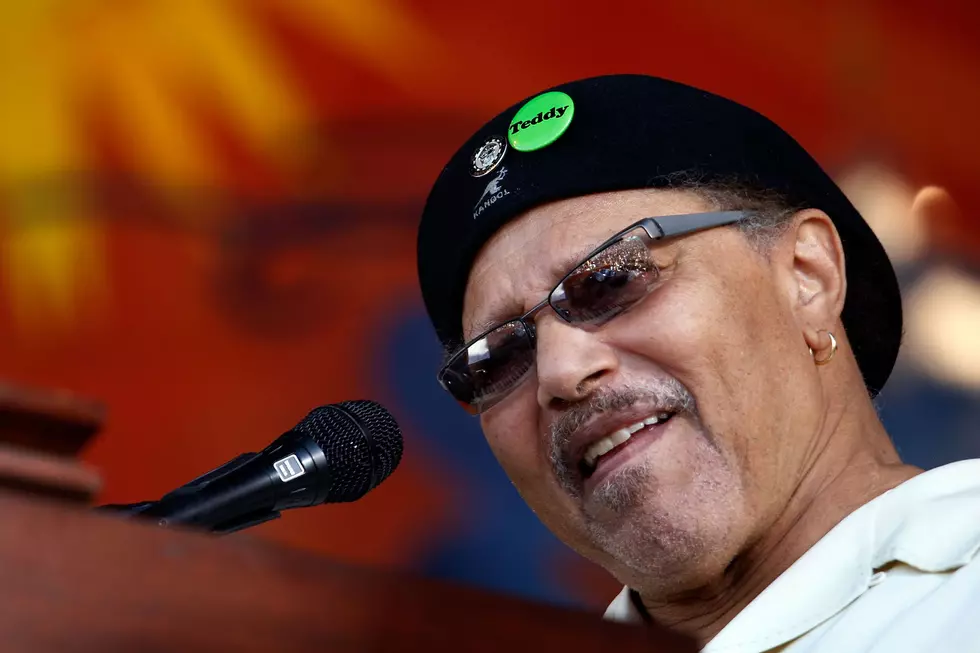 Art Neville, Early Funk Pioneer, Dies at 81
Chris Graythen, Getty Images
Art Neville, an architect of New Orleans funk with several notable rock connections, has died. He was 81.
Co-founder of the Meters and then the Neville Brothers, Neville "passed away at home with his adoring wife Lorraine by his side," Kent Sorrell, Neville's longtime manager, told the New Orleans Times-Picayune.
Neville won his first Grammy in 1989, when the Neville Brothers' "Healing Chant" was named best pop instrumental. His second came in 1996, when a collaboration with Eric Clapton, Bonnie Raitt, Jimmy Vaughan, B.B. King and others called "SRV Shuffle" was recognized.
By then, the Neville Brothers had already collaborated with U2 and Bob Dylan producer Daniel Lanois on the gold-selling Yellow Moon. They covered the Steve Miller Band's "Fly Like an Eagle" on 1992's Family Groove. They've also been sampled by and influenced countless acts, including the Beastie Boys and the Red Hot Chili Peppers.
Art Neville, who eventually became affectionately known as Poppa Funk, was at the center of it all. "No Art Neville, no Meters, no Neville Brothers," his sibling Cyril Neville told Relix magazine earlier this year. "I could go on and on. It all circles back to Art Neville."
Watch Art and the Neville Brothers Perform at Woodstock '94
Born on Dec. 17, 1937, Neville was barely 17 when he handled lead vocals on the Hawkettes' "Mardi Gras Mambo," now a local standard. Art's 1962 interpretation of the Allen Toussaint song "All These Things" became a jukebox favorite. More importantly, however, were the lifelong musical connections made while leading an early band called Art Neville and the Neville Sounds: Art's brother Aaron was in the band. But so were bassist George Porter Jr., guitarist Leo Nocentelli and drummer Joseph "Zigaboo" Modeliste, and they became the Meters.
Cyril Neville joined the Meters later, adding percussion. They served as house band at Toussaint's celebrated New Orleans-based recording studio, backing Lee Dorsey on "Working in a Coal Mine" and Labelle on the hit "Lady Marmalade," among many others. The Meters also took the proto-funk 1969 instrumental "Cissy Strut" to No. 23 on the Billboard charts.
Art and Cyril went on to form the Neville Brothers, a group that also featured Aaron and the late Charles Neville. But recognition for this new group initially spread quite slowly. "We used to play [the famed New Orleans venue] Tipitina's and you could have blown it up and not hurt anyone but the Neville Brothers," Art told the Greensboro News and Record in 1993. "But we were together and enjoying it as it happened."
That relative anonymity wouldn't last. The Neville Brothers became the first New Orleans band to ever perform on Austin City Limits and were, before their 2012 retirement, the traditional final-Sunday closing act at the New Orleans Jazz and Heritage Festival.
"We traveled over land and sea bringing our music to the world. We played with people like the Grateful Dead, the Rolling Stones, Santana, Huey Lewis and the News, Tina Turner and many others," Aaron said in a new Facebook tribute. "We went on the amnesty tour sponsored by the late great Bill Graham who opened doors for the Neville Brothers, our children and so many other folks. From the park bench in the Calliope [Housing Project] to Valence Street in the [city of New Orleans'] 13th Ward to parts unknown, we brought our music and inspiration to the world stage. We now can say that 88 keys were blessed by Poppa Funk."
Walkin' in the Shadow of Life, their final studio album, was released in 2004. Art also performed with the Funky Meters, an offshoot that included Porter and Nocentelli. Katrina chased Neville away from New Orleans for a time, but he eventually returned.
Late in life, he battled back problems, and reportedly suffered a more recent stroke. The original Meters had been set to play a pair of 2017 shows in San Francisco, but had to cancel when Neville didn't feel well enough to travel. "Without Art," Porter admitted back then, "these shows would not be the Meters."
Neville finally retired for good back in December. Before that, he had vowed to stay on the road as long as he possibly could.
"You can bring me there in the ambulance, roll me onto the stage, give me a microphone and a mirror where I can see the people," he joked in a 2013 interview with Keith Spera. "I've been doing this all my life. I enjoy it. Even the bad parts of it, the parts I didn't like – I found out that's the way things go sometimes. You've got to go along with them."
Rock Stars We've Lost in 2019