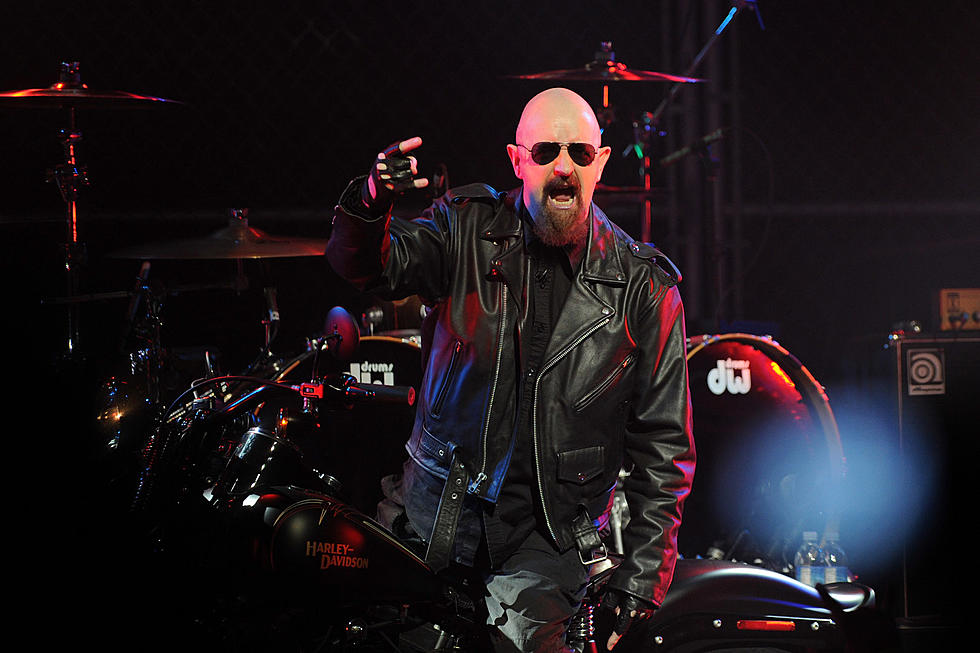 Producer Andy Sneap on New Judas Priest Album: Rob Halford 'Is Singing as Well as He Was' on 'Screaming for Vengeance'
Frazer Harrison, Getty Images
There's a reason they call him "The Metal God." In late August, Judas Priest frontman Rob Halford turned a very metal 66-years-old and anyone who has seen Priest in recent years can attest that the singer is still on top, tearing off deafening high screams with apparent ease, even if it's "Painkiller" thrust into one of the last slots in the set. With a new album on the way, fans can expect more classic Halford according to producer Andy Sneap.
Sneap is one of three members on Priest's production team for the forthcoming disc, working alongside engineer Mike Exeter and Tom Allom, the latter of whom was at the helm for Unleashed in the East through Ram it Down. In an interview with Serbia's Hardwired magazine (video below), Sneap discussed his experience working with the band, initially hitting on how Priest culled new tracks from demo material before discussing Halford's performance.
"Glenn [Tipton] originally wanted to work on it like they have done on the last few albums and use the demos as templates and work off that and I made them actually play as a band," said Sneap. "I think we've got quite a fresh feel on it and quite an old-school approach at times. We pushed Rob on varying the patterns up a little bit on the verses," he continued.
Opening up a bit more about Halford as a performer and on a personal note, the producer stated, "I'll tell you what. For someone who's got that much experience, there's no ego there at all," he said. "We'd do, like, six or seven passes and I'd ask him to try something a bit [different] on this part and he was, like, 'No problem.' And he'd give me another four takes with a slightly different vibe. And then me and Tom Allom would sit there and we'd comp it and we pretty much agreed on everything."
Going on to mention how good Halford is at harmonizing with himself, Sneap discovered "how much the classic Priest albums, a lot of the harmony ideas were Tom Allom's influence." He went on to add, "In fact, I got the multi-tracks from Screaming for Vengeance from Tom Allom and I think Rob is singing as well as he was back then, listening to it. You're looking at something that was recorded in, what, 1982, when Screaming was done? So 35 years ago. And for a guy 35 years on in his career… I mean, they're playing in E flat now, so they are semitone down, but most bands are [these days]. He's nailing it."
For any doubters out there, Sneap cited an example, detailing, "I took a vocal off Screaming for Vengeance — I think it was a high F sharp — and I put it into one of the songs as a bit of a laugh. And Rob was, 'Oh, that's a good idea,' and he just went and nailed it again. So if he can hit the high notes from Screaming for Vengeance, that's quite impressive."
All eyes are on Judas Priest as 2018 approaches. The British legends took all of this year off from performing to focus on tracking the follow-up to 2015's Redeemer of Souls and this new one will mark the 18th studio album in a remarkable discography that dates back to the 1974 Rocka Rolla debut. This will also be the second record to feature axeman Richie Faulkner, who replaced K.K. Downing in 2011.
Andy Sneap Interviewed by Hardwired Magazine
Judas Priest Albums Ranked
10 Amazing Rob Halford High Screams
Loudwire Music Awards Tickets Available Now!