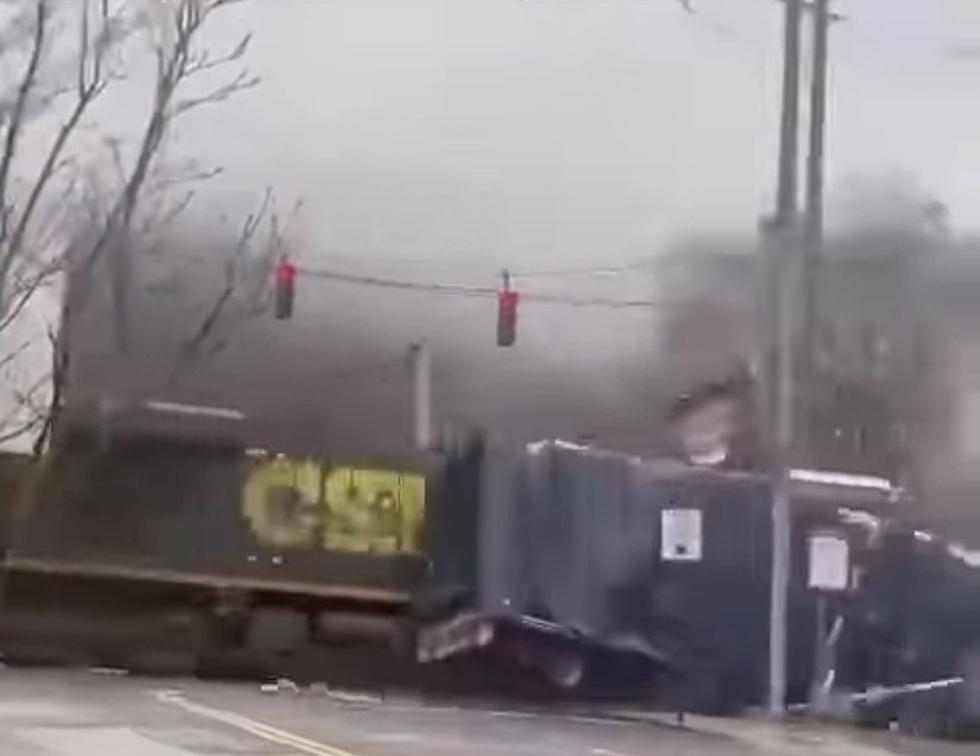 Video: Train & Tractor-Trailer Collide In Hudson Valley, New York
Sherry Millr/FB
It could have been a "horrific tragedy" in the Hudson Valley when a train crashed into a tractor-trailer that was stuck on the tracks.
On Thursday around 10 a.m., the Town of Haverstraw Police Department reported an accident involving a train and a tractor-trailer.
Train Collides With Tractor Trailer In Rockland County, New York
"The Town of Haverstraw Police Department is on (the) scene of a train vs motor vehicle collision near the intersection of Route 9W and New Main Street. The railroad crossing will be closed until further notice. Use (an) alternate route," the Town of Haverstraw Police Department stated.
Video and photos from the scene, seen below, show the horrific impact as the train barrels full speed into a tractor-trailer.
For all the news that the Hudson Valley is sharing make sure to follow Hudson Valley Post on Facebook, download the Hudson Valley Post Mobile App and sign up for the Hudson Valley Post Newsletter.
Driver Alive After Train Crashes Into Tractor-Trailer In Haverstraw
Rockland County Legislature Chairman Jay Hood Jr. is relieved this wasn't "a horrific tragedy."
"This could have been a horrific tragedy, but smart thinking and quick action, including blocking other cars and pedestrians from entering the area, prevented that outcome," Rockland County Legislature Chairman Jay Hood Jr. told ABC. "I'm sure the driver of the truck and the driver of the train are shook up and I hope they'll both be okay. Thank you to everyone who went to the scene in case there were other victims. It's no surprise to me, and I'm sure many others, that the community really pulled together because that is what Haverstraw is all about."
We will update this story if more information is made available.
25 Most Dangerous Counties in New York State
Here are the top 25 most dangerous counties in New York, outside of the city.
Nearly 50 Children Have Recently Gone Missing From New York State
Close to 50 children from New York State and the Hudson Valley have recently gone missing. You can help a New York family get reunited with a missing loved one.
Did You Know? Over 100 Fun Facts About the Hudson Valley
Did you know that Lucille Ball made her stage debut in the Hudson Valley? How about Philadelphia Cream Cheese wasn't invented in Philadelphia, but in Orange County? Or that a mansion in Dutchess County inspired the expression "keeping up with the Joneses?" Find out about those and over 100 other fun facts about the Hudson Valley.
Gypsy Moth 'Accidentally' Released Causing 'Nightmares' in New York
After 10 to 15 years a gypsy moth that was once "accidentally" released has returned and is causing "nightmares" in New York.