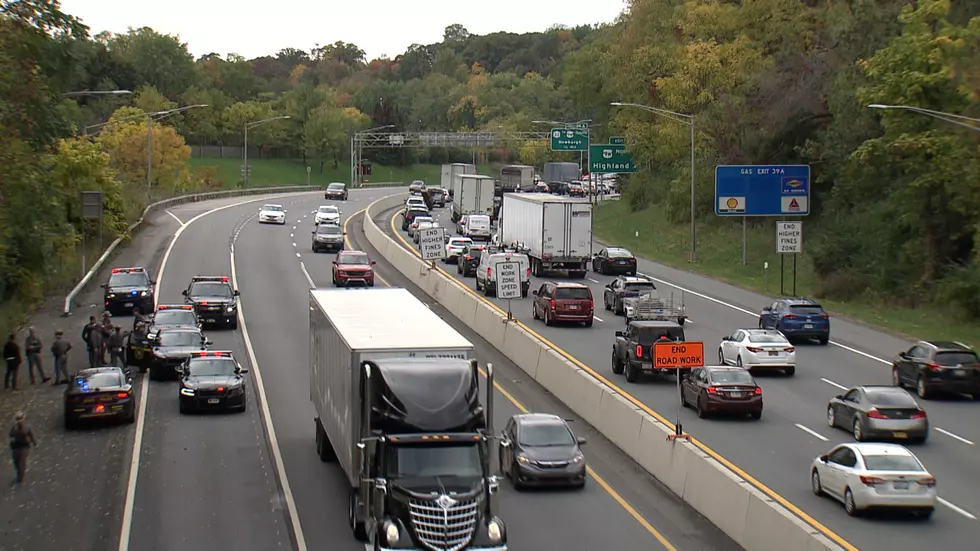 Traffic Warning: Lane Closures All Week On I-84 In Hudson Valley
Rockland Video
New York State officials warn residents to expect delays on Interstate 84 in the Hudson Valley all week.
On Friday, the New York State Department of Transportation released a travel advisory for Hudson Valley drivers.
Lane Closures On I-84 In Orange County, New York State
The New York State Department of Transportation is advising Orange County motorists to expect one lane to close along Interstate 84 eastbound, between Exit 19 (State Route 17) in the Town of Wallkill and Exit 28 (State Route 208) in the Town of Montgomery, starting Monday.
"Motorists should anticipate delays and plan accordingly," the New York State Department of Transportation states in its travel advisory.
For all the news that the Hudson Valley is sharing make sure to follow Hudson Valley Post on Facebook, download the Hudson Valley Post Mobile App and sign up for the Hudson Valley Post Newsletter.
Lane closures are planned from Monday, April 24 through Friday, April 28.
Lane Closures Between Wallkill, New York And Montgomery, New York
The lane closures are planned so crews can complete drainage work. Drivers can expect just one lane of travel on I-84 between the Town of Wallkill and the Town of Montgomery between 9:30 a.m. and 2:30 p.m. Monday through Friday, weather permitting.
"Motorists are urged to slow down and drive responsibly in work zones. Fines are doubled for speeding in a work zone. Convictions of two or more speeding violations in a work zone could result in the suspension of an individual's driver license," the DOT states.
Nearly 40 Children Have Recently Gone Missing From New York State
25 Must Try Hudson Valley Dining Experiences
We compiled a list of 25 great dining experiences that you should try in the Hudson Valley!
Did You Know? Over 100 Fun Facts About the Hudson Valley
Did you know that Lucille Ball made her stage debut in the Hudson Valley? How about Philadelphia Cream Cheese wasn't invented in Philadelphia, but in Orange County? Or that a mansion in Dutchess County inspired the expression "keeping up with the Joneses?" Find out about those and over 100 other fun facts about the Hudson Valley.