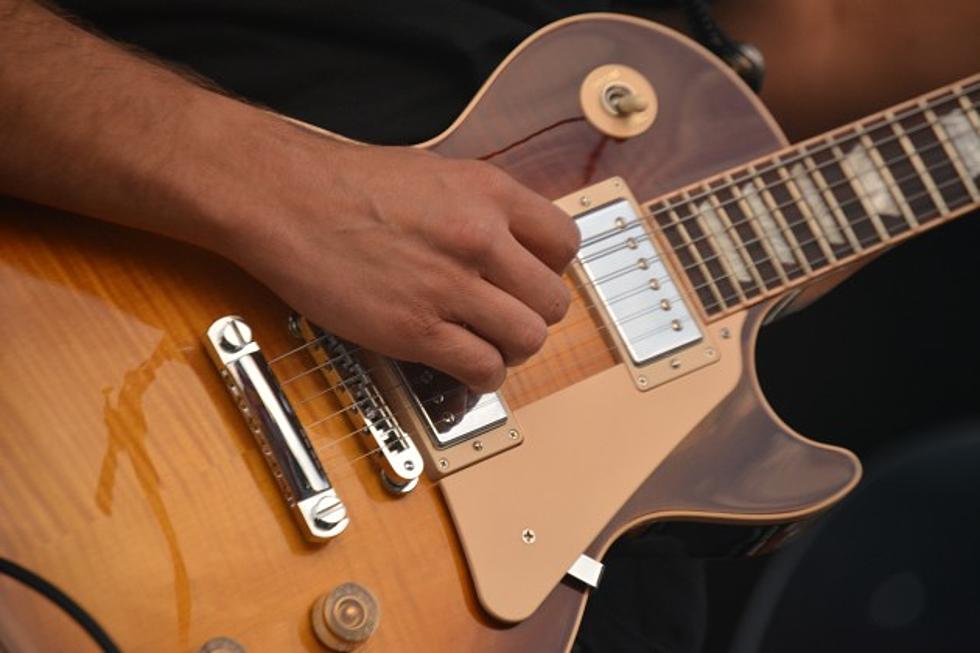 The 2017 WPDH Z to A Playlist [Part 2]
Townsquare Media - Hudson Valley
WPDH flipped its classic rock music library upside down over Labor Day weekend. If you missed a portion of the WPDH Z to A or wanted to have the playlist handy, you're in luck.
Here is the second part of the playlist, featuring the Q to I section.
The WPDH Z to A is brought to you by Perfect Exteriors, your exterior specialists for over 30 years.
The WPDH Z to A: Part 2, Q to I
1. Jimi Hendrix - Purple Haze

Experience Hendrix - The Best of Jimi Hendrix

2. Stevie Ray Vaughan - Pride and Joy

The Essential Stevie Ray Vaughan and Double Trouble

3. U2 - Pride

U218 Singles (Deluxe Version)

4. Van Halen - Pretty Woman

The Best of Both Worlds

5. Def Leppard - Pour Some Sugar on Me

Pour Some Sugar On Me / Rock of Ages 2012 (Re-Recorded Versions) - Single

6. John Mellencamp - Pink Houses

Words & Music - John Mellencamp's Greatest Hits

7. The Who - Pinball Wizard

The Who: Greatest Hits

8. Def Leppard - Photograph

Mirror Ball - Live & More (Deluxe Version)

9. Doors - People Are Strange

The Very Best of the Doors

10. Boston - Peace of Mind

Boston

11. Guns 'n Roses - Patience

Guns N' Roses: Greatest Hits

12. Black Sabbath - Paranoid

Paranoid

13. Guns 'n Roses - Paradise City

Appetite for Destruction

14. Van Halen - Panama

The Best of Both Worlds

15. Rolling Stones - Paint It Black

Hot Rocks 1964-1971

16. Yes - Owner of a Lonely Heart

90125 (Deluxe Version)

17. Ozzy Osbourne - Over the Mountain

Diary of a Madman (Remastered Original Recording)

18. Led Zeppelin - Over the Hills and Far Away

Mothership (Remastered)

19. The Eagles - One of These Nights

Their Greatest Hits 1971-1975

20. George Thorogood - One Bourbon, One Scotch & One Beer

Who Do You Love?

21. Talking Heads - Once in a Lifetime

The Best of Talking Heads (Remastered)

22. Great White - Once Bitten, Twice Shy

Greatest Hits

23. John Cafferty - On the Dark Side

Eddie and the Cruisers (Original Motion Picture Soundtrack)

24. Bob Seger - Old Time Rock and Roll

Ultimate Hits: Rock and Roll Never Forgets

25. Led Zeppelin - Ocean

Houses of the Holy (Remastered)

26. Guns N' Roses - November Rain

Greatest Hits

27. Poison - Nothin' But a Good Time

The Best of Poison - 20 Years of Rock (Remastered)

28. Scorpions - No One Like You

20th Century Masters - The Millennium Collection: The Best of Scorpions

29. Alice Cooper - No More Mr. Nice Guy

Alice Cooper's Greatest Hits

30. Bob Seger - Night Moves

Ultimate Hits: Rock and Roll Never Forgets

31. U2 - New Year's Day

U218 Singles (Deluxe Version)

32. U2 - Mysterious Ways

U218 Singles (Deluxe Version)

33. Billy Squier - My Kinda Lover

Absolute Hits (Remastered)

34. Who - My Generation

20th Century Masters - The Millennium Collection: The Best of The Who

35. Cars - My Best Friend's Girl

Complete Greatest Hits

36. Cars - Moving in Stereo

The Cars

37. George Thorogood - Move It on Over

Who Do You Love?

38. Pink Floyd - Mother

The Wall (Remastered)

39. Boston - More Than a Feeling

Boston

40. Billy Idol - Mony Mony

Billy Idol: Greatest Hits

41. AC/DC - Money Talks

The Razors Edge

42. Dire Straits - Money for Nothing

Private Investigations - The Best of Dire Straits & Mark Knopfler

43. Pink Floyd - Money

The Dark Side of the Moon (Deluxe Experience Version) [Remastered]

44. Led Zeppelin - Misty Mountain Hop

Led Zeppelin IV (Remastered)

45. Mountain - Mississippi Queen

The Best of Mountain

46. Rolling Stones - Miss You

Jump Back: The Best of the Rolling Stones '71-'93 (Remastered)

47. Police - Message in a Bottle

The Very Best of Sting & The Police

48. Paul McCartney - Maybe I'm Amazed

Wingspan: Hits and History

49. Tom Petty - Mary Jane's Last Dance

Greatest Hits

50. Ozzy Osbourne - Mama I'm Coming Home

No More Tears

51. Bob Seger - Main Street

Greatest Hits

52. Heart - Magic Man

Dreamboat Annie

53. Steppenwolf - Magic Carpet Ride

All Time Greatest Hits

54. Rod Stewart - Maggie May

Gold: Rod Stewart (Remastered)

55. Red Rider - Lunatic Fringe

As Far As Siam

56. War - Low Rider

Best of War

57. Journey - Lovin' Touchin'

Journey: Greatest Hits

58. Doors - Love Me Two Times

The Very Best of the Doors

59. Pat Benatar - Love Is a Battlefield

Greatest Hits

60. Aerosmith - Love in an Elevator

Big Ones

61. Nazareth - Love Hurts

Hair of the Dog

62. Doors - Love Her Madly

The Very Best of the Doors

63. Def Leppard - Love Bites

Mirror Ball - Live & More (Deluxe Version)

64. Doobie Brothers - Long Train Runnin'

The Very Best of the Doobie Brothers (Remastered)

65. Hollies - Long Cool Woman

The Hollies' Greatest Hits

66. Billy Squier - Lonely Is the Night

Don't Say No (Remastered)

67. Kinks - Lola

Lola Versus Powerman and the Money-Go-Round, Pt. 1

68. Jethro Tull - Locomotive Breath

The Very Best of Jethro Tull

69. Judas Priest - Living After Midnight

The Best of Judas Priest - Living After Midnight

70. Aerosmith - Livin' on the Edge

Big Ones

71. Bon Jovi - Livin' on a Prayer

Cross Road

72. Guns 'n Roses - Live and Let Die

Guns N' Roses: Greatest Hits

73. Paul McCartney - Live and Let Die

Wings Greatest

74. Doobie Brothers - Listen to the Music

The Very Best of the Doobie Brothers (Remastered)

75. Rush - Limelight

Chronicles (Remastered)

76. Journey - Lights

Journey: Greatest Hits

77. Doors - Light My Fire

The Very Best of the Doors

78. Joe Walsh - Life's Been Good

But Seriously, Folks...

79. The Eagles - Life in the Fast Lane

Hotel California

80. Cars - Let's Go

Complete Greatest Hits

81. David Bowie - Let's Dance

Best of Bowie

82. Pete Townshend - Let My Love Open the Door

The Bridge School Collection, Vol. 3 (Live)

83. Bachman Turner Overdrive - Let It Ride

20th Century Masters - The Millennium Collection: The Best of Bachman-Turner Overdrive

84. ZZ Top - Legs

Eliminator

85. Pink Floyd - Learning to Fly

A Foot In the Door: The Best of Pink Floyd (Remastered)

86. Tom Petty - Learning to Fly

Greatest Hits

87. Derek and the Dominoes - Layla

The Best of the 70s - Vol. 5

88. Genesis - Land of Confusion

Invisible Touch (Remastered)

89. ZZ Top - La Grange

Tres Hombres

90. Doors - L.A. Woman

The Very Best of the Doors

91. Guns 'N Roses - Knockin' on Heaven's Door

Guns N' Roses: Greatest Hits

92. Queen - Killer Queen

Queen: Greatest Hits

93. Motley Crue - Kickstart My Heart

Dr. Feelgood (Bonus Track Version)

94. Georgia Satellites - Keep Your Hands to Yourself

Rhino Hi-Five: The Georgia Satellites - EP

95. REO Speedwagon - Keep On Loving You

Hi Infidelity

96. Led Zeppelin - Kashmir

Mothership (Remastered)

97. Emerson Lake and Palmer - Karn Evil 9

Come and See the Show: The Best of Emerson Lake and Palmer

98. Cars - Just What I Needed

Complete Greatest Hits

99. The Steve Miller Band - Jungle Love

Greatest Hits 1974-78

100. Rolling Stones - Jumpin' Jack Flash

Hot Rocks 1964-1971

101. Van Halen - Jump

The Best of Both Worlds

102. Foreigner - Juke Box Hero

No End In Sight: The Very Best of Foreigner (Remastered)

103. Steve Miller Band - Jet Airliner

Greatest Hits 1974-78

104. Tommy Tutone - Jenny

Tommy Tutone - 2

105. Aerosmith - Janie's Got a Gun

Big Ones

106. Van Halen - Jamie's Cryin'

Van Halen

107. John Mellencamp - Jack and Diane

Words & Music - John Mellencamp's Greatest Hits

108. Yes - I've Seen All Good People

The Yes Album (Deluxe Version)

109. Billy Joel - It's Still Rock and Roll to Me

The Essential Billy Joel

110. Rolling Stones - It's Only Rock N Roll

Jump Back: The Best of the Rolling Stones '71-'93 (Remastered)

111. AC/DC - It's a Long Way to the Top

High Voltage

112. Black Sabbath - Iron Man

Iron Man - Black Sabbath

113. Billy Squier - In the Dark

Absolute Hits (Remastered)

114. Phil Collins - In the Air Tonight

...Hits

115. Led Zeppelin - Immigrant Song

Mothership (Remastered)

116. Van Halen - I'll Wait

1984

117. Tom Petty - I Won't Back Down

Anthology: Through the Years

118. Cheap Trick - I Want You to Want Me

Authorized Greatest Hits

119. ZZ Top - I Thank You

Degüello

120. U2 - I Still Haven't Found What I'm Looking For

U218 Singles (Deluxe Version)

121. Eric Clapton - I Shot the Sheriff

20th Century Masters - The Millennium Collection: The Best of Eric Clapton

122. Skid Row - I Remember You

Skid Row

123. John Mellencamp - I Need a Lover

Words & Music - John Mellencamp's Greatest Hits

124. Joan Jett and the Blackhearts - I Love Rock N Roll

I Love Rock 'N Roll (Remastered)

125. Joan Jett and the Blackhearts - I Hate Myself for Loving You

Joan Jett and The Blackhearts: Greatest Hits

126. George Thorogood - I Drink Alone

Anthology

127. Phil Collins - I Don't Care Anymore

Hello, I Must Be Going!

128. Sammy Hagar - I Can't Drive 55

Unboxed