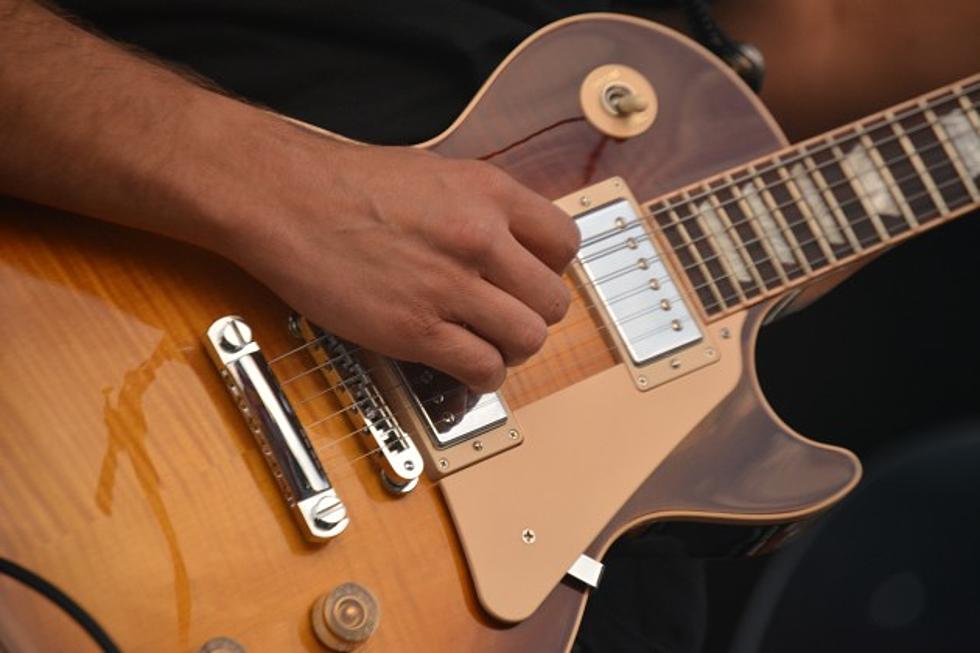 The 2017 WPDH Z to A Playlist [Part 1]
Townsquare Media - Hudson Valley
WPDH flipped its classic rock music library upside down over Labor Day weekend. If you missed a portion of the WPDH Z to A or wanted to have the playlist handy, you're in luck.
Here is the first part of the playlist, featuring the Z to R section.
The WPDH Z to A is brought to you by Perfect Exteriors, your exterior specialists for over 30 years.
The WPDH Z to A: Part 1, Z to R
1. Judas Priest - You've Got Another Thing Coming

Live In London

2. Queen - You're My Best Friend

Queen: Greatest Hits

3. Cars - You're All I've Got Tonight

Complete Greatest Hits

4. Pink Floyd - Young Lust

The Wall (Remastered)

5. AC/DC - You Shook Me All Night Long

Back In Black

6. Van Halen - You Really Got Me

Van Halen

7. Cars - You Might Think

Complete Greatest Hits

8. Tom Petty - You Got Lucky

Anthology: Through the Years

9. Bon Jovi - You Give Love a Bad Name

Cross Road

10. Tom Petty - You Don't Know How It feels

Wildflowers

11. Rolling Stones - You Can't Always Get What You Want

Let It Bleed

12. The Who - You Better You Bet

Face Dances (Remastered)

13. Bachman Turner Overdrive - You Ain't Seen Nothing Yet

20th Century Masters - The Millennium Collection: The Best of Bachman-Turner Overdrive

14. Loverboy - Working for the Weekend

Get Lucky (Remastered)

15. The Who - Won't Get Fooled Again

Who's Next (Bonus Track Version)

16. U2 - With or Without You

U218 Singles (Deluxe Version)

17. Pink Floyd - Wish You Were Here

A Foot In the Door: The Best of Pink Floyd (Remastered)

18. Van Halen - Why Can't This Be Love

The Best of Both Worlds

19. Journey - Who's Crying Now

Greatest Hits

20. Led Zeppelin - Whole Lotta Love

Mothership (Remastered)

21. AC/DC - Who Made Who

Who Made Who

22. George Thorogood - Who Do You Love

Who Do You Love?

23. The Who - Who Are You

Who Are You (Remastered)

24. Billy Idol - White Wedding

Billy Idol: Greatest Hits

25. Cream - White Room

The Very Best of Cream

26. Beatles - While My Guitar Gently Weeps

The Beatles (White Album)

27. US - Where the Streets Have No Name

Between Us

28. Journey - Wheel in the Sky

Journey: Greatest Hits

29. Lynyrd Skynyrd - What's Your Name

20th Century Masters - The Millennium Collection: The Best of Lynyrd Skynyrd

30. Aerosmith - What It Takes

Big Ones

31. Led Zeppelin - What Is and What Should Never Be

Led Zeppelin II (Remastered)

32. Romantics - What I Like About You

The Romantics

33. Warren Zevon - Werewolves of London

Excitable Boy (Remastered)

34. Twisted Sister - We're Not Gonna Take It

Rhino Hi-Five: Twisted Sister - EP

35. Grand Funk Railroad - We're an American Band

Grand Funk Railroad: Greatest Hits

36. Pink Floyd - Welcome to the Machine

Wish You Were Here (Remastered)

37. Guns 'n Roses - Welcome to the Jungle

Appetite for Destruction

38. Queen - We Will Rock You

Queen: Greatest Hits

39. Black Sabbath - War Pigs

Paranoid

40. Bon Jovi - Wanted Dead or Alive

Cross Road

41. Aerosmith - Walk This Way

The Essential Aerosmith

42. Pink Floyd - Us & Them

The Dark Side of the Moon

43. Foreigner - Urgent

No End In Sight: The Very Best of Foreigner (Remastered)

44. Queen - Under Pressure

The Platinum Collection

45. Van Halen - Unchained

Fair Warning

46. Eddie Money - Two Tickets to Paradise

The Best of Eddie Money

47. Golden Earring - Twilight Zone

Cut

48. ZZ Top - Tush

Dazed and Confused (Motion Picture Soundtrack)

49. Autograph - Turn Up the Radio

Turn Up the Radio

50. Bob Seger - Turn the Page

Ultimate Hits: Rock and Roll Never Forgets

51. Lynyrd Skynyrd - Tuesday's Gone

Pronounced Leh-Nerd Skin-Nerd

52. Led Zeppelin - Trampled Under Foot

Mothership (Remastered)

53. Aerosmith - Train Kept A-Rollin'

Pandora's Box

54. The Doors - Touch Me

The Very Best of the Doors

55. Styx - Too Much Time on My Hands

Styx: Greatest Hits

56. Def Leppard - Too Late for Love

Mirror Ball - Live & More (Deluxe Version)

57. Rush - Tom Sawyer

Chronicles (Remastered)

58. REO Speedwagon - Time for Me to Fly

You Can Tune a Piano, But You Can't Tuna Fish

59. Pink Floyd - Time

The Dark Side of the Moon (Deluxe Experience Version) [Remastered]

60. AC/DC - Thunderstruck

The Razors Edge

61. Eddie Money - Think I'm in Love

The Best of Eddie Money

62. Tom Petty - The Waiting

Anthology: Through the Years

63. Billy Squier - The Stroke

Absolute Hits (Remastered)

64. Aerosmith - The Other Side

Big Ones

65. R.E.M. - The One I Love

R.E.M. Live

66. The Eagles - The Long Run

The Long Run

67. Supertramp - The Logical Song

The Very Best of Supertramp

68. The Steve Miller Band - The Joker

Greatest Hits 1974-78

69. Fleetwood Mac - The Chain

Rumours

70. Thin Lizzy - The Boys Are Back in Town

Jailbreak

71. Genesis - That's All

Genesis (Remastered)

72. Lynyrd Skynyrd - That Smell

20th Century Masters - The Millennium Collection: The Best of Lynyrd Skynyrd

73. Bachman Turner Overdrive - Taking Care of Business

20th Century Masters - The Millennium Collection: The Best of Bachman-Turner Overdrive

74. Steve Miller Band - Take the Money and Run

Greatest Hits 1974-78

75. Supertramp - Take the Long Way Home

The Very Best of Supertramp

76

76. Eddie Money - Take Me Home Tonight

77

77. REO Speedwagon - Take It on the Run

78. The Eagles - Take It Easy

Their Greatest Hits 1971-1975

79. AC/DC - T.N.T.

High Voltage

80. The Police - Synchronicity

Synchronicity (Remastered)

81. Rolling Stones - Sympathy for the Devil

Beggars Banquet

82. Steve Miller Band - Swingtown

Greatest Hits 1974-78

83. Lynyrd Skynyrd - Sweet Home Alabama

20th Century Masters - The Millennium Collection: The Best of Lynyrd Skynyrd

84

84. Aerosmith - Sweet Emotion

85. Guns 'n Roses - Sweet Child O' Mine

Appetite for Destruction

86

86. Cheap Trick - Surrender

87. U2 - Sunday Bloody Sunday

U218 Singles (Deluxe Version)

88. Bryan Adams - The Summer of '69

The Best of Me

89. Dire Straits - Sultans of Swing

Dire Straits

90. Stealers Wheel - Stuck in the Middle With You

Reservoir Dogs (Original Motion Picture Soundtrack)

91. Ted Nugent - Stranglehold

The Ultimate Ted Nugent

92. Heart - Straight On

Greatest Hits

93. Stevie Nicks - Stop Draggin' My Heart Around

Crystal Visions... The Very Best of Stevie Nicks (Bonus Version)

94. Journey - Stone in Love

The Essential Journey

95. The Rolling Stones - Start Me Up

Jump Back: The Best of the Rolling Stones '71-'93 (Remastered)

96. Led Zeppelin - Stairway to Heaven

Mothership (Remastered)

97. The Police - Spirits in the Material World

Ghost In the Machine (Remastered)

98. Rush - Spirit of Radio

The Spirit of Radio: Greatest Hits (1974-1987)

99. Pink Floyd - Speak to Me

The Dark Side of the Moon (Remastered)

100. David Bowie - Space Oddity

Best of Bowie

101. Boston - Something About You

Boston

102. Queen - Somebody to Love

Queen: Greatest Hits

103. Grand Funk Railroad - Some Kind of Wonderful

All the Girls In the World Beware!!!

104

104. Peter Gabriel - Solsbury Hill

105. Motley Crue - Smokin' in the Boys Room

Mötley Crüe: The Greatest Hits (Deluxe Version)

106. Boston - Smokin'

Boston

107. Deep Purple - Smoke on the Water

Machine Head

108. John Mellencamp - Small Town

Words & Music - John Mellencamp's Greatest Hits

109. Foghat - Slow Ride

Fool for the City

110. Peter Gabriel - Sledgehammer

Shaking the Tree (16 Golden Greats) [Remastered]

111. Night Ranger - Sister Christian

Midnight Madness

112. Lynyrd Skynyrd - Simple Man

Pronounced Leh-Nerd Skin-Nerd

113. Tesla - Signs

Five Man Acoustical Jam (Live)

114. Peter Frampton - Show Me the Way

The Very Best of Peter Frampton

115. The Clash - Should I Stay or Should I Go

Combat Rock

116. Ozzy Osbourne - Shot in the Dark

The Ultimate Sin

117. Bad Company - Shooting Star

10 from 6

118. AC/DC - Shoot to Thrill

Back In Black

119. The Black Crowes - She Talks to Angels

iTunes Originals: The Black Crowes

120. The Rolling Stones - Shattered

Some Girls (Deluxe Edition)

121. ZZ Top - Sharp Dressed Man

Eliminator

122. Eddie Money - Shakin'

The Best of Eddie Money

123. Cars - Shake It Up

Complete Greatest Hits

124. Journey - Separate Ways

Journey: Greatest Hits

125. Alice Cooper - School's Out

Alice Cooper's Greatest Hits

126. Elton John - Saturday Night's Alright for Fighting

Elton John: Greatest Hits

127. Lynyrd Skynyrd - Saturday Night Special

20th Century Masters - The Millennium Collection: The Best of Lynyrd Skynyrd

128. Rolling Stones - Satisfaction

Hot Rocks 1964-1971

129. Aerosmith - Same Old Song and Dance

The Essential Aerosmith

130. Jackson Browne - Running on Empty

Running On Empty

131. Van Halen - Running With the Devil

Hot for Remixes: A Tribute to Van Halen

132. Tom Petty - Runnin' Down a Dream

Greatest Hits

133. Bon Jovi - Runaway

Greatest Hits - The Ultimate Collection

134. Bryan Adams - Run to You

Reckless

135. Pink Floyd - Run Like Hell

The Wall (Remastered)

136. The Police - Roxanne

The Very Best of Sting & The Police

137. Ratt - Round and Round

Tell the World: The Very Best of Ratt (Remastered)

138. REO Speedwagon - Roll With the Changes

You Can Tune a Piano, But You Can't Tuna Fish

139. Joe Walsh - Rocky Mountain Way

Joe Walsh's Greatest Hits: Little Did He Know...

140. Steve Miller Band - Rock'n Me

Greatest Hits 1974-78

141. 38 Special - Rockin' Into the Night

The Very Best of the A&M Years (1977-1988)

142. Neil Young - Rockin' in the Free World

Neil Young: Greatest Hits

143. Def Leppard - Rocket

Mirror Ball: Live & More (Deluxe Version)

144. Scorpions - Rock You Like a Hurricane

20th Century Masters - The Millennium Collection: The Best of Scorpions

145. Clash - Rock the Casbah

Combat Rock

146. Def Leppard - Rock of Ages

Pour Some Sugar On Me / Rock of Ages 2012 (Re-Recorded Versions) - Single

147. Bad Company - Rock and Roll Fantasy

Live At Wembley

148. Rick Derringer - Rock and Roll Hoochie Koo

The Best of Rick Derringer - Rock and Roll, Hoochie Koo

149. Kiss - Rock and Roll All Night

A Tribute to the Rock 'N' Roll Allstars: Kiss, Guns n' Roses, Deep Purple and More, Vol. 1

150. Bob Seger - Rock and Roll Never Forgets

Ultimate Hits: Rock and Roll Never Forgets

151. Boston - Rock and Roll Band

Boston

152. AC/DC - Rock 'n Roll Ain't Noise Pollution

Back In Black

153. Led Zeppelin - Rock and Roll

Mothership (Remastered)

154. Doors - Roadhouse Blues

The Very Best of the Doors

155. Van Halen - Right Now

The Best of Both Worlds

156. Doors - Riders on the Storm

The Very Best of the Doors

157. Fleetwood Mac - Rhiannon

Fleetwood Mac: Greatest Hits

158. The Beatles - Revolution

The Beatles 1967-1970 (The Blue Album)

159. Styx - Renegade

Styx: Greatest Hits

160. Tom Petty - Refugee

Anthology: Through the Years

161. Steely Dan - Reelin' in the Years

Can't Buy a Thrill

162. Billy Idol - Rebel Yell

Billy Idol: Greatest Hits

163. Bad Company - Ready for Love

10 from 6

164. Allman Brothers - Ramblin' Man

A Decade of Hits 1969-1979

165. Led Zeppelin - Ramble On

Mothership (Remastered)

166. Aerosmith - Rag Doll

Big Ones

167. Golden Earring - Radar Love

Moontan