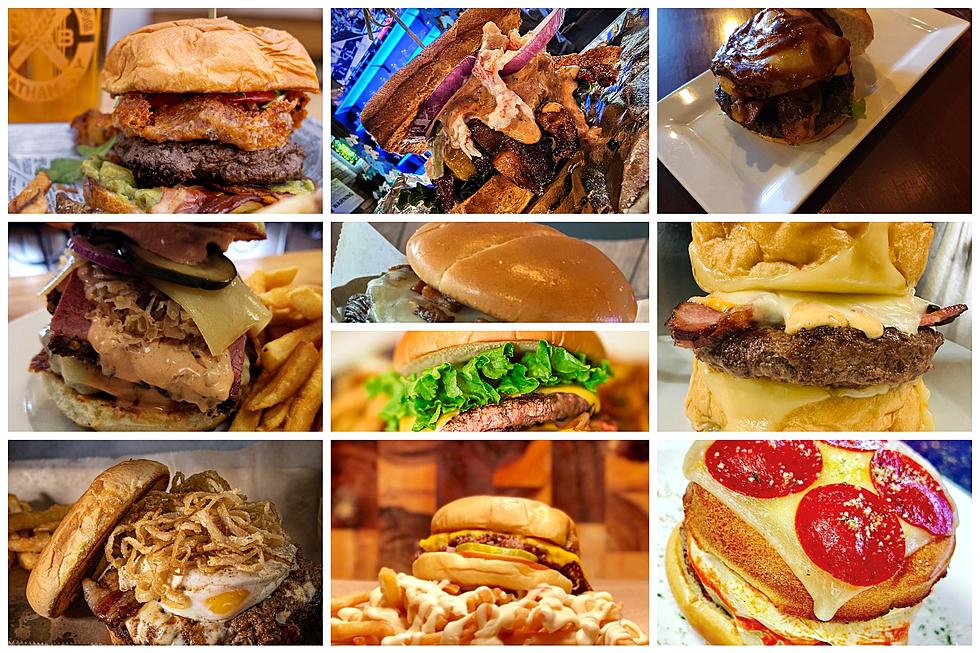 The 10 Most Delicious Burgers Made In New York State In 2023
NY Beef Council
Ten restaurants from across New York State can brag they make one of the best burgers in all of the Empire State. Take a look, because your help is needed in naming New York's best burger.
The New York Beef Council announced the top 10 burgers made in New York State for 2023.
Top 10 Burgers Made In New York State Announced
"The New York Beef Council (NYBC) has tallied the votes for the Top Ten Burgers in New York, chosen by the people!! After the contest opened on April 1st, the votes flooded in, in support of restaurants from every part of the state," the New York Beef Council stated in a press release.
Fans will now vote on the Top 10 to decide the Final Four.
For all the news that the Hudson Valley is sharing make sure to follow Hudson Valley Post on Facebook, download the Hudson Valley Post Mobile App and sign up for the Hudson Valley Post Newsletter.
Below is the list of the Top 10 burgers made in New York State.
What's your favorite? Now, New York State residents can vote to create the final four. CLICK HERE to vote. Voting lasts until April 29.
"In total, we collected 3,612 votes for the Best NY Burger competition so far from several regions throughout New York," Director of Producer Communications & Consumer Engagement for the New York Beef Council Chrissy Claudio said. "This year's Top Ten restaurants are praiseworthy but are only a few of the many restaurants in New York State that do an outstanding job of promoting and serving our beef products to their customers on behalf of New York's beef producers."
Restaurants From Syracuse, Port Jervis, Baldwinsville, Brewertown, Long Beach, Chaham, Rensselaer, Niagara Falls, Rochester Honored
Below is the full list:
Ale & Angus Pub Syracuse Bacon Grilled Cheeseburger
Angry Garlic Baldwinsville Hot Mess Burger
Bear Creek Restaurant Brewertown Bourbon Burger
Ben's Fresh Port Jervis Benny Burger
Black Door Burger Long Beach "The Blackdoor Burger"
Brewer Union Café Brewerton Irish Hand Grenade
Chatham Brewing Chatham The Trowbridge Burger
Illusive Restaurant Rensselaer The Bougee Burger
Rock Burger Niagara Falls 716 Burger
Tap it Bar and Grill Rochester Aftermath Burger
Port Jervis, New York Restaurant In Running For New York States' Best Burger
23 Delicious New York State Burger Challenges
Have you ever wanted to compete in a food eating challenge or competition? You should consider taking on one of these 23 burger challenges.
Nearly 40 Children Have Recently Gone Missing From New York State
25 Must Try Hudson Valley Dining Experiences
We compiled a list of 25 great dining experiences that you should try in the Hudson Valley!
Did You Know? Over 100 Fun Facts About the Hudson Valley
Did you know that Lucille Ball made her stage debut in the Hudson Valley? How about Philadelphia Cream Cheese wasn't invented in Philadelphia, but in Orange County? Or that a mansion in Dutchess County inspired the expression "keeping up with the Joneses?" Find out about those and over 100 other fun facts about the Hudson Valley.