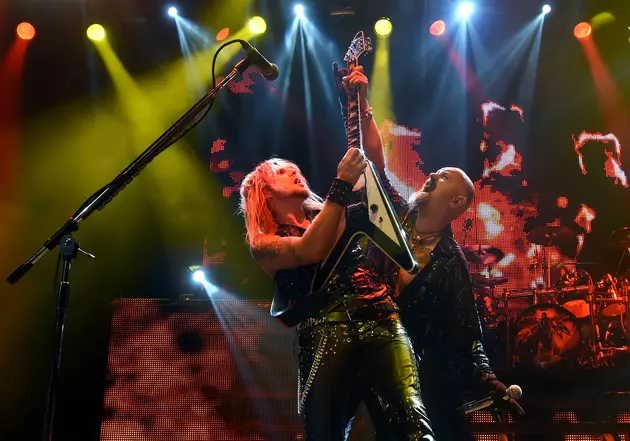 Sunday, January 1: Tig's Rock Birthdays
Ethan Miller/Getty Images
Happy Birthday today (Jan. 1) to guitarist Richie Faulkner of Judas Priest. He's 37. Faulkner replaced guitarist K.K. Downing in the band after Downing's departure.
Richie Faulkner's first appearance with Judas Priest was on American Idol
in May of 2011 where the band performed "Living After Midnight" and "Breaking the Law". Faulkner also appears on Judas Priest's 2014 release, Redeemer of Souls. Redeemer of Souls was released on July 8, 2014. The album sold around 32,000 copies in the U.S. and debuted at No. 6 on the Billboard 200 chart marking the band's first U.S Top 10 debut. Judas Priest supported the album with a world tour in 2014 and continued touring throughout 2015. According to a recent interview with Richie Faulkner, the band started working on a new album in 2016 and apparently will begin recording in January 2017. He also stated that the band wouldn't tour again until 2018. I saw Richie Faulkner on his first tour with Judas Priest five years ago in East Rutherford, NJ at the Izod Center (former Meadowlands Arena) along with Black Label Society and Thin Lizzy. Amazing show and Faulkner is an incredible guitarist! The perfect replacement for the great K.K. Downing. Judas Priest will release a special 30th anniversary edition of the classic album Turbo in February 2017.
Check out the official Judas Priest website here.