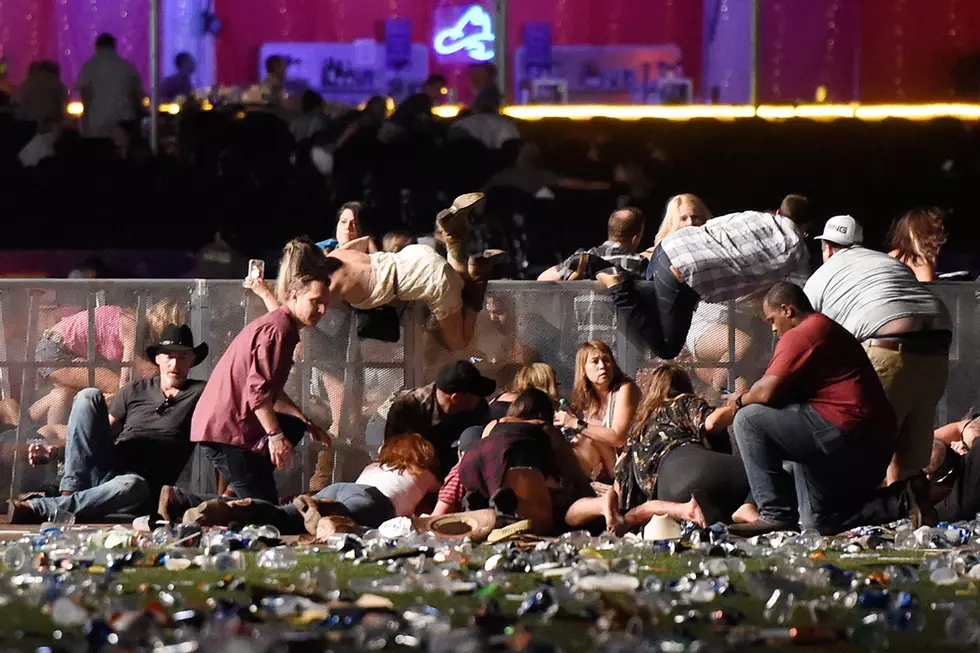 Performers and Concertgoers Detail Horrific Las Vegas Mass Shooting
Getty Images
Last night's horrific mass shooting in Las Vegas during the Route 91 Harvest Music Festival has shocked the country. At the press time, the death toll of the event has risen to 58 and 515 injured. The shooting began while singer Jason Aldean was playing his headlining set at 10:08PM. Stephan Paddock was identified as the culprit. Responses to the event from both musicians and attendees alike have begun to trickle in, painting a picture of what it was like inside the festival last night.
Country singer Jake Owen recalled the event during a Good Morning America interview. He had performed just prior to Aldean. "Standing there, you could hear the bullets starting to hit the roof of the stage and people started fleeing everywhere," said Owen. "You could hear people screaming. It sounded like gunshots were coming from all around us, and this is before any of us knew that it was coming from above."
"I keep saying it was like a bad movie that you've seen before but never thought it would be real life," Owen continued. "Jason turned around and started running back toward his drum riser to get out of the way once he realized that gunshots were being fired. The crowd started running. It was a bad scene. There were people literally being shot. You could see blood everywhere. It was something that I wouldn't ever want to see again or wish upon anyone else to see."
"I don't think at first he could even hear the shots that were going off until I think someone maybe in his crew said, 'Hey, you need to get offstage and run back here,'" Owen said. "I could tell he kind of stopped and started running. At that point, we were all not knowing what to do."
On Twitter, Caleb Keeter, guitarist of the Josh Abbott Band, wrote a statement on the events, saying that seeing the massive loss of life has made him reconsider his stance on guns. He wrote that members of his crew had CHL licenses and legal firearms on the bus, but "they were useless."
"We couldn't touch them for fear police might think that we were part of the massacre and shoot us. A small group (or one man) laid waste to a city with dedicated, fearless police officers desperately trying to help, because of access to an insane amount of firepower," stated Keeter.
CNN took stories from survivors of the events, who recounted what happened to them at the festival. One attendee, Taylor Benge, said he was with his sister, who threw herself on top of him, telling him, "'I love you, Taylor. I love you.' And I'll never forget that," he said.
"Even hurdling over everything and getting over the fences and whatnot, it almost felt like we were getting closed in because no matter which direction you went in, no matter where you took cover, there was at least two to three bodies that were a part of it and you didn't know where you were safe," he said.
Corinne Lomas recounted the scene from near the stage, where her legs were covered in blood. "People had to fall on top of each other, whether they were alive or not," she said. "I could see a guy with a bullet wound in his neck. ... People started dropping like flies."
Monique Dumas recounted the band actions onstage and the end of the event. "The band was rushed off the stage, the floodlights came on the crowd and you see on the right hand of the stage the person who was injured. So they're calling for medics, calling for security, then there was gunfire again," Dumas said. "The gunfire never ended, it seemed like it went on and on and on."
A witness told a CNN affiliate about the scene from the parking lot, saying, "My husband and I ran out toward our car, and there were people hiding underneath my car for cover," said the woman, who didn't give her name. "And there was a gentleman who was shot and he said, 'Can you help me?' And so I put him in my car and I had like six people in my car, people without shoes, running, just to get away."
Our hearts go out to the victims of the shooting.