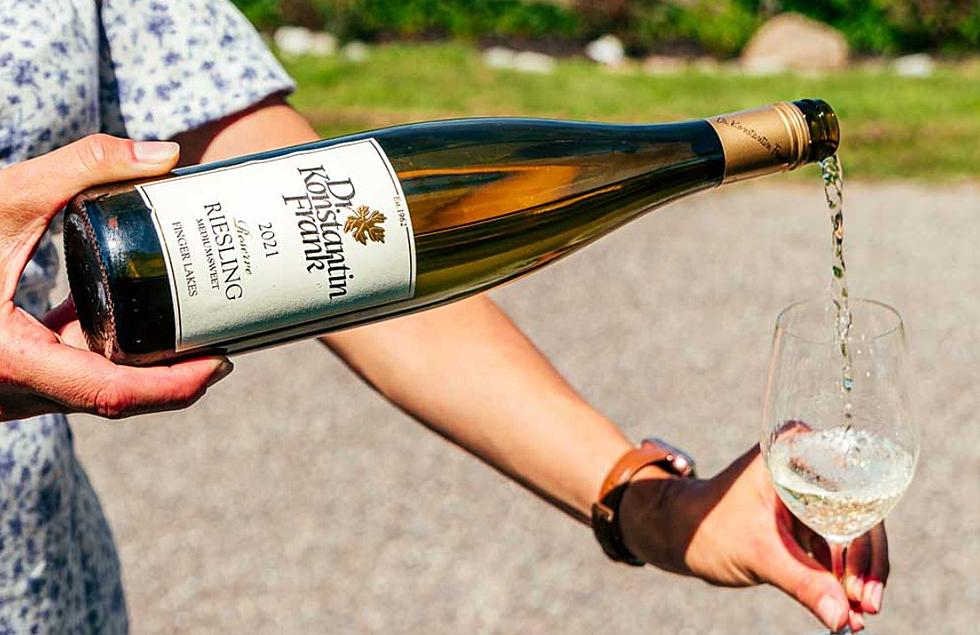 New York State's Most Awarded Winery Now Serving In Puerto Rico
Dr. Konstantin Frank
It was an exciting day for New York State, wine fans, and Puerto Rico. A new partnership will now offer New York State wine in Puerto Rico.
According to New York State's Governors office, a new deal was struck between the New York State Office of Trade and Tourism, distributor Serrallés Imports and Steuben County-based Dr. Konstantin Frank Winery. With this new deal, an Upstate New York wine will now be served in Puerto Rico. For those that don't know, Dr. Konstantin Frank is New York's most awarded winery. The winery will be providing its Riesling varieties and Rosé for export:
"We are absolutely thrilled to be the first New York State Winery selling our wines in Puerto Rico. My great-grandfather was a pioneer in New York when he was the first to plant the European varieties in the eastern United States. We continue to pioneer four generations later and this time bringing our wines to the great people of Puerto Rico," said Dr. Konstantin Frank Winery Vice President Meaghan Frank.
The governor's office said the state hopes to expand the selection of wines and wineries participating in the future.
"Puerto Rico has shared so much of its culture, vibrancy, and creativity with New York, and our history and future are intrinsically intertwined," Governor Hochul said. "Now Puerto Rico will be able to enjoy what wine lovers across the world have long known - the best wines are made in New York. Cheers to this fantastic collaboration!""
New York State is one of the world's premier wine-making regions, and ranks as the third largest producer of wines in the nation. As of the this article's publication, there are 496 licensed wineries across the State, including 394 farm wineries, making the New York wine industry an important part of the statewide economy and one of its key exports.
By the Glass, You Cannot Go Wrong at These 13 Upstate New York Wine Bars
Wine bars are spreading across Upstate New York rapidly. Not necessarily bars in the traditionally sense, or corner saloons, or cocktail lounges, but wine bars which focus mainly on the many varieties of wines from around the world.
Of course Upstate is no slouch when it comes to wine, with the Finger Lakes wineries now grabbing many of the headlines at wine expos and competitions around the country. But local wine producers, even the very small ones, are starting to nudge into the pack of award-winning vinos from coast to coast
Here is a list of 13 great wine bars. They all serve food and many of them have the word "restaurant" in their name, but as you will see, the wine is the superstar at all of these fine Upstate New York places.
12 Great Watering Holes in Area Code 585. Dive Bars, Wine Bars, Sports Bars, and More (Oh My!)
New York State Area Code 585 cuts a wide swath through the state stretching from Lake Ontario all the way south to the Pennsylvania border. It covers the city of Rochester, plus many smaller towns and villages. There are many great bars in this area code and we thought we would highlight a dozen random ones for you to consider when stopping for a spell (or a sip).
This list incudes roadside dive bars, high end cocktail lounges, college pubs, taverns with fantastic food, and even a couple of places that you would definitely categorize as legendary!
If your favorite bar in Area Code 585 didn't make the list, please give it a shout out over on our Facebook page!
These Top Wineries Can Be Found Along the St. Lawrence Seaway
While, for the most part, we think of the Finger Lakes Region of Upstate New York as the home of many of the state's finest wineries, the St. Lawrence Seaway region also plays host to many large and small wineries that have gained in popularity in recent years. Here is a selection of some of the best from that area.