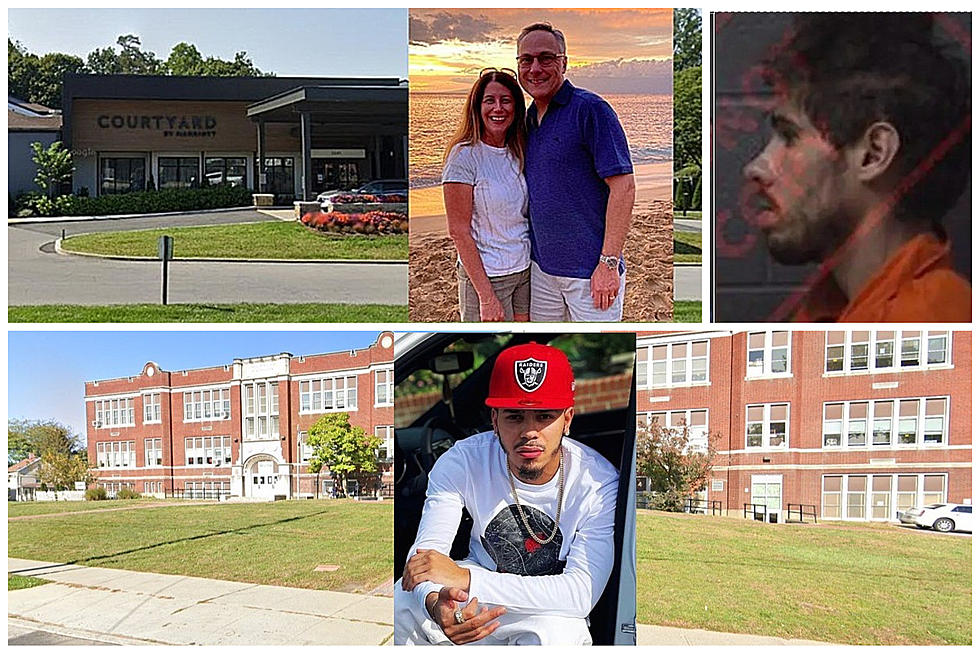 New York Man Accused In Death Of Marist Dad Guilty Of 2 Shootings
Facebook/Nathalie Landrein Kutz/Google/ Dutchess County Jail/LibbyFuneralHome
A man arrested in connection with the murder of a Marist father pleaded guilty to his role in the murder and another murder in the Hudson Valley.
On Wednesday, 26-year-old Devin Taylor pleaded guilty to second-degree murder in the death of a Poughkeepsie man and pleaded guilty to gun possession in the shooting that killed Marist College father Paul Kutz last October.
Long Island Father Of Marist College Student Fatally Shot
On Sunday, Oct. 2, around 7:30 a.m., the Town of Poughkeepsie Police Department received a 911 call of a disturbance at the Courtyard Marriott located at 2641 South Road in the Town of Poughkeepsie.
During the phone call, it was reported that shots had been fired.
Dutchess County Man Guilty August 2022 Murder In Poughkeepsie, New York
A few months before the Marist shooting Taylor murdered 28-year-old Darren Villani of the City of Poughkeepsie.
On August 9, 2022, at 1:44 a.m., the City of Poughkeepsie 911 received calls about a shooting at 283 Mansion Street.  Charles B. Warring Elementary School is located at 283 Mansion Street in the City of Poughkeepsie, according to Google Maps.
For all the news that the Hudson Valley is sharing make sure to follow Hudson Valley Post on Facebook, download the Hudson Valley Post Mobile App and sign up for the Hudson Valley Post Newsletter.
Responding officers found Villani laying in the street next to his vehicle. He was taken to Mid-Hudson Regional Hospital where he died of his wounds, police say.
Murder Suspect Finally In Custody in Dutchess County
On Feb. 1, 2023, Taylor was arraigned in Dutchess County Court on a Grand Jury indictment charging him with murder in the second degree for killing Villani in August 2022.
"This indictment is a product of an ongoing City of Poughkeepsie Police investigation which developed additional evidence that allowed this matter to be presented to a Grand Jury. The Grand Jury will continue its investigation into this incident to determine if any additional people were involved and should be charged," Dutchess County District Attorney's Office Bureau Chief Robert Knapp said.
Taylor is scheduled to be sentenced in April, NBC reports. 
25 Most Dangerous Counties in New York State
Here are the top 25 most dangerous counties in New York, outside of the city, with the highest violent crime rates.
Nearly 50 Children Have Recently Gone Missing From New York State
Close to 50 children from New York State and the Hudson Valley have recently gone missing. You can help a New York family get reunited with a missing loved one.
Did You Know? Over 100 Fun Facts About the Hudson Valley
Did you know that Lucille Ball made her stage debut in the Hudson Valley? How about Philadelphia Cream Cheese wasn't invented in Philadelphia, but in Orange County? Or that a mansion in Dutchess County inspired the expression "keeping up with the Joneses?" Find out about those and over 100 other fun facts about the Hudson Valley.
KEEP READING: See the richest person in every state