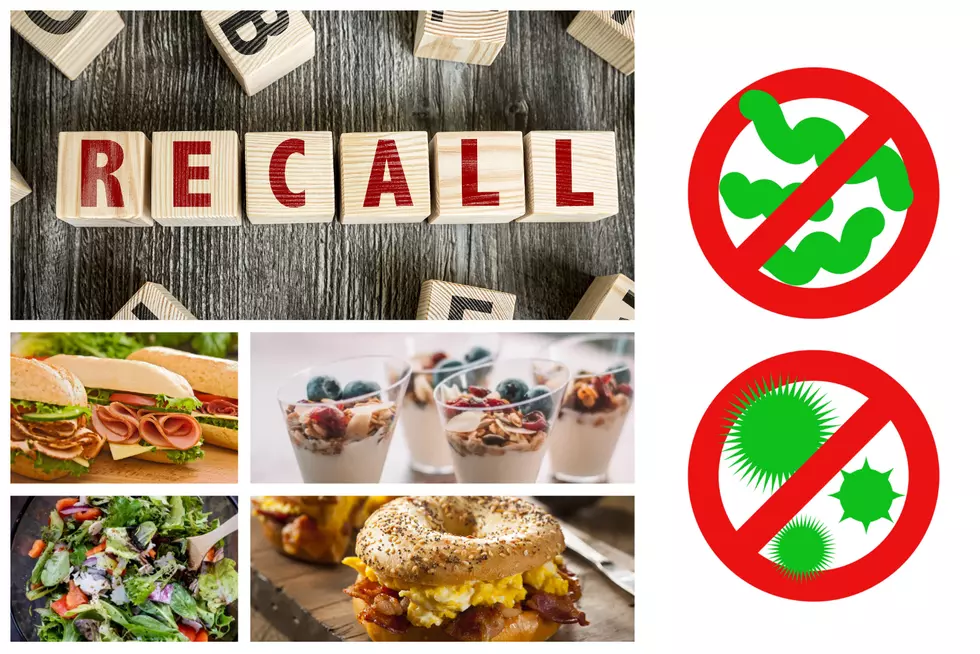 Major Recall In New York State: Do Not Eat Over 400 Popular Items
janeff/Elvira Galimova/Canva/gustavofrazao/Getty Images/iStockphoto
Breakfast sandwiches, lunch sandwiches, fruit, desserts, salads, snacks, yogurt, wraps and more have been recalled in New York cause they may cause fatal infections.
Fresh Ideation Food Group from Baltimore, Maryland is recalling products sold from January 24, 2023, through January 30, 2023.
Over 400 Products Recalled In New York State
Over 400 products are being recalled because they may be contaminated with Listeria monocytogenes.
Listeria monocytogenes is an organism that can cause serious and sometimes fatal infections in young children, frail or elderly people, and others with weakened immune systems, according to the FDA.
"Although healthy individuals may suffer only short-term symptoms such as high fever, severe headache, stiffness, nausea, abdominal pain and diarrhea, Listeria infection can cause miscarriages and stillbirths among pregnant women," the FDA states.
For all the news that the Hudson Valley is sharing make sure to follow Hudson Valley Post on Facebook, download the Hudson Valley Post Mobile App and sign up for the Hudson Valley Post Newsletter.
Recalled items include breakfast sandwiches, lunch sandwiches, fruit, desserts, salads, snacks, yogurt, wraps and more.
The recall was issued after the company's environmental samples tested positive for Listeria monocytogenes.
No illnesses have been reported to date, according to the FDA.
Recalled Items Sold In New York
The recalled products are sold in New York, Connecticut, the District of Columbia, Maryland, Massachusetts, New Jersey, North Carolina, Pennsylvania, South Carolina and Virginia.
All of the recalled products have a Fresh Creative Cuisine label on the bottom of the label with the Fresh Creative Cuisine name and a fresh through or sell-through date ranging from January 31, 2023, through February 6, 2023.
"Consumers who have purchased the products are urged to contact the company, Fresh Ideation Food Group LLC, at 855-969-3338, Monday through Friday, 8am to 4pm EST," the FDA adds.
CLICK HERE for the full list of recalled items.
26 Iconic New York Foods That Make Our Mouths Drool
There is no food comparable to New York food and we're here to prove it with 26 New York dishes that will make your eyes grow big and your mouth water.
Nearly 50 Children Have Recently Gone Missing From New York State
Close to 50 children from New York State and the Hudson Valley have recently gone missing. You can help a New York family get reunited with a missing loved one.
Resorts World Hudson Valley Opens Doors In Newburgh
The grand opening for Resorts World Hudson Valley, located in the Newburgh Mall on Rt. 300 in Newburgh, took place on Wednesday December 28th at 10:00am.
Did You Know? Over 100 Fun Facts About the Hudson Valley
Did you know that Lucille Ball made her stage debut in the Hudson Valley? How about Philadelphia Cream Cheese wasn't invented in Philadelphia, but in Orange County? Or that a mansion in Dutchess County inspired the expression "keeping up with the Joneses?" Find out about those and over 100 other fun facts about the Hudson Valley.
Gypsy Moth 'Accidentally' Released Causing 'Nightmares' in New York
After 10 to 15 years a gypsy moth that was once "accidentally" released has returned and is causing "nightmares" in New York.