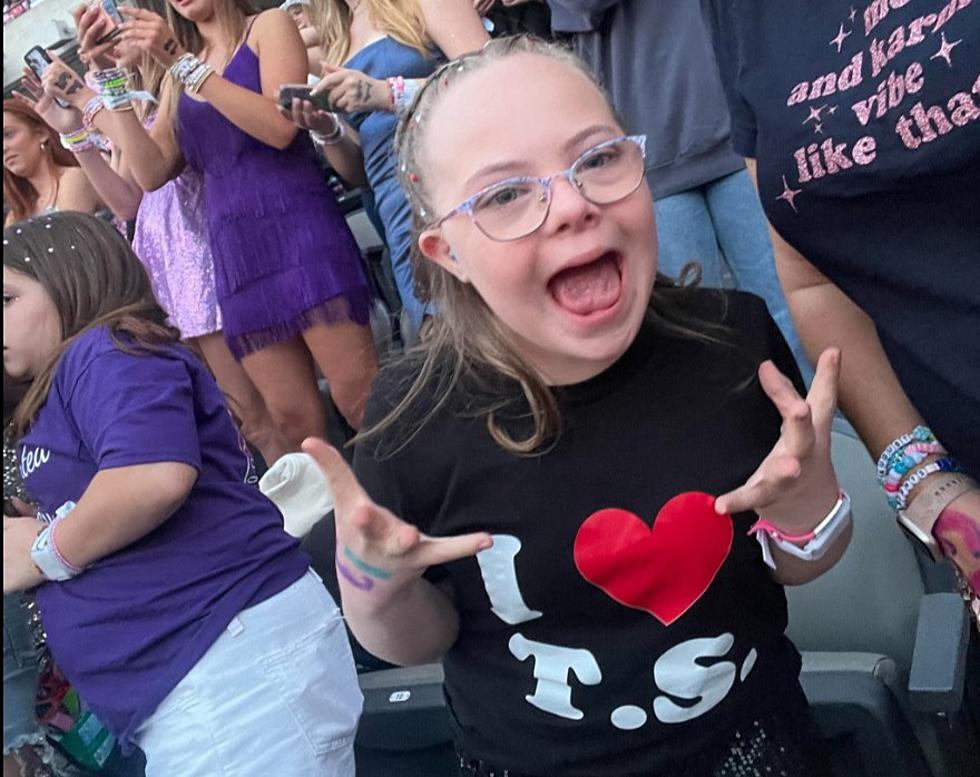 Hudson Valley Girl With Down Syndrome Gets To Meet Taylor Swift
Theresa Fallon DelVecchio/FB
Never in her "Wildest Dreams" did a Hudson Valley child get to think she'd meet her idol. But now she has a memory she'll never shake off.
Grace DelVecchio lives in Westchester County. This past weekend, not only did the 12-year-old see Taylor Swift perform at MetLife Stadium in New Jersey, but she had a special moment with the pop icon that she'll remember forever. Grace has Down Syndrome, according to the New York Post.
Westchester County Teen Meets Taylor Swift
Grace's mom says Swift's songs are played inside their Westchester County home from the minute Grace wakes up, until she goes to bed. She's such a big Swiftie, that even her teachers use Swift to inspire Grace at Mildred E. Strang Middle School in Yorktown Heights, New York.
"We'll talk about Taylor Swift, we'll summarize Taylor Swift, we'll say who she is, why she's important," said Jenn Sparano, who works closely with Grace as a st at Mildred E. Strang Middle School speech-language pathologist Jenn Sparano told the New York Post.
Grace's father made it his mission to make sure Grace got to see Swift perform life, whenever she went on tour again. However, he told the New York Post he felt like "the worst dad ever" when he initially failed to secure tickets to Swift's Eras Tour.
You may recall the Ticketmaster issue where tickets skyrocketed to over $20,000 during the ticket presale in November 2022. But just before Christmas, he was able to get Grace tickets to two different shows.
For all the news that the Hudson Valley is sharing make sure to follow Hudson Valley Post on Facebook, download the Hudson Valley Post Mobile App and sign up for the Hudson Valley Post Newsletter.
Yorktown Heights Teen Gets Merchandise From Taylor Swift
Her face inside MetLife Stadium is sure to bring a smile to your face!
Grace went to Swift's show on Friday with her mom, two cousins and two aunts. She enjoyed Sunday's concert with her dad and speech teachers.
Not only did Grace get to see her idol live, but she got a gift from Swift during the concert!
During her performance of "22" Swift spotted Grace in the crowd and gave Grace a fedora to thank the 12-year-old for her passion and loyalty.
26 Iconic New York Foods That Make Our Mouths Drool
There is no food comparable to New York food and we're here to prove it with 26 New York dishes that will make your eyes grow big and your mouth water.
Chick-Fil-A Opens Surprise Free Pop-Up In Mid-Hudson Valley
Massive World-Class Dinosaur Theme Park Planned For Hudson Valley
Another Hudson Valley hometown is in the running to be the site of a massive world-class dinosaur theme park.
Where The Hudson Valley Is Gaining, Losing Residents
Most of the Hudson Valley is gaining new residents. How many residents has your county gained or lost?