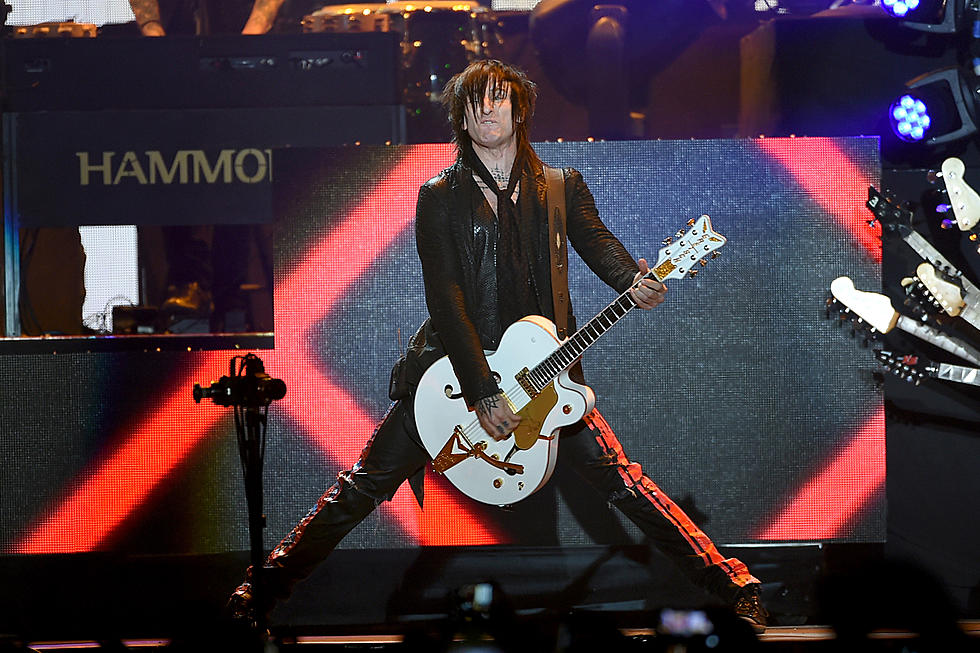 Guns N' Roses' Richard Fortus: 'We're Going to Try and Do Another Record'
Kevin Winter, Getty Images
The "Not in This Lifetime" tour has been a huge success for Guns N' Roses, but what comes next? While Axl Rose and Slash have danced around the possibility of working on a new album, guitarist Richard Fortus reveals in a new interview that it is something the band is going to try.
Speaking with host Favazz of St. Louis' KSHE95, the guitarist was asked about the possibility of a new record from the band and he responded, "We're going to try and do another record and get it out soon." When the host offered that he hoped it'd be great, Fortus added, "How could it not be? The band is so great right now."
The next question concerned the turnaround of a potential disc, with Fortus stating, "I think it will happen faster than you think. I sure hope it happens faster than you think," and he later offered the possibility that there might be some new music released before the end of 2019. "We're hoping to get one out very soon," said Fortus, also revealing that there might also be the possibility of more touring at some point, but it might revolve around how quickly new music gets turned around. Listen to the chat in the second Soundcloud file below.
Earlier this year, Slash told Classic Rock Magazine, "Now that we've mended fences and gotten back together and done this, we're going to keep it together." He added, "Axl's got a ton of shit that he recorded already, so we're just going to get in there and just start getting into that thing, and then if we do a record and then do a tour, I could see that cycle going on endlessly." However, in the same interview, Slash did temper expectations stating, "We'll see what happens."
Rose also spoke on the matter with Iceland Magazine, leaving the door open for a new record. "Right now our focus is on touring and the shows but everyone seems to be getting along so you never know," said Rose back in July.
While work on new music is on the "to-do" list, it should be noted that Slash featuring Myles Kennedy and the Conspirators just released the Living the Dream album this fall, Duff McKagan has a solo album coming soon and Fortus reveals in his KSHE interview that he's working on producing an album for Psychedelic Furs early in 2019.
Guns N' Roses Songs Ranked