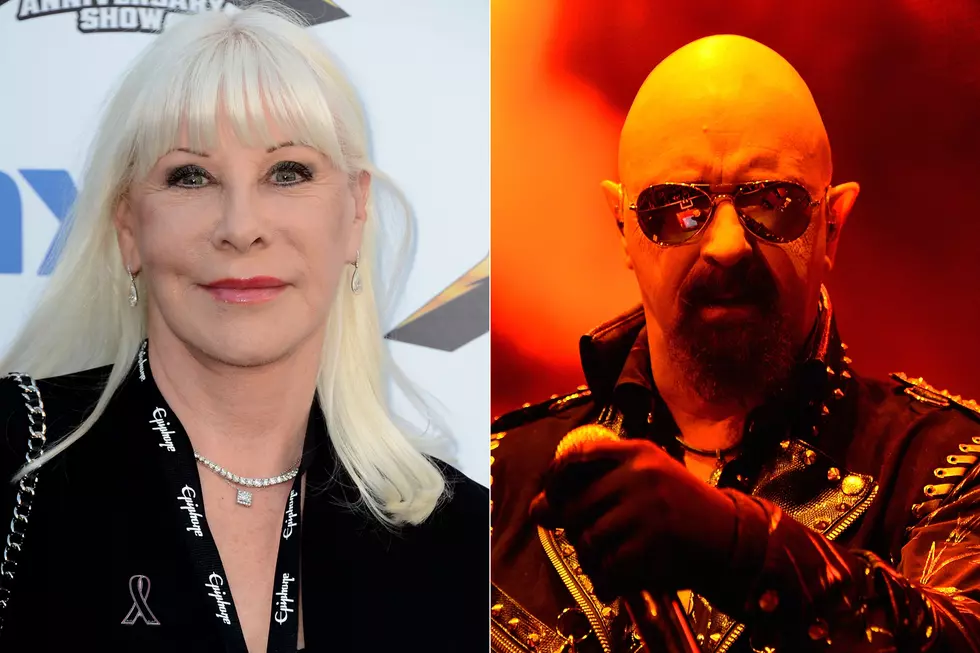 Wendy Dio Gifts Rob Halford Ronnie James Dio Ring, Plus News on National Concert Week, Breaking Benjamin + More
Frazer Harrison / Ethan Miller, Getty Images
In addition to the big stories we covered today, Wire-to-Wire provides you with some of the other key rock and metal news items from April 23, 2018:
- Here is your "awwww-some" moment of the day. Wendy Dio reconnected with Rob Halford and the pair posed together with a ring. "This was a ring I first bought Ronnie when he first joined Black Sabbath. It has a cross on it," said Dio. "Rob was such a good friend of Ronnie's I thought he should have it. We had a great time at the show."
- Live Nation has announced that "National Concert Week" will take place April 30-May 8; during that time, the company will offer an exclusive $20 all-in ticket offer for a number of rock tours, including Avenged Sevenfold/Prophets of Rage, Bon Jovi, Breaking Benjamin/Five Finger Death Punch, Bush/Stone Temple Pilots/The Cult, Coheed and Cambria/Taking Back Sunday, Def Leppard/Journey, Godsmack/Shinedown, Kid Rock, Lindsey Stirling/Evanescence, Ozzy Osbourne, Rise Against/AFI, Rob Zombie/Marilyn Manson, The Smashing Pumpkins, Thirty Seconds to Mars, Vans Warped Tour, Weezer/Pixies and plenty more. Visit this site for details on the offer.
- Kudos to Breaking Benjamin as the band's new Ember album debuted at No. 3 this past week on the Billboard 200 Album Chart. In all, Ember moved 88,000 units, with 80,000 of those coming in traditional album sales.
- You've seen Foo Fighters pay homage to Rick Astley on many occasions with "Never Gonna Give You Up," but Astley has also been returning the favor. Watch the pop star and his band take on Foo Fighters' "Everlong" from a recent show in Detroit here.
- Something sinister is afoot in Emmure's latest video, "Ice Man Confessions," and it looks like Frankie Palmeri's on the hook for it.  Watch the conceptual video right here.  The song comes from their 2017 album, Look at Yourself.
- As Amaranthe start work on a new album, they've given fans a taste of Nils Molin on vocals. The Dynazty singer filled in once Jake E. exited the band, and it appears as though he'll continue with them as they record their new album. Watch the footage here.
- The Faceless returned to the stage for the first time since three-quarters of the band split earlier this year. Playing at the 2018 Spring Meltdown in Lake Tahoe, Nev., Michael Keene welcomed singer Julian Kersey, guitarist Andrew Virrueta, bassist Jacob Umansky and drummer Gabe Seeber to the band. Watch them perform "The Ancient Covenant" here.
- It's time to go down the hole with Amorphis. The band just revealed a new performance-based clip for the song "Wrong Direction" that can be found here. The song comes from the Queen of Time album, due May 18.