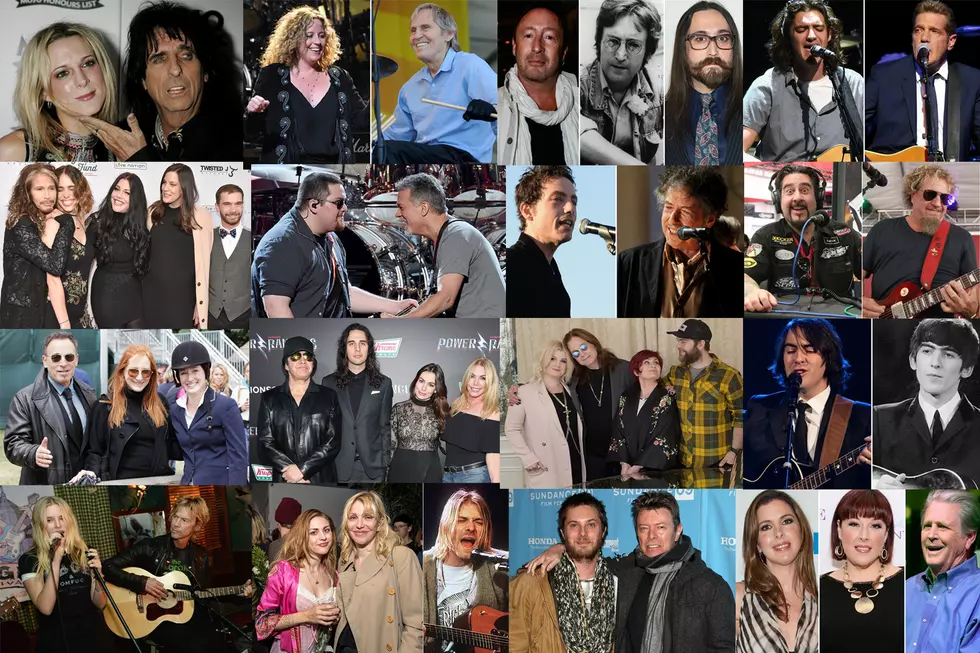 84 Rock Stars Who Have Famous Kids
Getty Images / Facebook
As a particular classic rock song has noted, "the kids are alright." In the gallery below, you'll see what the children of many of our favorite musicians have followed their own creative pursuits.
In many of the cases, their children have tried their hands at music. While some of them have gone on to great fame, like Julian Lennon, Jakob Dylan and Jason Bonham, others have yet to fully establish themselves. It also helps when both parents are musicians, such as with the offspring of James Taylor and Carly Simon, Kurt Cobain and Courtney Love and Loudon Wainwright III and Kate McGarrigle.
Then there are those – such as the progeny of Eddie Van Halen, Cheap Trick's Rick Nielsen, Glenn Frey and Eddie Money – who have joined their parents' bands. Then there are those, like Dweezil Zappa and Malcolm Bruce, who have balanced their own careers while also forming bands that pay tribute to their late fathers.
Acting has been another career choice for them. The kids of Phil Collins, Lenny Kravitz, Steven Tyler and his former Aerosmith bandmate Rick Dufay have all gone on to successful and acclaimed careers on the small and big screens. David Bowie's son Duncan Jones and Peter Gabriel's daughter Anna-Marie have become known for their work behind the camera.
And, of course, there's modeling. The daughters of Mick Jagger, Keith Richards, Simon LeBon and Bob Geldof have all chosen to follow in their mothers' footsteps, doing runways and photo shoots. For others, like Stella McCartney, Jade Jagger and Diva Zappa, another aspect of the fashion industry – designing – has brought them success.
Find out more about their lives and many more below.