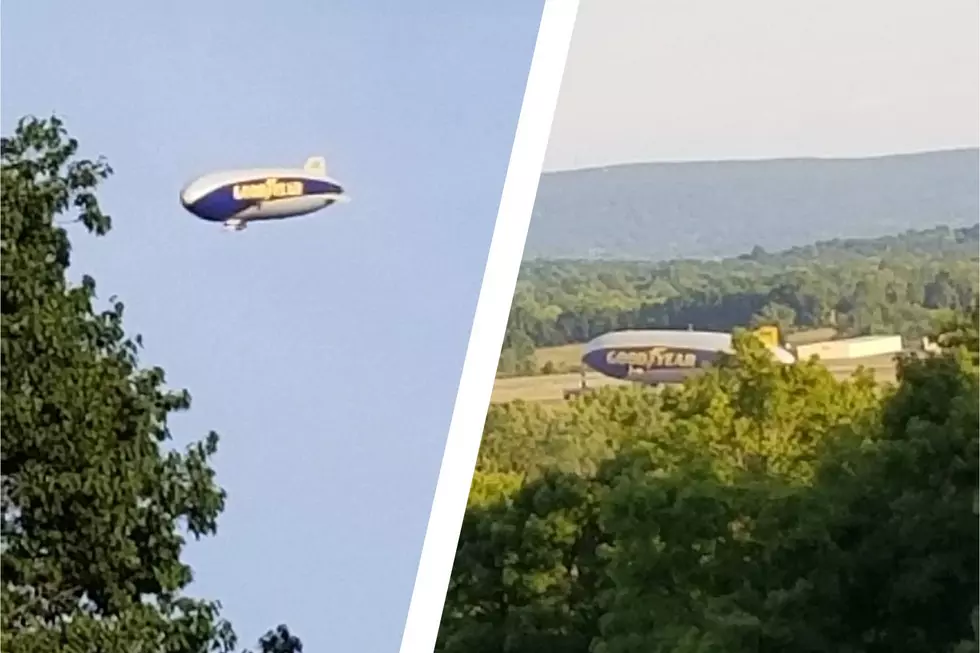 Reason Uncovered: Why Goodyear Blimp Seen Flying In Hudson Valley
PC: PQ
If you looked to the sky and spotted the Goodyear Blimp, you're eyes aren't deceiving you.
On Wednesday, many Hudson Valley residents looked up and spotted the Goodyear Blimp flying above them.
Goodyear Blimp Spotted In Dutchess County
Wednesday afternoon many Dutchess County residents took to Facebook to report they spotted the Goodyear Blimp in the sky.
The blimp was spotted by residents in Wappinger Falls, Poughquag, Red Hook and Wingdale, according to Facebook posts.
For all the news that the Hudson Valley is sharing make sure to follow Hudson Valley Post on Facebook, download the Hudson Valley Post Mobile App and sign up for the Hudson Valley Post Newsletter.
Why Was the Goodyear Blimp Spotted In Wappinger Falls, Poughquag, Red Hook and Wingdale?
One Dutchess County resident appears to have figured out why.
"Moments ago the Goodyear Blimp requested permission through the airspace over the Dutchess county airport, the pilot stated that they were enroute to provide 'aerial coverage of" another golf tournament," Ryan Kallmeyer wrote in the Dutchess county scanner feed Facebook group.
While unconfirmed, Ryan is correct the blimp is heading to another golf tournament.
According to the Goodyear Blimp website the blimp was traveling from Cromwell, Connecticut to Detroit, Michigan.
The Goodyear Blimp was at the PGA Travelers Championship in Connecticut last weekend and is scheduled to provide aerial coverage of the N3APGA Rocket Mortgage Classic in Michigan this weekend, the Goodyear Blimp website reports.
Goodyear Blimp Spotted In Montgomery, West Point
The blimp was seen in Montgomery last August.
In September 2019, the blimp was staged at Orange County Airport in Montgomery. The zeppelin stopped at the airport en route to a Monday Night Football game between the Jets and Browns at MetLife Stadium.
In October 2019, it was spotted above West Point.
QUIZ: Can you identify 50 famous companies by their logos?
How well do you know the logos of 50 of the world's most famous companies? Keep scrolling to see if you can guess which icon belongs to which brand.
These Counties Have The Most Food Stamp Recipients Per Capita In New York
SNAP usage has increased across the state since the start of the pandemic
Chick-Fil-A Opens Surprise Free Pop-Up In Mid-Hudson Valley
Massive World-Class Dinosaur Theme Park Planned For Hudson Valley
Another Hudson Valley hometown is in the running to be the site of a massive world-class dinosaur theme park.