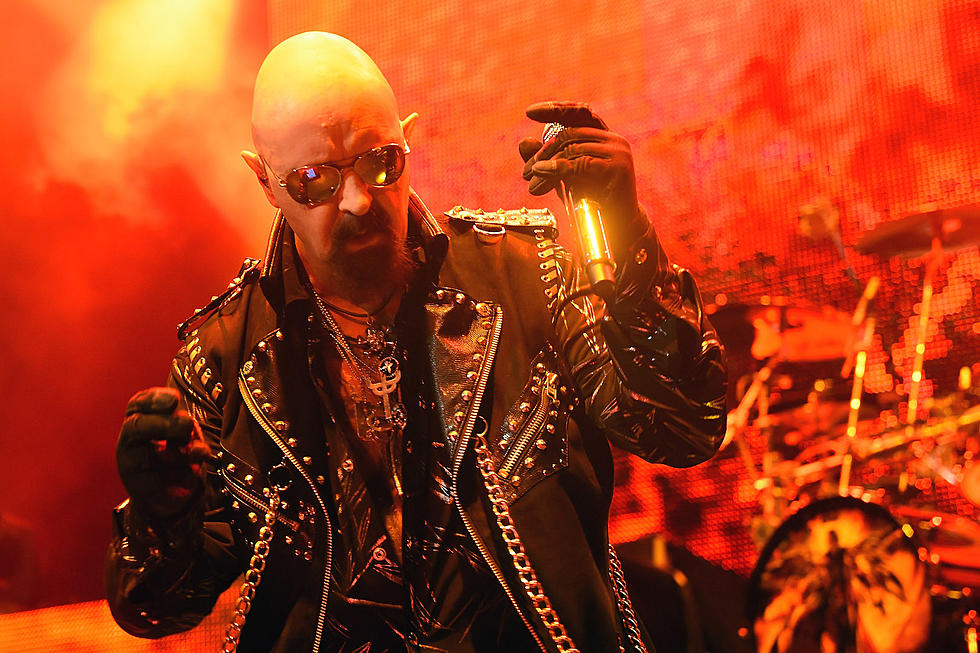 Rob Halford Reveals Judas Priest Rarities That May Enter Set List
Ethan Miller, Getty Images
If you've paid any attention to Judas Priest's set lists on their Firepower world tour, you've noticed that they've been resurrecting songs that haven't been played in decades or, in the case of "Saints in Hell," ever at all. There's more to come as Priest will mix up the set lists on their forthcoming North American tour and Rob Halford clued fans in on what they may hear.
The Metal God told Real Rock 99.3 that Judas Priest will be bringing a new show, stocked with "a different stage set, costumes, lights, and, most importantly, the music," on the third North American leg on their ongoing tour. "We're bringing out some real beautiful old classics that we haven't played before or we haven't in a long time. So it's gonna be a real treat," the singer added.
Halford mentioned there's somewhere between 12 and 15 songs that Judas Priest are "knocking around in the jam room." He went on to explain that these jams have led to tracks like "Killing Machine" being brought to the stage for the first time since 1978.
"'Cause the guys would jam. I was in my room and I'm, like, 'What are they doing? Is that 'Killing Machine?' I haven't heard that in, like, 30 years.' And I go in. I'm, like, 'Yeah. It's 'Killing Machine.' It sounds good. Let's try it out.' And we played it live, and the fans were loving it. So I'm sure we'll put that on the setlist when we come back to St. Louis," he offered.
Some other potentials to see the stage include "Out in the Cold" off Turbo, "Rapid Fire" off British Steel, "The Sentinel" off Defenders of the Faith and "(Take These) Chains" off Screaming for Vengeance.
Other tracks that have been dusted off on this tour include "Tyrant" (first time since 1983), "Bloodstone" (first time since 1990), "Some Heads Are Gonna Roll" (first time since 1991), "Running Wild" (first time since 2002).
If you feel like going "Hot Rockin'" this spring, check out Judas Priest's North American tour dates with support from Uriah Heep below.
Judas Priest 2019 North American Tour Dates
May 03 - Hollywood, Fla. @ Seminole Hard Rock Hotel & Casino
May 06 - Nashville, Tenn. @ Nashville Municipal Auditorium
May 08 - Atlanta, Ga. @ Fox Theatre
May 09 - Biloxi, Miss. @ Beau Rivage Resort & Casino
May 12 - Washington, D.C. @ The Anthem
May 14 - Huntington, N.Y. @ The Paramount
May 15 - Huntington, N.Y. @ The Paramount
May 16 - Uncasville, Ct. @ Mohegan Sun Arena
May 18 - Albany, N.Y. @ Palace Theatre
May 19 - Albany, N.Y. @ Palace Theatre
May 22 - Milwaukee, Wis. @ Riverside Theater
May 23 - Milwaukee, Wis. @ Riverside Theater
May 25 - Rosemont, Ill. @ Rosemont Theatre
May 28 - Austin, Texas @ ACL Live at The Moody Theater
May 29 - Austin, Texas @ ACL Live at The Moody Theater
May 31 - Dallas, Texas @ The Bomb Factory
Jun. 01 - Little Rock, Ark. @ First Security Amphitheater
Jun. 03 - St. Louis, Mo. @ Stifel Theatre
Jun. 05 - Colorado Springs, Colo. @ Broadmoor World Arena
Jun. 08 - Saskatoon, Saskatchewan @ SaskTel Centre
Jun. 10 - Lethbridge, Alberta @ ENMAX Centre
Jun. 11 - Edmonton, Alberta @ Rogers Place
Jun. 13 - Dawson Creek, British Columbia @ Encana Events Centre
Jun. 14 - Prince George, British Columbia @ CN Centre
Jun. 16 - Kelowna, British Columbia @ Prospera Place
Jun. 17 - Abbotsford, British Columbia @ Abbotsford Centre
Jun. 19 - Airway Heights, Wash. @ Northern Quest Resort and Casino
Jun. 21 - Kent, Wash. @ Accesso Showare Center
Jun. 22 - Portland, Ore. @ Moda Theatre of the Clouds
Jun. 24 - San Francisco, Calif. @ Warfield Theatre
Jun. 25 - San Francisco, Calif. @ Warfield Theatre
Jun. 27 - Los Angeles, Calif. @ Microsoft Theater
Jun. 28 - Ontario, Calif. @ Citizens Business Bank Arena
Jun. 29 - Las Vegas, Nev. @ The Joint at Hard Rock Hotel
Judas Priest Albums Ranked