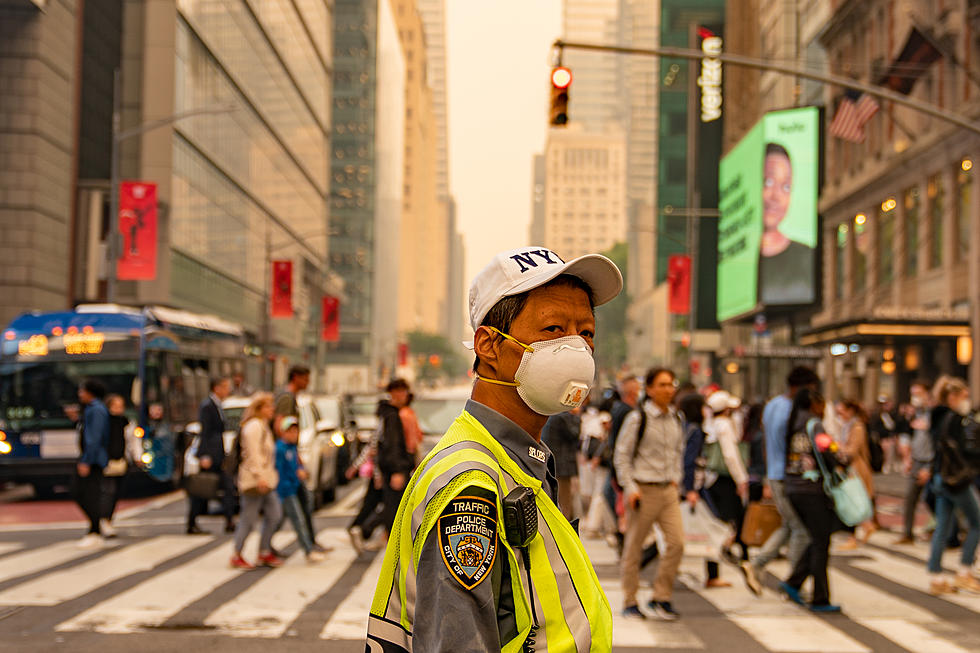 New York State Residents Once Again Told To Put On A Mask
Getty Images
Hopefully, you haven't thrown out those masks you may have worn during the COVID pandemic.
Unhealthy air across New York State is forcing New York officials to recommend residents wear a mask.
New York State Residents Told To Consider Wearing Mask
New York State officials are continue to monitor the air quality in New York State and recommend wearing a mask to prevent or limit exposure to elevated levels of smoke-driven air pollution across New York.
"If you must go outdoors in areas that have air that is unhealthy or worse, consider wearing an N95 mask. Those who experience symptoms, or have symptoms that worsen, should consider consulting their health care provider," New York State Department of Health Commissioner Dr. McDonald said.
Only N95 masks can protect you from smoke-driven air pollution, officials say.
1 Million N95 Masks Distributed In New York
At Gov. Hochul's direction, over 1 million high-quality N95-style masks have been distributed to help address air quality impacts.
For all the news that the Hudson Valley is sharing make sure to follow Hudson Valley Post on Facebook, download the Hudson Valley Post Mobile App and sign up for the Hudson Valley Post Newsletter.
In New York City this week, the MTA, Port Authority, and the Office of Parks, Recreation and Historic Preservation are handing out masks to commuters at major transit hubs and state parks.
Outside of New York City, New York State is sent hundreds of thousands of masks available to county emergency managers for further distribution to the public, officials say.
Read More: Why New York State Residents May Get Emergency Cell Phone Alerts
Air Quality Alert Issued for Long Island, New York City, Lower Hudson Valley, Upper Hudson Valley, Adirondacks, Eastern Lake Ontario, Central Region, Western Region
Below is the expected air quality for each region for Friday. An Air Quality Index over 100 is deemed Unhealthy for Sensitive Groups. Over 150 is deemed Unhealthy for all.
Long Island
120
Unhealthy for Sensitive Groups
NYC Metro
135
Unhealthy for Sensitive Groups
Lower Hudson Valley
110
Unhealthy for Sensitive Groups
Upper Hudson Valley
120
Unhealthy for Sensitive Groups
Adirondacks
120
Unhealthy for Sensitive Groups
Eastern Lake Ontario
Central New York
Western New York
Alert: 'Unhealthy' Air Returns To New York State
The DEC issued another Air Quality Health Advisory for Friday because the forecast shows levels of particulate matter pollution that are "Unhealthy" and "Unhealthy for Sensitive Groups."
The Air Quality Alert was issued for the following regions:
Long Island
NYC Metro
Lower Hudson Valley
Upper Hudson Valley
Adirondacks
Eastern Lake Ontario
Central Region
Western Region
These Counties Have The Most Food Stamp Recipients Per Capita In New York
SNAP usage has increased across the state since the start of the pandemic
Chick-Fil-A Opens Surprise Free Pop-Up In Mid-Hudson Valley
Massive World-Class Dinosaur Theme Park Planned For Hudson Valley
Another Hudson Valley hometown is in the running to be the site of a massive world-class dinosaur theme park.