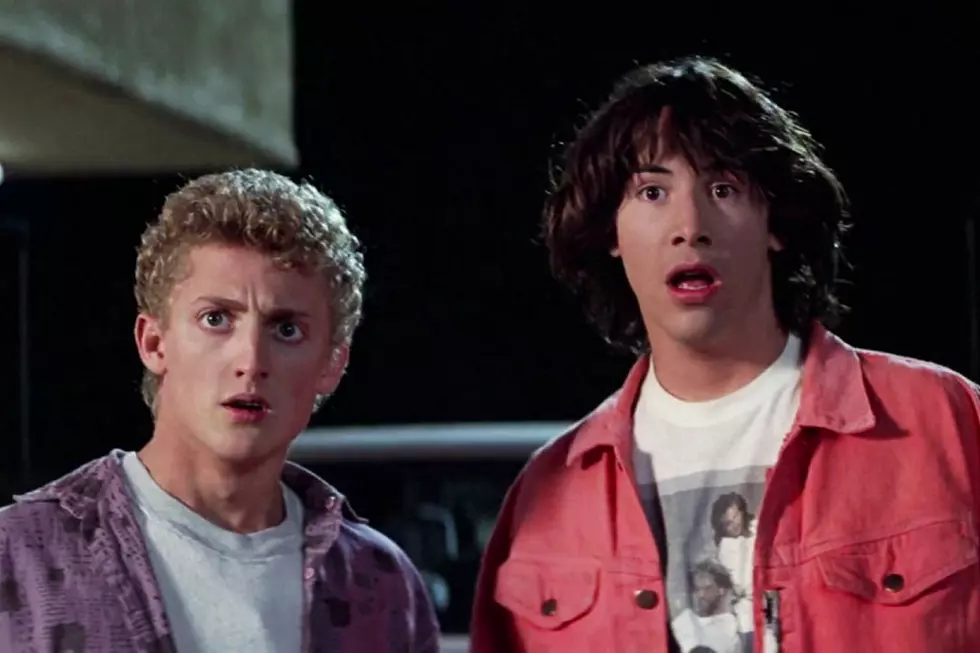 Keanu Reeves and Alex Winter Will Officially Face the Music in 'Bill & Ted 3'
MGM
It's official: Bill and Ted are returning to face the music. A third Bill & Ted film has been in the works for some time now, with both Keanu Reeves and Alex Winter promising fans they'd be back, and we even got a title and synopsis earlier this year. But the wes one massive problem: the movie still needed funding.
Now that's been solved and MGM announced that Bill & Ted Face the Music is officially in production at the Cannes Film Festival on Tuesday. MGM will release the film in the states under their Orion Pictures, while BLOOM is currently handling international sales. Galaxy Quest director Dean Parisot will direct from a script by original screenwriters Chris Matheson and Ed Solomon. And, of course, both Reeves and Winter will be back, reprising their characters on the big screen for the first time since the 1991 sequel Bill & Ted's Bogus Journey.
Here's the official synopsis unveiled today:
When we last met Bill and Ted they were time-traveling teenagers trying to pass history class and win the battle of the bands. Once prophesized to save the universe with their rock and roll, middle age and the responsibilities of family have caught up with these two best friends who have not yet fulfilled their destiny. They've written thousands of tunes, but they have yet to write a good one, much less the greatest song ever written. With the fabric of time and space tearing around them, a visitor from the future warns our heroes that only their song can save life as we know it. Out of luck and fresh out of inspiration, Bill and Ted set out on a time travel adventure to seek the song that will set their world right and bring harmony in the universe as we know it. Together with the aid of their daughters, a new crop of historical figures, and some sympathetic music legends, Bill and Ted find much, much more than just a song.
Solomon previously spoke further about the third film's time travel narrative, revealing the duo will interact with their younger selves. He previous said of his 10-years-in-the-making-script:
They return to that scene at the Circle K when Bill and Ted first meet themselves, only now they're watching their younger selves and looking at the exuberance and joy that they had at that time in their lives. And they see Rufus, they see George Carlin…
No word on when the third film will arrive, but hopefully we'll see it as soon as next year.