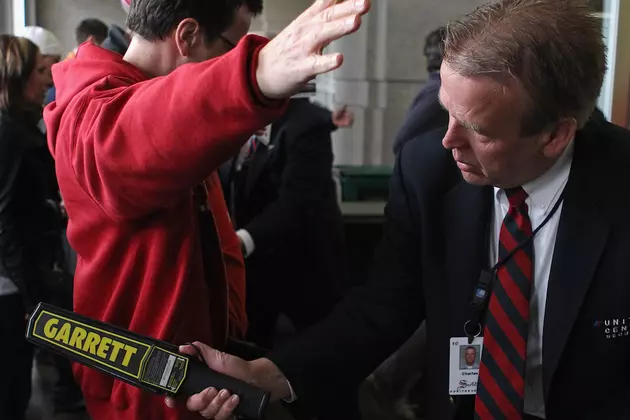 Here's How Venues Are Working to Make Concerts Safer – And What You Can Do
Jonathan Daniel, Getty Images
Attacks like those in Las Vegas and Manchester, U.K. raise important questions about concert safety: What are the credible threats to ticket holders, what's being done to protect them – and how can individuals keep from becoming a victim?
In the immediate aftermath of the U.K. shooting, the Department of Homeland Security said fans should look for increased security near and inside public events, though they also cautioned that there was no evidence of a credible threat at that time.
By then, both the DHS and the FBI had already issued warnings that home-grown terrorists were turning their focus to venues where large numbers of every-day citizens gathered. The statement arrived four months after 49 people were killed in a shooting at an Orlando, Fla., nightclub.
More than 20 fans were subsequently murdered at an Ariana Grande performance at Manchester in the summer of 2017. A lone gunman then killed more than 50 concertgoers at Nevada's Route 91 Harvest Festival in October 2017, making it the deadliest mass shooting in U.S. history.
Stopping such an attack is often a simple matter of budgeting. Many of the largest venues are already equipped with metal detectors. Others hired security guards and began checking bags in the wake of the attack on Paris' Bataclan, when some 90 people were killed in 2015 as part of a coordinated city-wide attack.
Live Nation has since put in a series of other heightened security measures, but "because of the sensitive nature of these protocols, we cannot elaborate further on the specific details," a spokesman said. Meanwhile, the huge Wacken Open Air Festival sent staffers for a course on security from Germany's Federal Office of Civil Protection and Disaster Assistance, where they ran through scenarios involving terrorism and severe weather. The Austin City Limits Festival announced plans for tighter security and metal detectors following the rampage at Los Vegas.
At the same time, however, smaller players – including New York's Irving Plaza, where one person was killed in 2016 before a T.I. concert – might not have the budget for those kind of investments. At a price tag of $4,000 to $5,000, some simply can't afford to retrofit their more modest spaces with metal detectors. Rules regarding security training also vary from state to state. Venues also can't completely control their outer perimeters, where fans might fall victim to an exterior attack like those in Las Vegas and Manchester.
So, what if the unthinkable happens? Should you be confronted with a threat, counter-terrorism officials urge fans to "escape if you can." (Shooters viciously fired into crowds both at the Route 91 Harvest Festival and during the Bataclan massacre.) Rather than try to "play dead," they recommend you look to exit the area or barricade yourself into a safe place. Look for rooms with "substantial brickwork or heavy reinforced walls," since "cover from view does not mean you are safe, [since] bullets go through glass, brick, wood and metal." Remember to put your phone in silent mode.
"Consider the safest routes," Britain's National Counter Terrorism Policing Security Office said in a post-Bataclan report. "Is there a safe route? Run – if not, hide. Can you get there without exposing yourself to greater danger?" They also recommend that fans leave any belongings behind, while insisting that others leave, as well.
Before Las Vegas, the tragedy at the Pulse Orlando nightclub was the deadliest shooting spree in U.S. history. Christina Grimmie, a former contestant on The Voice, was killed at a meet-and-greet event in Orlando just two days before that.
"What both of these incidents illustrate is that no event is too small and that there are vulnerabilities, regardless of whether these (attacks) are terrorism, hate crimes or someone who is mentally disturbed," Russ Simons, managing partner at facility management firm Venue Solutions Group, said in 2016. "It's a completely new day in terms of how we have to look at these things."
Music's Worst Concert Accidents And Tragedies