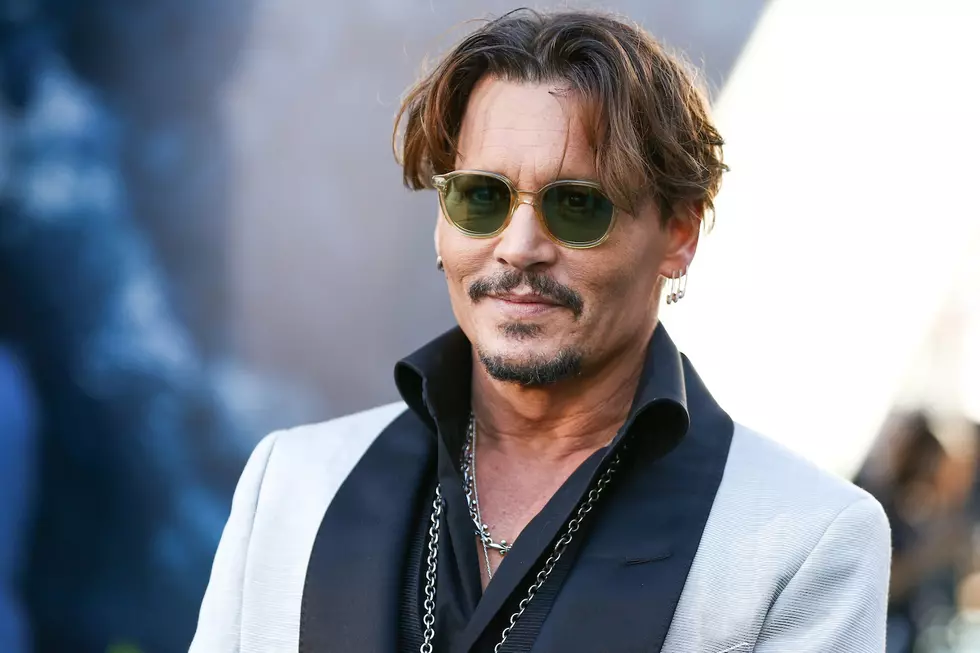 'Fantastic Beasts' Director Defends Johnny Depp Amid Backlash
Getty Images
Earlier this month, Warner Bros. unveiled the first look at the cast of the Fantastic Beasts sequel, and Harry Potter fans were less than thrilled to see Johnny Depp returning. Fans have continued to criticize the studio, and specifically J.K. Rowling, for the decision to keep Depp onboard the franchise – and for making his Grindelwald the centerpiece of the sequel – in light of allegations of domestic abuse made by ex-wife Amber Heard two years ago. The author, known to be outspoken around social justice issues, has yet to comment on the controversial casting, but director David Yates came to Depp's defense today.
Yates, who helmed the first Potter spinoff and is currently in production on the sequel titled The Crimes of Grindelwald, spoke to Entertainment Weekly about the backlash. The director referenced Heard's accusations against Depp in light of the wave of allegations against powerful Hollywood men in the post-Harvey Weinstein downfall:
Honestly, there's an issue at the moment where there's a lot of people being accused of things, they're being accused by multiple victims, and it's compelling and frightening. With Johnny, it seems to me there was one person who took a pop at him and claimed something. I can only tell you about the man I see every day: He's full of decency and kindness, and that's all I see. Whatever accusation was out there doesn't tally with the kind of human being I've been working with. […] It's very different [than cases] where there are multiple accusers over many years that need to be examined and we need to reflect on our industry that allows that to roll on year in and year out. Johnny isn't in that category in any shape or form. So to me, it doesn't bear any more analysis. It's a dead issue.
Yates also mentioned that several of Depp's exes have also come to his defense, including Vanessa Paradis, Lori Anne Allison, and Winona Ryder. The director noted that they also said Heard's allegations didn't align with "the human being we know."
It should be noted that the argument Yates is making in Depp's defense showcases some dangerous thinking. The director seems to be dismissing Heard's claims – which included allegations of physical and emotional abuse as detailed in court documents – because of their singular nature, as opposed to multiple women alleging abuse against a man. While that is a valid point to consider, it suggests that allegations of abuse or misconduct are only worthy of attention and consideration when made in mass quantity, and that an alleged abuser should only be investigated as such if more than one victim comes forward.
In many cases, and as we've seen over the last couple months, it takes one person to speak out first for others to then follow – see what happened with Jeffrey Tambor, whose former assistant accused him of harassment only for Transparent star Trace Lysette to then step forward with her own story, or Anthony Rapp, whose Kevin Spacey allegation opened a floodgate of more to follow. That isn't to suggest there are more women with accusations against Depp, or to compare the allegations against him to those against Weinstein, James Toback, Spacey, and the many others; Heard's allegations are different, but no less worth consideration.
There's still a full year until Fantastic Beasts 2 hits theaters on November 16, 2018. If fans continue to push back against Depp's involvement – a recasting fans have noted could be easily resolved by a franchise based in magic (Transfiguration, Polyjuice Potion, etc.) – the topic is surely to come up again during the film's press tour.
Gallery – Ranking the 25 Best Harry Potter Characters: