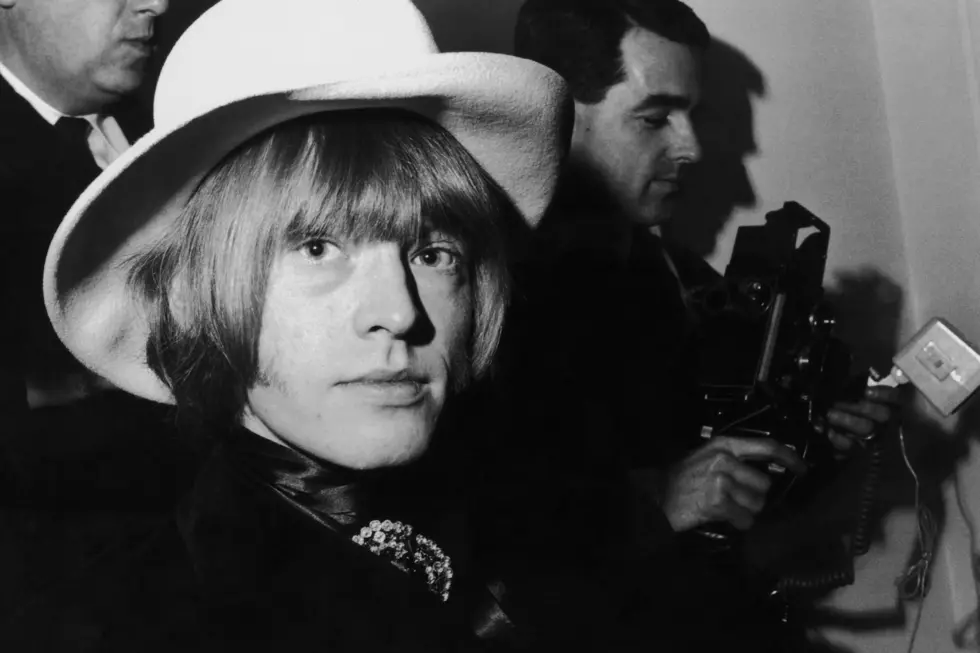 Was Rolling Stones Co-Founder Brian Jones Murdered?
Roger Jackson,  Central Press, Hulton Archive, Getty Images
Brian Jones' daughter has joined a slowly building chorus who are suspicious about the circumstances surrounding the Rolling Stones co-founder's death.
"I think he was murdered, and I think the police did not investigate it the way they should have," Barbara Marion recently told Sky News on the 50th anniversary of her father's death. "I would love to have them reopen [the case] and to get some answers."
Jones was fired by the band a few weeks before being found drowned in his pool on July 3, 1969. The Rolling Stones had already moved on, officially announcing the addition of Mick Taylor earlier in June. But the new guitarist's official debut, at a free concert held on July 5, 1969, at Hyde Park in London, ended up becoming a tribute to Jones.
Later, a coroner said Jones drowned while under the influence of alcohol and drugs; his official report labeled the tragedy as "death by misadventure." But others weren't so sure.
The 1994 book Brian Jones: Who Killed Christopher Robin? made the best-known earliest accusation of murder. Writer Terry Rawlings specifically accused Frank Thorogood, a contractor who was at Jones' house that night.
Tensions between Jones and his employee apparently turned violent during a shared swim, Rawlings alleged. Paint It Black: The Murder of Brian Jones, by Geoffrey Guiliano, also reported a deathbed admission from Thorogood to the Rolling Stones' former road manager Tom Keylock in 1993. "It was me that did Brian. I just finally snapped," Rawlings said Thorogood admitted.
New information – and new allegations – continued to trickle out.
Janet Lawson, Keylock's girlfriend, told journalist Scott Jones that she saw Jones and Thorogood in the pool, and that Thorogood later re-entered the house shaking badly. "When I saw Brian on the bottom of the pool and was calling for help," she later argued, "Frank initially did nothing."
Former Jones girlfriend Anna Wohlin, the third official attendee at this fatal party, wondered aloud "if Frank meant to kill Brian" during a 2013 interview with the Mirror. "Maybe it was horseplay in the pool that went wrong. But I knew all along he did not die a natural death. I'm still sure of it."
At the time, Thorogood, Lawson and Wohlin each told police that they had left the pool and retreated to separate parts of Jones' estate before he drowned. "Frank was not doing the building work properly," Lawson said, shortly before her death. "Brian had sacked him that day. There was something in the air. Frank was acting strangely, throwing his weight around a bit."
A 2014 update of Who Killed Christopher Robin? was said to have proved the late Keylock's presence at the party, via a videotaped interview. For Rawlings, that decisively established a conspiracy: Keylock had reportedly long asserted that he was away from the house on an errand for Keith Richards.
Jones "was definitely murdered and there was a cover-up," Rawlings told Mojo back then. "It's not a crackpot theory; it's what happened."
Sussex police said they continue to receive "messages or reports from journalists and other individuals about the death," in a new statement to NME. "Each is considered on its individual merits and reviewed wherever appropriate." So far, officials said "no new evidence has emerged to suggest that the coroner's original verdict of 'death by misadventure' was incorrect. The case has not been reopened, and there are no plans for that to happen."
Marion, who reportedly only discovered her father's identity in 2002, said she came to the conclusion that Jones was murdered based on her "own research."
The Rolling Stones Released One of Rock's Most Hated Records
Digging Deeper into Rock's Tragic '27 Club'