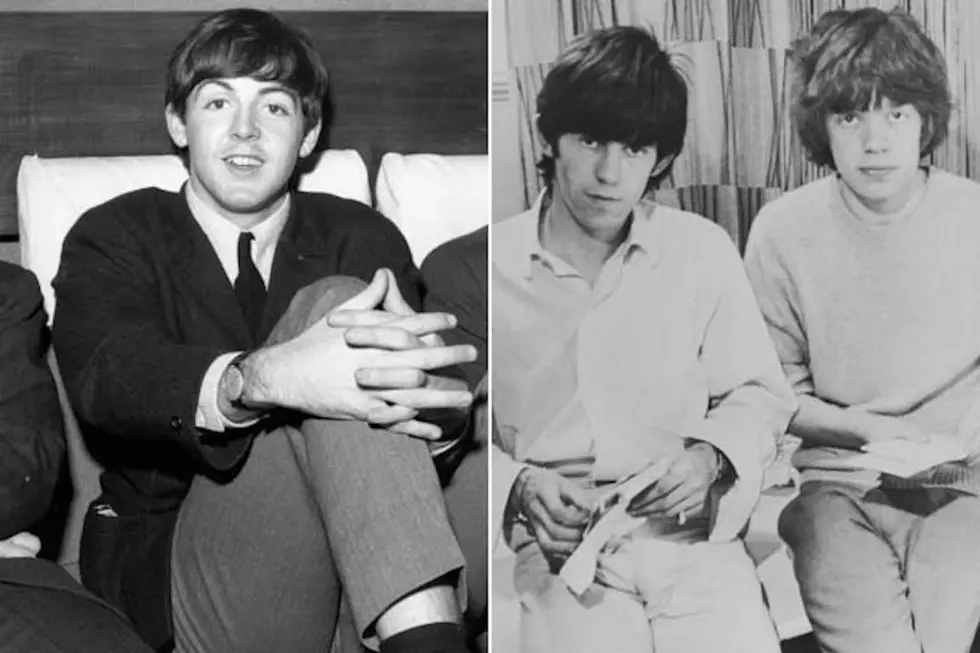 When the Beatles Wrote a Song for the Rolling Stones
Keystone Features / Hulton Archive, Getty Images
In the Beatles' early days, John Lennon and Paul McCartney often gave songs to their friends. That's what happened when they wrote "I Wanna Be Your Man" for the Rolling Stones at London's De Lane Lea Studio on Sept. 10, 1963.
How Did the Beatles Meet the Rolling Stones?
The meeting of the two groups was arranged by Rolling Stones manager Andrew Loog Oldham, who had also been the Beatles publicist.
"Oldham had almost literally bumped into Lennon and McCartney as they stepped out of a cab," Bill Janovitz writes in Rocks Off: 50 Tracks that Tell the Story of the Rolling Stones. "He invited them to the studio where the Stones were rehearsing and, right then and there, the two finished off what had been a McCartney sketch of an idea, handing it the Stones for their single."
At the time, the Rolling Stones had released only one single, a cover of Chuck Berry's "Come On." Their repertoire consisted exclusively of R&B covers. Mick Jagger and Keith Richards would later credit watching Lennon and McCartney that day with giving them a greater understanding of how to write a song.
Listen to the Rolling Stones' 'I Wanna Be Your Man'
That certainly came in handy later, when Oldham famously locked them in the kitchen until they composed something. The result? "As Tears Go By."
Meanwhile, Lennon and McCartney had become a prolific songwriting team, frequently giving cast-off tracks to friends like Gerry and the Pacemakers ("Do You Want to Know a Secret"), Billy J. Kramer and the Dakotas ("Bad to Me") and Cilla Black ("Step Inside Love").
Rolling Stones Released 'I Wanna Be Your Man' Before the Beatles
In the case of "I Wanna Be Your Man," a few changes needed to be made. The Rolling Stones put a tougher R&B beat behind the song and Brian Jones contributed its distinctive slide guitar part. They recorded the song a month later, and it was released on Nov. 1.
"I Wanna Be Your Man" reached No. 12 on the U.K. charts. The Beatles' version came out three weeks later on With the Beatles, with Ringo Starr taking the lead vocal.
Rolling Stones Solo Albums Ranked
They didn't necessarily become huge commercial or critical hits, but some produced career-changing moments anyway.
See Keith Richards Through the Years