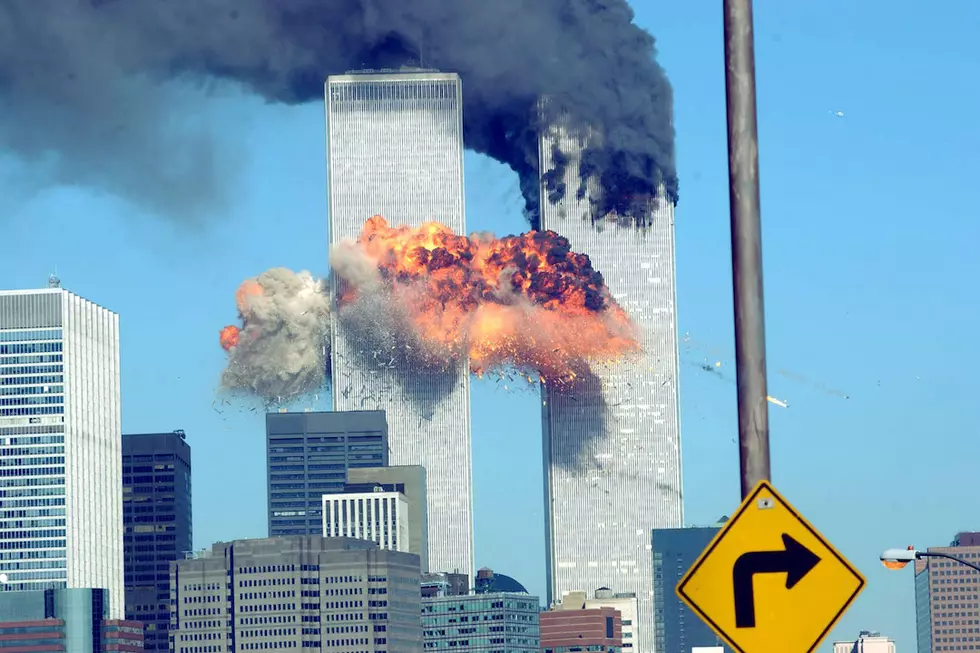 How Rock Music Was Reshaped on the Morning of 9/11
Spencer Platt, Getty Images
As the World Trade Center towers fell on the morning of Sept. 11, 2001, new albums by Bob Dylan, Nickelback and Slayer were being put on shelves by clerks who were unaware of the tragedy unfolding in New York City, and a cozy concert was being planned by Sting, who also didn't know what was happening on the other side of the ocean.
The tragedy cast a long shadow on all of this and, in the days that followed, that shadow lengthened across the world of rock music as a string of songs were banned by the largest U.S. radio network. Before long, however, musicians began to push back, composing tribute songs and organizing huge benefit events.
Dylan released an album that seemed instantly prescient on that Tuesday, providing a glimpse into the confusion, fear and anger surrounding 9/11 – even though it was written long before that day. Love and Theft, the centerpiece of a trio of resurgent '90s-era Dylan albums, nevertheless found a home for songs like "Mississippi" which featured the striking image of a "sky full of fire / pain pouring down." A week later, Greg Tate of the Village Voice was moved to ask, "What did Dylan know, and when did he know it?"
READ MORE: Did Supertramp's 'Breakfast in America' Cover Art Predict 9/11?
Slayer only became part of the 9/11 storyline by happenstance. Their 2001 album, God Hates Us All, arrived on Sept. 11 too, and included the eerie line "Pessimist, terrorist targeting the next mark / Global chaos feeding on hysteria" (from the song "Disciple"). Slayer's album had originally been set for release in July, but was delayed because of several issues.
Watch Bruce Springsteen's 'My City of Ruins'
Why Sting Went Forward With 9/11 Show
Overseas, Sting had invited some fellow musicians to his home in the Italian province of Tuscany for an intimate outdoor show meant to showcase new arrangements of some of his best-known tunes. He'd hoped to emerge with a new single and then a video release from the concert. News of the attacks reached Sting just hours before they were set to take the stage that Tuesday, and a series of intensely emotional meetings – all captured by the documentary film crew – took place as the musicians hashed out how to, or even if they should, proceed.
Ultimately, Sting went forward with the performance, though an understandable darkness permeated the early proceedings. "I was deeply upset, because my wife and I lost a friend in one of the towers," Sting told the Chicago Tribune in 2003. "I elected not to do the concert, but the band wanted to play. There seemed to be groundswell for music rather than doing nothing, and as the evening wore on, it became more defiant – and I became more convinced it was the right thing to do."
Days later, the attacks led executives with Clear Channel to create a lengthy list of "potentially inappropriate songs" that programmers at 1,200 stations were encouraged to avoid. The 160 tracks included AC/DC's "Shot Down in Flames," Billy Joel's "Only the Good Die Young," Ozzy Osbourne's "Suicide Solution," Blue Oyster Cult's "Burnin' for You," Creedence Clearwater Revival's "Travelin' Band," Dio's "Holy Diver," Elton John's "Rocket Man," Metallica's "Seek and Destroy" and Led Zeppelin's "Stairway to Heaven," and every song by Rage Against the Machine.
A benefit concert was quickly assembled, and broadcast on Sept. 21 by the four major U.S. networks and many cable outlets, and then released as America: A Tribute to Heroes that December. Bruce Springsteen updated a previously written song titled "My City of Ruins" to reflect the tragedy. Neil Young covered John Lennon's "Imagine" – which, ironically, was also on Clear Channel's list of banned songs. Tom Petty, Billy Joel, Sting, Paul Simon, Jon Bon Jovi and Richie Sambora all performed, as did U2, who appeared via satellite from London to perform "Walk On."
Watch Sting Discuss 9/11 Before Performing 'Fragile'
How the Concert for New York City Paid Tribute
Paul McCartney, who witnessed the World Trade Center bombing while in a plane on the tarmac at Kennedy Airport in New York City, then led the Concert for New York City on Oct. 20 at Madison Square Garden. Meant to honor first responders, the show featured performances by the Who, Mick Jagger and Keith Richards of the Rolling Stones, David Bowie, Elton John and Eric Clapton.
McCartney subsequently rushed out a new song titled "Freedom" on Nov. 5. Featuring Clapton on guitar, the single was sold as a benefit. "We hadn't reckoned on this demand for 'Freedom,'" McCartney told the BBC. "But as that's what people want, we're getting it out fast to try to raise money for the firefighters and police of New York."
READ MORE: Stevie Nicks' 9/11 Diary: 'A Tragedy Like No One Has Ever Seen'
Also in November, Young released "Let's Roll," named after the final words of Todd Beamer before he and a group of other passengers attempted to retake United Airlines' hijacked Flight 93. Young, who later included "Let's Roll" on 2002's Are You Passionate?, said he was inspired by a story told by Beamer's widow.
"She was talking about how he always used to say ["let's roll"] with the kids when they'd go out and do something – that it's what he said a lot when he had a job to do," Young said during an interview with Pulse the following year. "And it's just so poignant, and there's no more of a legendary, heroic act than what those people did. With no promise of martyrdom, no promise of any reward anywhere for this, other than just knowing that you did the right thing."
Sting released his 9/11 show, titled All This Time, on Nov. 20 of that year, saying it was "respectfully dedicated to all those who lost their lives on that day." By 2002, Springsteen had completed an album-length meditation on the attacks, titled The Rising, with "My City of Ruins" as a highlight.
How 20 Rock Musicians Reacted to 9/11
Rock's Craziest Conspiracy Theories