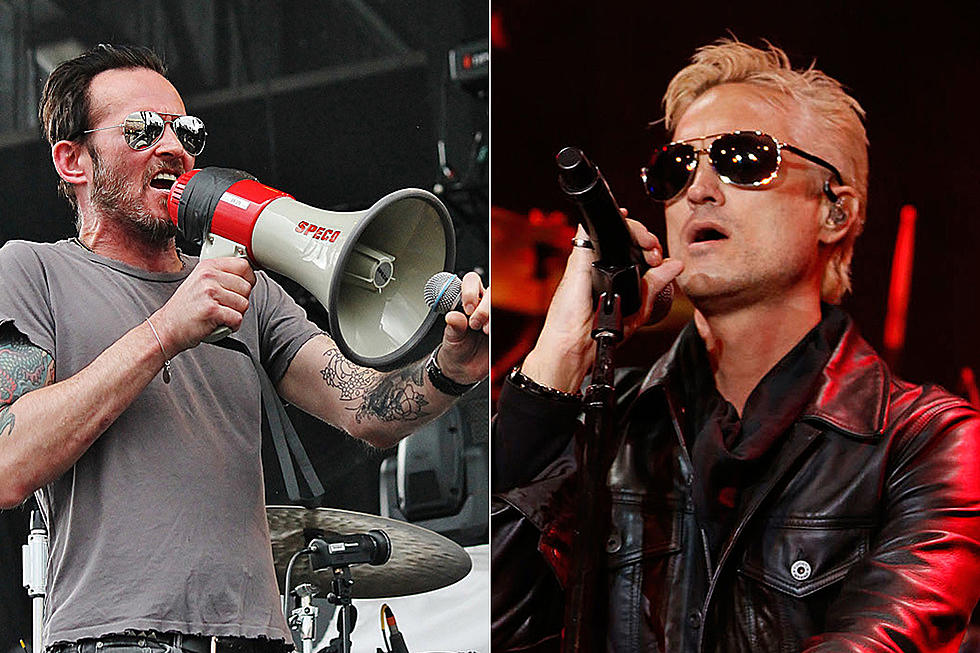 Stone Temple Pilots' Jeff Gutt Won't Revisit Scott Weiland's Megaphone Vocals
Liz Ramanand / Alex Kluft, Loudwire
Speaking with the Detroit News, Gutt explained, "There's nothing preconceived, and I don't go up there to do an impression of Scott. I try to feel the music as best I can, and if there's little hints of Scott here or there, then I see that as a good thing."
The vocalist adds, "I felt I had a good ear, and I had the ability to sing like my influences. And that really struck me about (Weiland), because he could cater to each song, using different influences to make the song exactly what it needed to be."
In our own interview last fall after Gutt was named vocalist, he told us, "While I have much respect for him as a writer, I don't really aim to emulate Scott onstage. But I also can't be fearful of the comparisons. If I start thinking about all the things I need to stay away from to NOT get the comparison I'll be left with nothing. I'm a huge fan of Scott and of course remember how he felt the music onstage. I always just try to be me but sometimes it's unavoidable."
So while his voice may slip into Weiland territory while performing, Gutt is quick to point out one Weiland area he won't replicate. The singer stated that he will not bring out the megaphone like the vocalist used to do with the band. "That's sacred with him," Gutt says.
The megaphone does have a place in Gutt's heart, just not onstage. He explained that on the day he got the phone call that he had been chosen for the gig, he was living in a shared house in Los Angeles and ducked into the laundry room to take the call. While surveying his surrounding, he looked down and noticed a megaphone right next to the washing machine. "I felt like that was Scott's way of giving me a little nod," said the singer.
Stone Temple Pilots just completed their first leg of touring with Gutt, with the band expected to hit the festival circuit in April before resuming their own tour in May. See their upcoming dates here.
Top 25 Hard Rock + Metal Replacement Singers