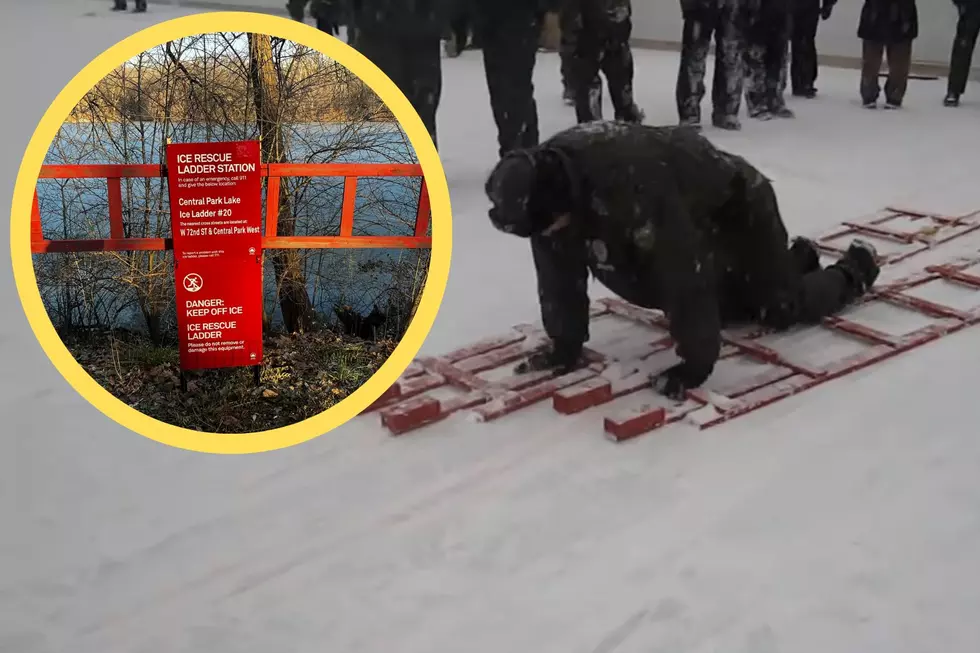 We NEED These for Winter in the Hudson Valley Immediately
Chuck Calio/DNAinfo New York via YouTube
Every year we see more and more people moving upstate to the Hudson Valley from New York City. Usually, they come for things that the city can't offer, but a Dutchess County resident recently discovered something in the city that we should have here.
"First time I've seen this", said a recent post from a Poughkeepsie, NY man. The accompanying photo (below) taken in Central Park included something that many others in the Hudson Valley had never seen either.
Ice Rescue Ladder Stations in New York
The photo was of a Ice Ladder Rescue Station, one of over 700 that are placed near public bodies of water all over New York City when temperatures start to drop. They're used in an interesting way as well, with the ladders meant to be used more like giant snowshoes than something to climb (below).
How to Use an Ice Rescue Ladder
The ladders aren't for public use, but rather for first responders needing to rescue someone caught on thin ice or in freezing water. They slide on their hands and knees on both ladders (video at the end of this article) before using one of the ladders to load the subject and bring them to safety (below)
Why Aren't they in the Hudson Valley?
The response from the Hudson Valley was unanimous: why don't we have them here, too? "Never seen that before! Great idea!", said one commenter. "We could sure use these along the Hudson river" added another. "I work at a park and we have ice ladders, but no signs yet. The trend for safety standards has been advancing towards adding a sign so people know what these ladders are for and where they are located" said a man whose profile says he works within the New Jersey parks system.
Many bodies of water in the Hudson Valley, like Chadwick Lake in Newburgh, NY have myriad signs warning people to stay off the ice, but there are currently no ladder rescue systems. Check out how first responders safely use the ladders below, and keep scrolling to see how a dog was rescued from the frozen Hudson River without a ladder.
City of Newburgh Firefighters Save Dog on Frozen Hudson River
Lilly, the dog needed a little help from Truck 1 and the City of Newburgh Fire Department back on February 11th. Thankfully, she was returned to her owners without injury. Round of ap-PAWS for the City of Newburgh Fire Department for their quick response and heroic efforts.
10 Hudson Valley Ice Cream Shops Still Open in the Middle of Winter
Here are the brave ice cream shops in the Hudson Valley that stay open all year... even in the cold months of winter