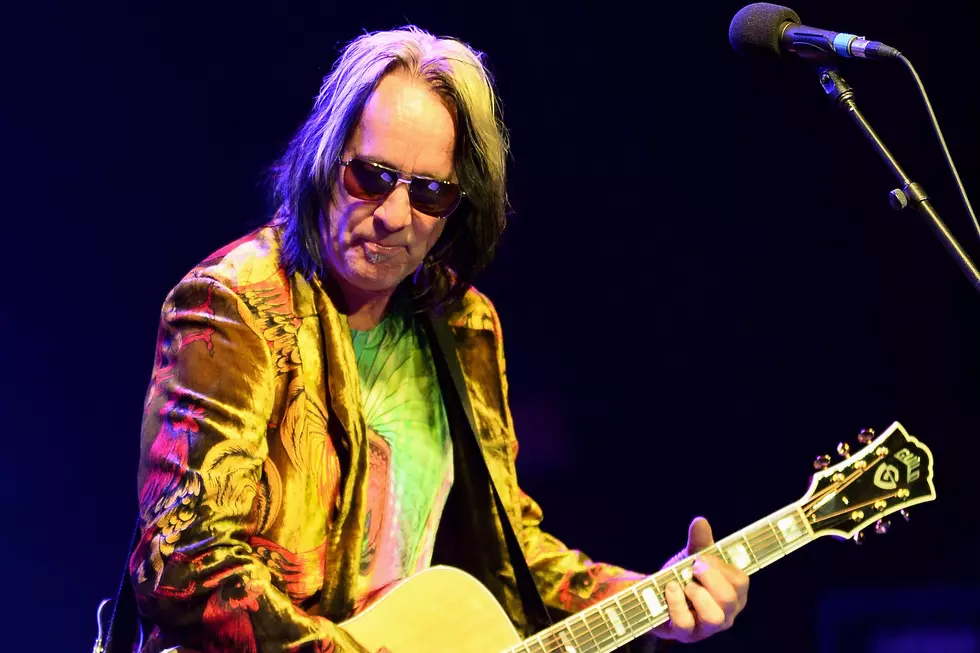 5 Reasons Todd Rundgren Should Be in the Rock and Roll Hall of Fame
Ethan Miller, Getty Images
Todd Rundgren once said his career was marked by "consistency of inconsistency," and there's perhaps no more apt description. In a weird way, however, his greatness is often obscured by those varied successes: Rundgren seems at once to be everywhere, and nowhere – a master of many things, but so easily bored that he never returns to them.
In keeping, any list of reasons Rundgren should be in the Rock & Roll Hall of Fame is similarly all over the map. What more would you expect from a figure who trafficked in psychedelia with the Nazz and then prog with Utopia, tried out DIY pop but also techno, cranked up arena rock and then dabbled in the blues?
In the end, Rundgren has had such a huge effect on popular music's content and form that narrowing the reasons down to just five was the most challenging part of all.
He's Got More Fan Bases Than Anybody
It's not just that he's a singer and songwriter, a multi-instrumentalist and a studio whiz. Rundgren has taken more left turns than any NASCAR legend, and he's great at almost all of it. So, there are people who love him for his power pop, and others for his homey lo-fi songs. Some are crazy about his experimental machine music, others his openhearted Beatlemania as a longtime member of Ringo Starr's All-Starr Band. You might know him from television (his self-directed and -produced clip for "Time Heals" was reportedly the eighth music video ever shown on MTV), or associate him with your favorite team (1983's "Bang the Drum All Day" has become a sports-stadium anthem). Some of it, admittedly, didn't work. For instance, a 1993 detour into electronica and rap found Rundgren refashioning himself as "TR-i." Even then, however, he created a new subset of tech-loving followers who thrilled to the interactive capabilities surrounding No World Order. (He later recorded the entirety of albums like 2008's Arena on a laptop.) In the end, it didn't matter how it charted, not to Rundgren anyway. He fashioned a career that was meant to be pioneering, never limiting himself – even when he had the opportunity to cash in after 1972's Something/Anything? became a gold-selling Top 40 hit. "If you end up repeating the formula, everything becomes a little less magical," he told the Independent. "So, by the end of Something/Anything? I decided to do something different." And so it went, time and time again, as Rundgren confounded every expectation. Niches of entirely new fans came to love that, too. "What I intended was to do something nobody else was doing," Rundgren added. "From that point of view, my lack of commercial success was inevitable. It's better to know and fulfill your purpose in life, whatever that may be. It's somebody else's assumption that I was supposed to be a big pop star. I don't think I've ever done anything to sabotage my career. We did the shows, we made the records, and at one point in the '70s, we were huge."
He's a Rebel in an Age With Too Few of Them
Don't call Rundgren a rock star. "I'm not a star," he told Guitar World. "I"m a musician." As such, he doesn't do what rock stars do, which is cash in. He followed up Runt: The Ballad of Todd Rundgren, an impressively varied set of songs recorded with future members of David Bowie's Tin Machine, with the tender balladry of Something/Anything? That in turn was followed by a drug-fueled stream-of-consciousness album called A Wizard, a True Star. Into the late '80s, he released the overdub-heavy vocal album A Cappella, did two consecutive albums with a live band, and then issued No World Order on a short-lived interactive CD-ROM format. Then there was his 1997 detour into bossa nova on With a Twist. The ballsy rock of Arena was immediately followed by that Robert Johnson-themed blues project. "After Something/Anything?, I began to get even more aggressive about it because people started to compare me to Carole King," Rundgren told Rock Cellar in 2016. "They called me the male Carole King and while there's nothing wrong with Carole King, you don't want to be compared to somebody else. You want to be able to make your own sort of impression." As someone who memorably ignored the age of stripped-down punk by taking the stage wearing Egyptian-style finery amid smoke from a fire-breathing replica dragon, Rundgren certainly achieved his goals.
He's Behind Many, Many of Your Favorite Records
Even if you never bought an album with his name on the front, you probably own some Rundgren. In fact, his approach in the studio provided a logical platform for a second career as a producer, even as production work directly fed into his maverick-like tendencies. For example, Rundgren meticulously layered in voices and guitars rather than employing strings on Something/Anything?, using every element of the studio from overdubs to echo chambers. He's the sole credited musician on 18 of that album's 25 songs. It's no surprise then that acts like the Band (1970's Stage Fright), James Cotton (1970's Taking Care of Business), Badfinger (1971's Straight Up) and Sparks (1971's Halfnelson) had already tabbed him for production work. Later, Rundgren would helm studio projects by Grand Funk Railroad (1973's We're an American Band), the New York Dolls (1973's New York Dolls), Hall and Oates (1974's War Babies), the Patti Smith Group (1979's Wave), Rick Derringer (1979's Guitars and Women), the Psychedelic Furs (1982's Forever Now), Cheap Trick (1983's Next Position Please), the Tubes (1985's Love Bomb), XTC (1986's Skylarking) – and, perhaps most famously, Meat Loaf's 1977 epic Bat Out of Hell. "That liberated me musically," Rundgren told Noisecreep. "For most artists, their careers are dependent on the success of the next project, so they only have to make considerations and accommodations that they think the audience will react to. And I had the great luxury of only having to apply that thinking to the artist I was producing. I could figure out their audience and not worry so much about my own audience. I was making so much money from production that I never had to worry about surviving in music. I never had to worry about having a hit."
He Helped Frame Rock's Incredible Journey
Such a varied career was inevitably informed by a strikingly broad set of earlier artists, and Rundgren's roving sense of creativity helped bring all of them to new ears. The Nazz celebrated the sound of the '60s, including the Beatles and the Who. The Something/Anything? period owed no small debt the Beach Boys. Todd Rundgren's Johnson, released in 2011, reanimated age-old roots music through the lens of Cream, the Yardbirds and the early Rolling Stones. (Rundgren actually got his start in Woody's Truck Stop, a Philadelphia blues band.) His 1973 album A Wizard, a True Star featured an R&B medley with songs by the Impressions and the Miracles, among others. He also covered Bob Dylan and Jimi Hendrix on 1976's Faithful. Rundgren later sang on a 2018 album by Motown songwriter Lamont Dozier called Reimagination. Perhaps his biggest influence went deeper still: singer-songwriter Laura Nyro. "To hear someone deliver that material with such personal intensity was a total revelation," Rundgren told the Independent. "The way she played, the superlative musicality, really opened something up to me." Later, Rundgren met his hero, and Nyro actually invited him to become her band leader. "I seriously considered the offer," Rundgren said, "but in the end I was afraid to. It felt too big a responsibility."
His Impact Has Been Felt Across an Incredible Spectrum
Without Rundgren, it's hard to imagine a market share for Daft Punk or Bjork. Prince supposedly sneaked backstage as a youngster just to meet Rundgren. Daryl Hall's singing was deeply influenced by him, as well. The New Radicals' 1998 hit "You Get What You Give" might just be the best Todd Rundgren song not by Todd Rundgren. The electro-pop group Hot Chip's 2008 single "Shake a Fist" featured a notable Rundgren sample, earning him a songwriting credit. More recently, Rundgren has done remixes for Tame Impala ("Elephant") and for Lindstrom ("De Javu"), had a clear influence on songs by Aimee Mann ("Invisible Ink"), Girl Ray ("Earl Grey") and Katie Von Schleicher ("Life's a Lie") and collaborated with Trent Reznor on 2017's White Knight. These connections, Rundgren noted, also grew out of his oft-criticized restlessness. "The funny thing is, I put out an album like A Wizard, a True Star after Something/Anything? and that creates a big kind of stink because I'm not following up on the previous success," he told Greg Prato. "Then, as it turns out, that album is having some influence on a young generation of artists today. That's why I'm doing remixes for Tame Impala and Nine Inch Nails and stuff like that — almost solely because of people's fascination with that record. So, I've come to realize that maybe things don't succeed in the time period that you put them out, but a record is a record. A record is forever — at least in modern terms." Never one to rest on his own laurels, Rundgren continues to absorb reciprocal sounds. His industrial-leaning 2013 album State was informed by newer acts like Skrillex, Bon Iver and Frank Ocean, Rundgren told Billboard.
See Todd Rundgren Among the '70s Very Best Songs