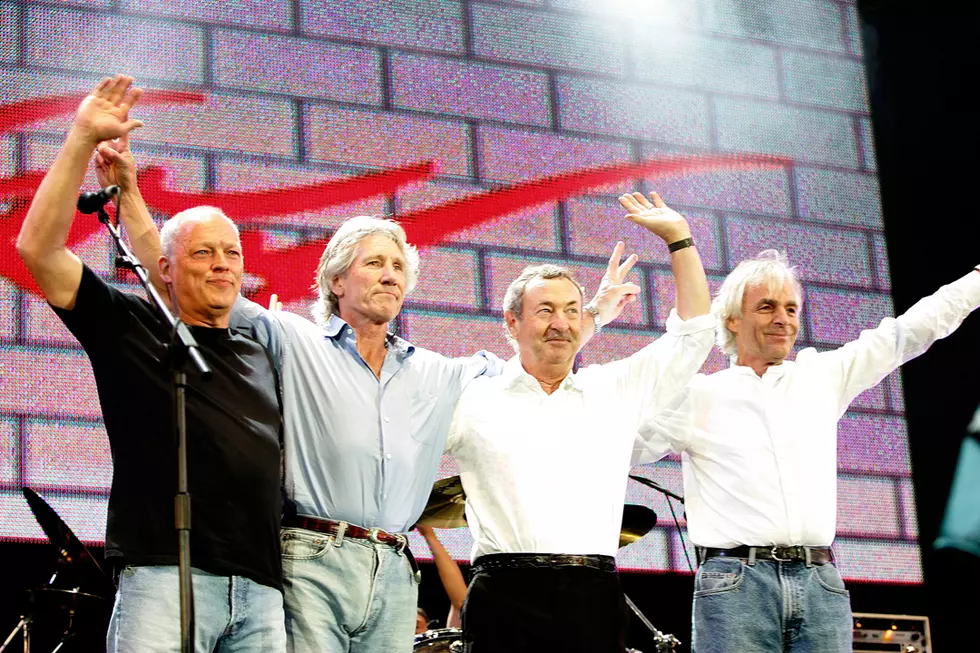 How Pink Floyd Mounted the Unlikeliest Reunion of All at Live 8
Jo Hale, Getty Images
Roger Waters' relationship with David Gilmour was so distant in the period before Pink Floyd's celebrated reunion at Live 8 that Waters had to ask organizer Bob Geldof for his former bandmate's phone number.
While Geldof had been persistent in trying to broker peace between the pair, he'd hit an initial roadblock with Gilmour – who once referred to a possible detente as something akin to "sleeping with your ex-wife." Waters then interceded. Ultimately, the event's mission – Live 8 was meant to raise awareness of poverty, debt and the AIDS crisis in developing nations – led to one of music's most improbable remarriages, though only for a single evening.
"The moment was bigger than those bad feelings," David Gilmour told the Associated Press in the days leading up to Pink Floyd's July 2, 2005, appearance. "Any squabbles Roger and the band have had in the past are so petty in this context, and if reforming for this concert will help focus attention, then it's going to be worthwhile."
And so Pink Floyd's classic-era lineup – Gilmour, Nick Mason, Waters and Richard Wright – took the stage for the first time since a 1981 concert at Earl's Court in London and, alas, for the last time ever.
"It's great to be asked to help Bob raise public awareness on the issues of third-world debt and poverty," Waters enthused as the day drew near. "The cynics will scoff. Screw 'em! Also, to be given the opportunity to put the band back together, even if it's only for a few numbers, is a big bonus."
To no one's surprise, Pink Floyd's reunion eclipsed a star-packed lineup at the London Hyde Park show, which also included Paul McCartney, the Who, Elton John, Madonna, R.E.M., U2, Coldplay and Robbie Williams.
Live 8, scheduled to sync up with the 20th anniversary of Live Aid, also featured six other events through July 6. Bon Jovi, Stevie Wonder, Dave Matthews, Jay-Z and others performed at Philadelphia. Brian Wilson, and Crosby Stills and Nash appeared in Berlin. Duran Duran and Tim McGraw were among the headliners in Rome. Annie Lennox performed at Edinburg as the G8 summit - a gathering of international leaders where debt cancellation and aid would be discussed – kicked off.
For Pink Floyd, however, the most immediate concern was far more small scale: getting the songs right. "It's sort of assumed that we'll all remember how they go," Mason impishly admitted.
By all accounts, everyone was on their best behavior as three days of pre-show rehearsals unfolded. "There were times when Roger was struggling to not get bossy, and I was struggling to keep being bossy," Gilmour said at the time. "I saw how arguments could have happened, but we aren't at each other's throats anymore. Getting rid of that acrimony has got to be a good thing. Who wants to have that fester in your mind the rest of your life?"
Watch Pink Floyd Perform 'Comfortably Numb' at Live 8
Still, there was the matter of a set list. And it was there where the former bandmates – two decades after an ugly legal battle over the rights to the Pink Floyd name – once again clashed.
Gilmour steadfastly refused to play Pink Floyd's most recognizable radio hit, "Another Brick in the Wall," deeming its anti-education message inappropriate for the moment. "Anyway, I don't like it much. It's all right but not part of the great emotional oeuvre," Gilmour said, in a 2006 interview. "The songs that Roger wanted were not the ones I thought we should do. The arrangements of the songs were not the way Roger wanted to do them. But I kind of insisted."
In the end, Pink Floyd were restricted, like all of the other artists performing at Live 8, to a short, 20-minute set. Even a reunion 24 years in the making was only a mere portion of the larger production. So the band settled on four songs: "Breathe" and "Money" from 1973's The Dark Side of the Moon, "Wish You Were Here" from the 1975 album of the same name and "Comfortably Numb" from 1979's The Wall, Pink Floyd's penultimate recording with Waters. They left aside music from the two Gilmour-led Pink Floyd albums that followed the acrimonious split.
Waters made reference to the band's original leader, the late Syd Barrett, even as he framed the larger reasons Pink Floyd had decided to reunite. "It's actually quite emotional to be standing up here with these three guys again, after all these years – standing to be counted with the rest of you," Waters said amid the opening strains of "Wish You Were Here." "Anyway, we're doing this for the people who're not here – and particularly, of course, for Syd."
They finished with a somewhat awkward bow, but only after reaffirming Pink Floyd's former power and grace (the stinging critique of greed found within "Money" held a new relevance in this modern context). After Pink Floyd's catalog saw a stunning 1,300 percent sales increase after Live 8, Gilmour announced that he would donate the proceeds to charity.
Beyond that, Gilmour said Live 8 gave his younger children an opportunity to see their semi-retired old man in a whole new light. "They now understand that I'm not just this bum who lazes around the house, cooks them supper and takes them to school," Gilmour told Newsweek.
He also had to deal with renewed questions about a larger-scale reunion with Waters. Pink Floyd's core four were reportedly offered as much as $150 million for a U.S. tour. "It's completely mad," Gilmour said back then, "and we won't do it. The idea for Live 8 was a one-off."
Waters appeared amenable, but ultimately turned his attention to what would become a blockbuster multi-year solo presentation of The Wall. "David is completely uninterested," Waters told the Associated Press. "After Live 8, I could have probably gone for doing some more stuff, but he's not interested."
Wright's death on Sept. 15, 2008, seemed to put an end to any talk of such matters. Pink Floyd released a final album, 2014's Endless River, built around older tracks featuring Wright, while Waters continued work on solo projects. "I think Live 8 was probably it," Waters told the BBC. "And Live 8 was so beautiful, and Rick obviously was still with us then. If that's the way we draw a line under Pink Floyd, so be it. I won't be unhappy about that."
Top 50 Progressive Rock Albums
From 'The Lamb' to 'Octopus' to 'The Snow Goose' — the best LPs that dream beyond 4/4.
Why Pink Floyd's David Gilmour and Roger Waters Are Still Fighting