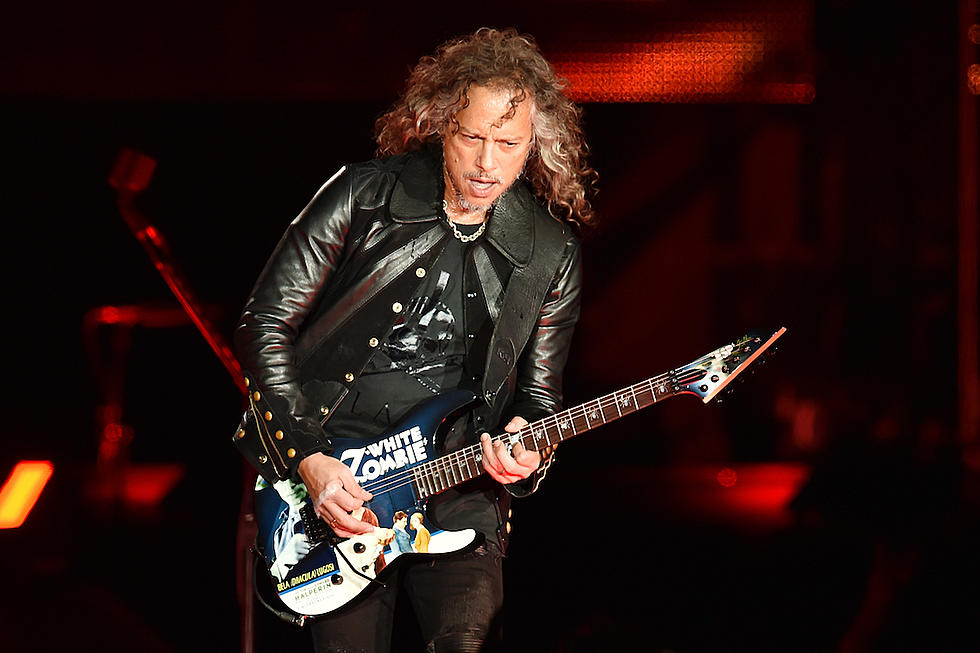 Metallica's Kirk Hammett on More Big 4 Shows: 'I Personally See it Happening Again'
Kevin Winter, Getty Images
The 'Big 4' concerts featuring the joint package of thrash's best, Metallica, Slayer, Megadeth and Anthrax, was one of the downright coolest moments in metal history as they played select concerts around the world. There's been talk among both fans and the musicians who took part in the event of future Big 4 shows and Metallica axeman Kirk Hammett has now thrown his hat into the ring of optimism.
As a guest on Scott Ian's SiriusXM show Never Meet Your Heroes, Hammett first explained (transcription via Blabbermouth) how this momentous concert idea even took shape. "That term 'Big 4' was created by the press and we kept on seeing it and seeing it: 'Big 4,' 'Big 4,'" he began. "And then, one day, it was something to the extent of, 'Let's get all the original metal bands together to do a tour like we used to do back in the day'; we'd all tour with each other."
The plans got shaved down to just the Big 4 and Hammett said, "It was just, like, 'Yeah, we absolutely should tour together and celebrate our long, storied careers.'"
Regarding more Big 4 shows, the guitarist expressed his hopes that it will happen again, stating, "Even though we haven't announced any Big 4 dates in the future or anything like that, I personally see it happening again in the future. I don't know when, but I do see it happening in the future. I mean, I see those shows as kind of like a celebration — a real celebration of each other and a real celebration of the music that we all make and a real celebration of the audience embracing [what] we've done. And why not have more of that?"
On Thanksgiving last year, Megadeth mainman Dave Mustaine tweeted that he felt it was time for more Big 4 shows. When Loudwire Nights host Toni Gonzalez spoke with Metallica's Robert Trujillo, she asked him about the tweet. Trujillo shared his thoughts, reflecting on how much fun the shows were and added, "Maybe after we get [Hardwired... To Self-Destruct] sort of out of our system, we can dive into Big 4 mode and try and do that… I can see doing it again. It was definitely a lot of fun. It makes me feel good that Dave wants to take that journey again."
See Where All of the Big 4 Bands Rank Among the Top 50 Metal Bands of All Time
10 Unforgettable Kirk Hammett Moments