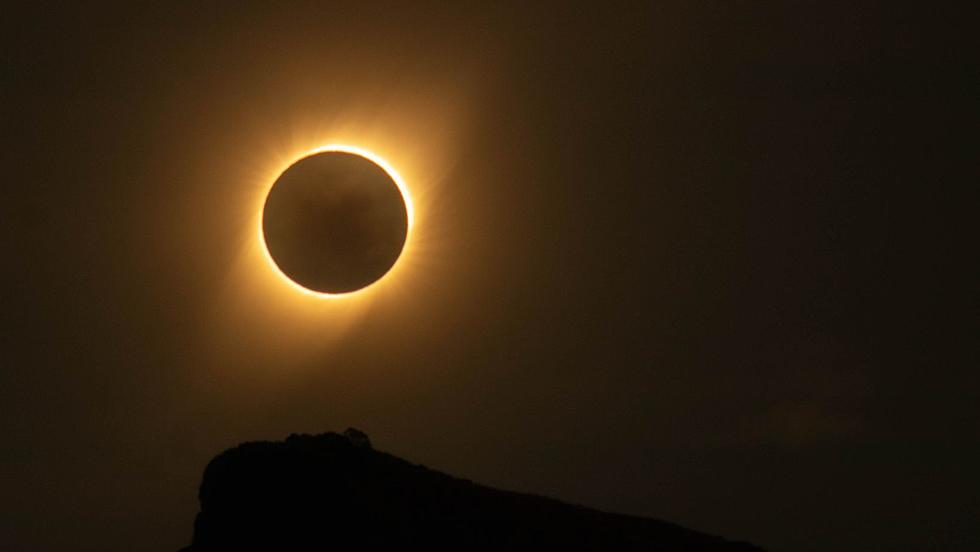 Will Octobers Rare 'Ring Of Fire' Eclipse Be Visible in New York?
Canva
Hey Alexa, Play Johnny Cash's 'Ring of Fire.' You might want to get the playlist ready as a "rare" eclipse will make its way to the skies this October.
Rare Ring of Fire Eclipse Set for October 2023
If you're anything like me, you're glued to your Sky View app learning all about the constellations and planets on a daily basis. Any time I'm outside I'm looking up. Needless to say, I got pretty excited when I saw that a "rare" eclipse was heading our way next month.
According to all the space sites, like SPACE.com and NASA, a Ring Of Fire Eclipse can be seen in the skies across the United States. Before we get to the good stuff, what is a "ring of fire" eclipse exactly? Space.com puts it in easier terms writing:
During an annular solar eclipse, the moon appears slightly smaller than the sun, so it can't block the entire disk. The result is a beautiful "ring of fire."
It'll look something like this, according to NASA:
Pretty cool right? So will the Hudson Valley be able to see this magnificent sight? Sort of...
Will the Ring Of Fire Eclipse Be Visible from The Hudson Valley?
NASA goes on to report that there will be a 20% obstruction of the sun during the eclipse that could be seen from New York.
In the US it will be strongest between Oregon and Texas, NASA explains it will begin "in Oregon at 9:13 a.m. PDT and ends in Texas at 12:03 p.m. CDT." You can watch the eclipse safely online on NASA's YouTube channel.
But at the end of the day, New York is getting the short end of the stick, but we do have something to look forward to.
Total Eclipse in North America in 2024
If you miss the October Ring of Fire Eclipse, just hang around until April. SPACE.com explains that on April 8th, 2024, there will be a total eclipse across North America, they explain:
That event will begin over the South Pacific Ocean, pass over Mexico's Pacific coast, entering the US in Texas. It'll travel through Oklahoma, Arkansas, Missouri, Illinois, Kentucky, Indiana, Ohio, Pennsylvania, New York, Vermont, New Hampshire and Maine before entering Canada.
Mark your calendars and get ready for April 8th!
Do you have a favorite star gazing spot in the Hudson Valley?
Catch 13 Full Moons in 2023. Here's the Schedule...
2023 is the year of 13 Full Moons! That has to mean something special right?
Stunning Sunrise
The Hudson Valley experienced a once in a "lifetime" sunrise. This historic sunrise had occurred just twice in the past 150 years. Check out these must-see photos:
Rare Picturesque Partial Sunrise Eclipse Over Central New York
If you missed the rare sunrise eclipse, take a look a stunning photos from around Central New York.