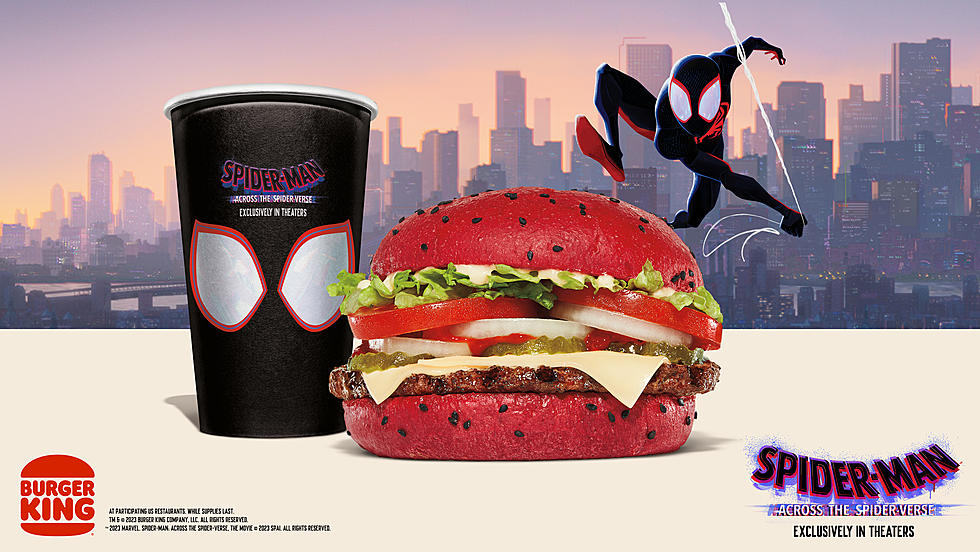 Why Your Whopper Might Be Red Next Visit
Photo: Business Wire
Burger King is making big change to their most popular menu item.
Spider-Man: Across the Spider-Verse is one of the most anticipated comic book movies among fans. There have been sever incarnations of Spider-Man over the years and this is a cool way to blend all of those characters together in one film. This film is a sequel to Spider-Man: Into the Spider-Verse
I hope I'm not spoiling this for anyone but Spider-man's secret identity is Peter Parker who is from New York. I'm sure Spider-Man loves his pizza. It looks like he enjoys a good burger too. Since he's often fighting crime he needs it in a hurry so he gets fast food of course.
Burger King is celebrating the release of the newest Spider-Man movie with a strange but delicious looking hamburger. The Spider-Verse Whopper will be available at participating restaurants starting on May 15 through June 21. The Whopper has a red bun topped with black sesame seeds,  melted Swiss chees, tomatoes, lettuce, mayonnaise, ketchup, pickles, and onions.
Spider-Man: Across the Spider-Verse is set to be release on June 2.
Is it just me or does the bun of this Whopper look like a big delicious water melon.