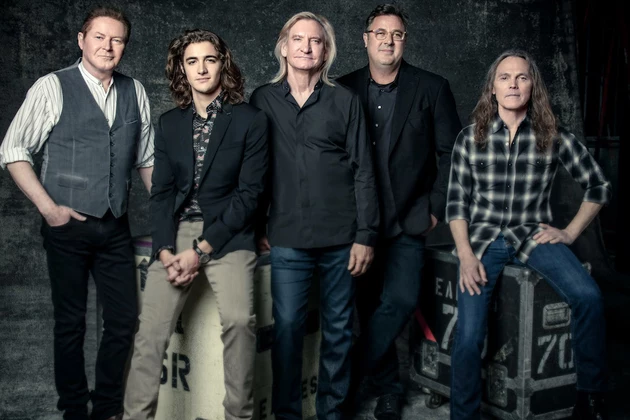 The Eagles Add Vince Gill for Classic East and West Festival Shows
Myriam Santos
Eagles co-founder Don Henley, who earlier referred to Deacon's entrance as a modern musical version of the old "guild system, where the father is the master and the son is the apprentice," admitted that he viewed the group as finished after Glenn's passing, but quoted Ralph Waldo Emerson while exercising his right to change his mind: "A foolish consistency is the hobgoblin of little minds."
Henley also intimated that this version of the Eagles could continue for some time. Although he referred to the Classic shows as "experiments," he hinted at a future beyond the festival, saying that Deacon "doesn't have to do this forever. ... Someday, if he decides to write his own songs and have his own band, we'll be the first to support him. But this is a good way to break in."
Listen to Vince Gill Perform 'Peaceful Easy Feeling'
Deacon Frey told the Times that the surviving Eagles and manager Irving Azoff approached him with the idea of performing with the group. Referring to his father's longtime bandmates as "like my uncles," he argued that if the Eagles hadn't continued after the elder Frey's passing, "it's another family we would have been missing."
Those sentiments were echoed by Azoff, who felt a strong demand for Eagles shows even after Frey's death. Describing "a natural legion of Eagles fans out there who weren't ready to let go," he credited Henley with the idea for bringing in Deacon to fulfill those wishes. "To me," he said, "the fans and the legacy and everything was saying, 'It doesn't have to be over.'"
As for Gill, he's enjoyed an incredibly distinguished career in his own right, while also contributing to the Common Thread: The Songs of the Eagles all-star country tribute record as well as Henley's recent Cass County LP. These new gigs offer a long-awaited opportunity to perform classic songs with some musical heroes.
"In my mind, I always thought I'd have made a good Eagle," joked Gill. "But in a million years, I never would have seen this coming. It's pretty surreal. I turned 60 recently, and to get to be a part of this amazing legacy of songs, that's the greatest part of all this for me."
Our Newly Updated Complete Guide to Eagles Lineup Changes