Best Pizza In The Hudson Valley
By: Joe Raedle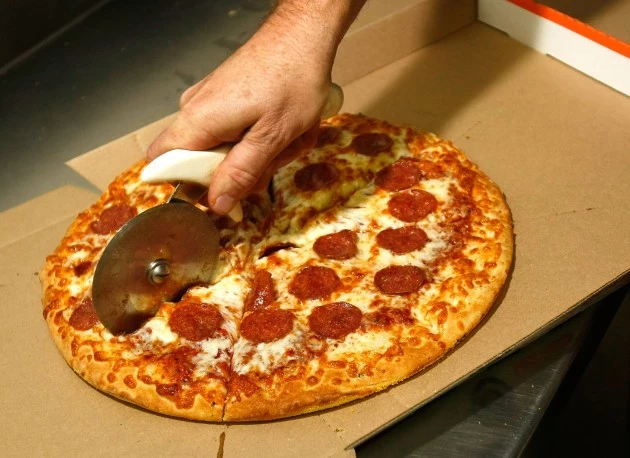 Photo by: Alex Wong
Pizza is one of the most popular foods in America. Around the station we eat it quite a bit. Accoring to Yelp, here are the Hudson Valley's Top Pizza Places.
Special thanks to Main Street Pizza Café for delivering pies every Friday (I think they should have made the list).
1

Random comment: Terrific pizza, antipasto, and service in a cool, relaxed setting...the menu is simple, the ingredients fresh, and Chef Sam is a master at the wood burning oven.  the pizza is as good as any you will find, and the crust is amazingly light and crispy - it really is perfect...finish off your meal with a nice espresso, and you won't regret it....

2

252 Main St

Cornwall, NY 12518

Phone number (845) 534-7003

Random comment: The best pizza in the Hudson Valley. Great specialty pizzas, garlic bread and wings. Eat inside in the winter and outside in the summer. We've probably eaten here a dozen times. Friday night get busy, so just do pickup. Staff is always friendly.

3

1217 Rt 300

Newburgh, NY 12550

Phone number (845) 567-1556

Random comment: When you walk into this restaurant you smell the wonderful Italian foods being prepared and the gourmet pizzas coming out of the brick oven. The pasta dishes and pizza are quite tasty, but are only the beginning of their menu. They also have many well prepared entrees make with fresh ingredients and perfectly seasoned.

The dining room is comfortable and nicely decorated.

4

Catskill Mountain Pizza Company

51 Mill Hill Rd

Woodstock, NY 12498

Phone number (845) 679-7969

Random comment: It was love at first slice. Some months ago my son and his fiance took me to the Catskill Mountain Pizza Company. We ordered 3 whole pies - because we were testing for an upcoming wedding rehearsal. The pizza was so good, that they decided to have the party there - for around 40  people. It was last Saturday night. The pizza was varied and plentiful. Service and help was terrific. There was a sensational salad, plenty of beer and wine...but the star was the pizza.  Thin crust with tons of toppings. My kids had ordered a large variety of toppings. My favorite was the smokey chicken pizza  -

I wish I didn't live 1 1/2 hours away.  Absolutely terrific food. And wonderful service.

5

246 Main St

New Paltz, NY 12561

Phone number (845) 255-8600

Random comment: In a college town you're guaranteed to find multiple pizza places. A students' gotta eat after all! And if you remember your college "budget", it wasn't very high. Hence, pizza for breakfast, lunch and dinner.... and drunken/late night bites. Rino's is definitely one of the better pizza places in the town. Their location is somewhat out of the way... tucked in a small shopping center. But it is totally worth the travels if you're craving good food. The grandma slice shines and is a favorite amongst the community. Simple menu items done right.

Also, their delivery is very speedy. They also put out coupons pretty frequently so make sure to look out for those if you want a even better bang for your buck.

6

465 Main St

Beacon, NY 12508

Phone number (845) 838-3300

Random comment: Brothers is a great little place- love the pizza, the restaurant is cute and the staff are so nice! It's our go to for pizza in Beacon.

7

A Touch Of Naples Pizza and Pasta

389 Violet Ave

Poughkeepsie, NY 12601

Phone number (845) 473-5744

Random comment: What a nice find! I had planned on lunch at the CIA Apple Pie Bakery Café, but they were closed for all of July and I was hungry before checking in for a conference at Marist. I drove up to A Touch of Naples and left with a full stomach and a smile on my face. Loved the thick NY accents and authentic pizza.

Garlic knots were great, my fresco and white pizza slices were crispy with the right amount of grease and a cold can of Barq's root beer really hit the spot on a hot summer afternoon. The construction workers who stopped in for a bite were also happy with their food and everything got heated up in the oven super fast.

Need a quick slice or an easy dinner? I haven't tried the other places around town, but you can't go wrong here.

8

27 S Water St

Newburgh, NY 12550

Phone number (845) 565-7467

Random comment: Yum! Pretty darn good pizza, and having a lot of good pizza in NYC, I know good pizza when I taste it. I had a buffalo chicken slice and the wifey had a margarita slice. NIce, toasted crust and quality ingredients. I also had a pepperoni roll that was a little dry, but nothing too bad (that's why it came with sauce on the side). It's a historic building with a theater inside. I was happy overall!

Oh, and the workers were listening to cool hip hop music!

9

176 Windsor Hwy

New Windsor, NY 12553

Phone number (845) 563-9100

Random comment: The food is fabulous here! Very courteous and professional staff. The pizza is delicious! I like that they're open until 10 PM too..! some times you feeling or urge for pizza a little later in the evening! I would definitely recommend Pizza Mia...

10

19 W Market St

Rhinebeck, NY 12572

Phone number (845) 876-7200 Random comment: I'm a local who loves the fact that Rhinebeck is a restaurant destination.  What I've grown really tired of though is the fact that some restaurants while obviously catering to the Manhattan crowd (as well they should) also seem to justify charging Manhattan prices even though this is a small town in the Hudson Valley.It's hard to enjoy Gigi's when two skizzas a bottle of wine and two arugula salads come to 200 bucks. Really?  Is it absolutely necessary to rape the locals?Happily Market St is avoiding that.  A really cool space inside and out. The pizza bar provides a show along with dinner.  My table had two really well done pizzas and a terrific pasta entree, two ridiculously fresh salads (arugula and roasted beets with goat cheese) a half liter of wine on tap and a personal fave, Mothers Milk by Keegan Ales.  Service was professional and on time even though the place was packed.Check was 130.00  Thanks Market St for a great experience, you've won at least one local and many more to come.